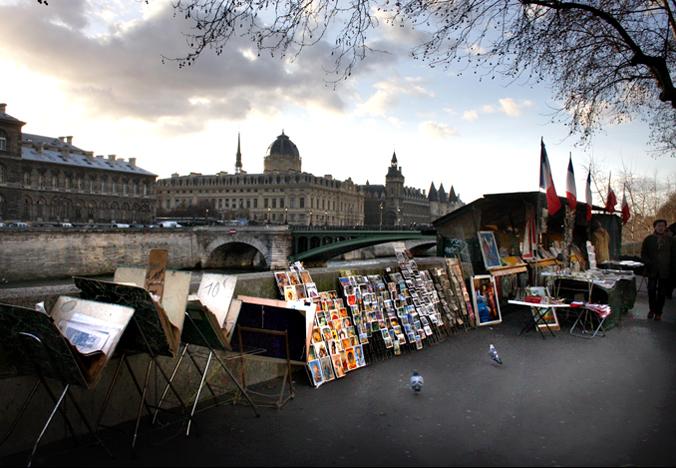 Paris
Paris wears a thousand faces. For one thing, its architecture includes a bit of everything: Roman ruins and medieval byways in the Latin Quarter, the grandiose halls of the Louvre (a former palace); the Eiffel Tower, that ambitious 19th-century monument to progress; and the Centre Pompidou, hinting at late-20th-century unease with its exposed ducts and wiring.
Its neighborhoods are just as diverse. The major gay neighborhood, and the one that never sleeps, is the Marais, a once primarily Jewish district that since the 1980s has been known for its many gay bars, lounges and sex clubs. It's the home of Paris's Gay Pride, held the fourth weekend in June. Les Halles, to the west of the Marais, is an even older gay part of town, but in truth you'll find a smattering of gay nightlife in most sections of of the central city. Paris is one of two major European cities that have elected openly gay mayors, Bertrand Delanoë, along with Klaus Wowereit in Berlin. Each was elected in 2001, and Delanoë was then reelected in 2008 for a new six-year-term. After Delanoë retires in 2014, Paris is set to have a woman as mayor for the first time ever (both candidates are female).

Getting here
Nearly every international airline has flights into Charles de Gaulle (also known as Roissy). The secondary, and smaller, option is Orly. Both airports are served by bus, taxi and train. To get downtown, your best option at most times of day is one of the shuttle buses that Air France operates from both airports. The bus from Orly costs 11.50 euros, and the one from Charles de Gaulle costs from 15 to 16.50 euros, depending on final destination.

Getting around
Central Paris is compact, and that means walking is usually the best way to get from A to B. Another good option for small distances is the citywide bike-rental system, Velib. It takes some getting used to, but it's worth the hassle.
The Paris metro is also a highly practical way to get around, but with service ending around 2am on Friday and Saturday and an hour earlier other days, you'll need to take a taxi if you don't want to make an early (or very late) night of it. Service re-starts at about 5:30am. For transit information in English and several other languages, see Ratp.fr

What to see
Centre Pompidou. Richard Rogers' and Renzo Piano's erector set of an art museum wears its 1970s stylings proudly.
Pere Lachaise Cemetery. The final resting place of Oscar Wilde, Gertrude Stein and Proust is a must-see for anyone interested in queer history and literature.
Notre-Dame. Its 12th-century spires, bell towers and gargoyles can't be beat for over-the-top Gothic allure.
Louvre. It's the home of the Mona Lisa, but that's just the start -- plan your visit like a military operation to avoid masterpiece fatigue.

in focus
Living la vie en rose
For hundreds of years, Paris has served as a kind of pressure valve for the rest of Europe and North America, welcoming with open arms (and sometimes other body parts) various oddballs, outcasts and sexual outlaws.
It was in a rundown Latin Quarter hotel that Oscar Wilde lived (and finally died) after being exiled from England. And it was on the stages of the Folies Bergere and other theaters that Josephine Baker, after leaving the racist US of the 1920s, found fame, first as an exotic dancer and then as an all-round diva.
After World War II, Paris became a much sought after place for American artists seeking to escape the stifling climate back home. It was here, for instance, that James Baldwin wrote Giovanni's Room, his tale of a white American boy who falls in love with an Italian waiter.
Even for artists who never actually took up residence, Paris sometimes served as a kind of surrogate birthplace for their work. The pioneering Olympia Press published mainly dirty books with titles like The Sexual Life of Robinson Crusoe and There's a Whip in My Valise, but its founder's tastes were broadminded enough to print immortal (but also dirty) classics like Naked Lunch and Lolita.
Of course, Paris wasn't just a place for highbrow art -- the city could (and still can) get down and dirty with the best of them. The last half of the 19th century through World War II was a boom time for Paris whorehouses, and during this time the city was sometimes called "Europe's brothel." Perhaps the most famous establishment was Le Chabanais, at #12 on the street of the same name, near the Louvre. The women here attracted artists (like Toulouse-Lautrec and Dali), heads of state and film actors -- including Cary Grant, Humphrey Bogart, Mae West and Marlene Dietrich.
Gay brothels, though less common, were not unknown. Proust himself was rumored to have been devoted to the all-male Hotel Marigny and, in fact, may have been a silent investor. Bordellos were so numerous they even had their own Michelin-style guidebook, called the Guide Rose. Its listings detailed maisons closes and their specialties, some designed to appeal to kinky priests, others to fans of SM.
Legal brothels don't exist in Paris today -- the 1,400 still running in 1946 were banned in a post-war cleanup effort -- and Paris is no longer the land of would-be Hemingways and Gertrude Steins. Still, as you wander its storied streets, it's worth keeping in mind a time when the whole world seemed to be knocking on Paris's door, looking for a good time.
Marais -- the gay village
For gay visitors the quartier of narrow streets called Le Marais (the Marsh) epitomizes Old Paris. Lined with cafes, restaurants, bars, boulangeries, patisseries, boutiques, theaters, and museums, it's been tres gai for years. Many come to shop, cafe-sit, cruise or watch the parade. The central artery is la rue Sainte Croix de la Bretonnerie, where cars are restricted, making room for a calmer pedestrian pace.
Les Halles
From Le Marais, Les Halles is a two-minute walk beyond the Pompidou Center. Paris's central market in centuries past, Forum des Halles is now a teeming subterranean complex of shops and restaurants and even a public pool. The surrounding streets are filled with bars, boutiques, card shops, discount leather and shoe stores, porn arcades, internet cafes, and American fast-food joints. Down the pedestrian streets of Rambuteau and St Denis are several popular gay establishments.
Above Les Halles, remarkable cafes and restaurants sit amid venders selling flowers, fresh bread and pastries, fish and fowl, and fruits and vegetables. Open-air market stalls are set up on Thursday afternoons and Sunday mornings on rue Montmartre just beyond the grand terraces of corner brasseries. On rue Montorgueil the epiceries, or grocers, resemble boutiques in quality and abundance
The 'real' Paris
Everyone knows of the Champs Elysees, or the Left Bank, but quintessential Paris is said to reside in the neighborhoods surrounding Sacre-Coeur, the iconic basilica atop one of the city's few hills. The historical marker celebrates the district's habitation since the time of Druids. Near the base of the funicular is a neighborhood of many bargain stores, bars and restaurants, and close by, the Pigalle red-light district.
Around the Place de la Bastille area are many more small shops, restaurants and bars. Les Passages are two dozen surviving 19th-century covered shopping arcades filled with quirky little boutiques.
Films
The French love films from everywhere around the world, in many languages, of many periods. The area around Centre Pompidou has several legendary cinemas.
Forum des Images, in Forum des Halles, showcases the best directors at affordable prices.
Cinema UGC Cine Cite, also in Forum des Halles has over 20 screens, and shows many English-language films.
MK2 Beaubourg (50 rue Rambuteau) screens films from many lands in a complex of small cinema rooms on the pedestrian street beside the Pompidou Center.
Cinefil Cinema Latina (20 rue du Temple), located just across from bar Raidd, features original Spanish or English language titles.
The grand decor & gigantic screens of Cinema Grand Rex (1 bd Poissonniere), and Gaumont Opera Premier (32 rue Louis Le Grand) hark back to an older Paris.
Theater
Theaters abound in Les Halles and Le Marais. Twenty of these are listed at Parismarais.com, including one that houses a permanent circus, the Cirque D'Hiver Bouglione (110 rue Amelot) with shows year-round.
Sights & Museums
Purchase tickets to monuments and museum ahead of time to avoid the lines. Try your hotel, tourist offices, Parismuseumpass.com (free access to 60 museums with no queues at €39 for 2 days/ €54 for 4 days), or the website of each museum.
Home to the Mona Lisa, the Louvre is all you've heard multiplied a hundred fold. Wear comfortable shoes and consider visiting Wednesday or Friday evening, when it is less crowded and open until 10pm.
Pompidou Center has contemporary art, photography, film, and music. Definitely make time for the 6th-floor restaurant, which has a view of the rooftops.
Musee Carnavalet (23 rue de Sévigné), has 17th- century rooms, an interior garden and a bookshop.
Other museums worth checking out include: Musee National Picasso (5 rue Thorigny), Galeries Nationales du Grand Palais (3 av du General-Eisenhower), and Le Museum National d'Histoire Naturelle (36 rue Geoffroy).
Staying on budget
A reputation for sky-high prices and fluctuations in exchange rates shouldn't discourage visitors. Good rooms can be found off-season for 59 to 79 euros, even at the city center. Short Metro or bus hops can introduce you to neighborhoods outside the tourist zones where you'll find real Parisians. But even at the center, a few euros will buy a seat at one of many splendid terrace sidewalk cafes for coffee, conversation, or merely watching Parisian street life.
Not counting a splurge or two for truly memorable meals, you can reduce daily costs by sampling the abundance of inexpensive street fare, from sidewalk crepes or pizza slices, to quiches and fresh sandwiches on crusty bread from any of the ubiquitous bakeries for 3-4 euros -- or delicious brasserie omelets for 5-6 euros. Also take advantage of Asian take-outs and Middle-Eastern fast food. These, along with bread, cheese, fresh fruit and pastries, to be found on almost any downtown street, can more than sustain you for amazingly little money.
Media and Resources
QWeek / L'Agenda Gay is a magazine/website to keep up with the busy Paris gay scene, with an online reader to get a head start before you arrive.
Prends-Moi is a website for "sexualités gay" with essays and graphics. Tribu Move and Sensitif are two gay glossy lifestyle freebies. All three have online readers to see the latest issues and archive back-issues.
Tetu Magazine is France's national gay glossy, full of interesting essays, insightful reviews, dazzling photos, plus bar and party listings.
Agenda Q focuses on the fetish/leather/sex club scenes, but you now have to sign up to access the site.
ParisMarais has Marais information, apartment rentals and hotel bookings. Experience Paris/ Mantouch creates tailor-made Parisian adventures including cooking classes, and wine tastings.
Paris.fr is the City Hall (Mairie de Paris) visitors' guide and information site, in French, English, and Spanish. Paris Bistro has the history of, and a guide to some of the best Parisian cafes.
France-Voyage.com is a guide to tourism in 6 languages, with suggestions on interesting local sites and curiousities, plus side trips all over France.
Internet access can be found at hotspots all over Paris, but most require personal registration. Shops with their own computers for getting online are easy to find around Les Halles and the Pompideau Center, with several on boulevard de Sébastopol.
For discreet access to x-rated internet sites and Espace Jockstraps chat lines, see the guys at Boxxman video boutique and sex club, 2 rue de la Cossonnerie, Les Halles.
Inexpensive internet phone calls can be made from the tiny WorldCom internet shop at 35 rue Saint-Denis, just north of rue des Lombards, located between Forum des Halles and Châtelet Metro station.
For La Poste in the Les Halles area there are post offices at 259 rue Saint-Martin (at rue Saint-Denis), and 27 rue des Lavandières Sainte-Opportune (Châtelet), plus a larger one at 52 rue du Louvre (at rue Étienne Marcel). in the Marais there's an office at 10 rue de Moussy (off Sainte-Croix de la Bretonnerie). Besides mail services they offer phone cards and mobile phones.
If your hotel can't do it, get boarding pass printouts, photocopies, or faxes sent or received with the helpful staff at Office Depot, at the corner of Sébastopol and Étienne Marcel, near Forum des Halles.
For locations and website links to businesses listed below, and more, see our gay Paris map & listings pages.

Accommodations
The choices are countless, but book ahead online for better prices. Of interest to gay visitors in central Paris:
Hotel Central Marais (2 rue Sainte-Croix-de- la-Bretonnnerie; 01 4887 5608) exclusively gay guesthouse at one end of a very gay street.
Hotel Louvre Richelieu (51 rue de Richelieu; 01 4297 4620) near Opera, Palais Royal Gardens, Louvre, Galleries Lafayette.
Hotel Beaumarchais (3 rue Oberkampf; 01 5336 8686) 31 rooms and junior suites, quiet interior courtyard.
Hotel Jacques de Molay (94 Rue des Archives; 01 4272 6822) Marais gem by apark and the shops of rue de Bretagne.
Hotel Villa Mazarin (6 rue des Archives; 01 5301 9090) elegant Hotel de Ville area option.
Hotel Mondia (22 rue du Grand Prieure; 01 4700 9344) a classic near Place de la Republique.
Jules & Jim Hotel (11, rue des Gravilliers), new hotel, bar and courtyard, cocktails, music, photography exhibitions, art happenings, parties. 23 rooms overlooking the roofs of Paris, buffet breakfasts, WiFi.

Apartment Rentals:
Parisian Home (12, rue Mandar; info@parisianhome.com) has furnished units, budget to deluxe; Marais Flat (8 bis, rue Marie Stuart; Maraisflat.com) has upscale Les Halles and Marais apartments.
Going Out:
Bars, Clubs, Cafés, Les Halles/Marais
Le Banana Cafe (13 rue de la Ferronnerie), young gay/mix crowd, affable staff, mostly guys and friends, energetic go-go dancers and quieter chill-out piano bar downstairs.
Bears' Den (6 rue des Lombards) warm and welcoming bear crowd that spill out onto heated terrace, packed and cruisy basement dance floor, dark nooks to play in.
Cox Cafe Bar (15 rue des Archives) men's bar, crowd spills onto sidewalk during nice weather.
CUD (12 rue des Haudriettes) mostly men, dancing downstairs.
Depot (10 rue aux Ours) huge complex, diverse crowd, darkroom, Friday House/ Dance night from midnight, Saturday Beur/ Arab nights, Sunday retro T-dances from 5pm.
Duplex (25 rue Michel le Comte) youngish late- evening crowd, art displayed on walls, house and jazz music.
Gossip (16 rue des Lombards) cafe/ restaurant, gay-popular covered terrace, young and chic crowd, brunch, WiFi access.
L'Enchanteur (15 rue Michel le Comte) comfortable pub on two levels with karaoke, cabaret and video jukebox.
L'Imprévu Cafe (9 rue Quincampoix) cozy ambience of mismatched decors, Latino-California coffee shop and hip cosmopolitan bistro behind thick red curtains.
Feeling Bar (43 rue Ste-Croix-de-la-Bretonnerie), hole-in-the-wall neighborhood favorite.
Free DJ (35 rue Ste-Croix de la Bretonnerie) small bar, nightly DJs, weekend dancing downstairs until 4am.
Full Metal (40 rue des Blancs Manteaux) testosterone-charged men's leather/ fetish cruise bar, cockring only nights, black-outs, very crowded.
Kent'z (2-4 rue Vauvilliers) 1920s decor, cozy armchairs and sofas, in Les Halles.
Bar Mic-Man (24 rue Geoffroy l'Angevin) opposite Pompidou Center, regular-guy cruising, steamy basement sex, cheap drinks.
One Way (28 rue Charlot) long-time regular men's bar, fills up early, open late on weekends, cruisy basement.
Open Cafe (17 rue des Archives), always busy at the central crossroads of the Marais, cute servers, coffee and cocktails, light meals, sidewalk tables.
The Labo (37 rue des Lombards), gay sports and karaoke men's bar, varied music, large terrace on pedestrian street, theme nights, former Wolf site.
Les Pietons (8, rue des Lombards) friendly little tapas bar and restaurant on busy pedestrian street, Spanish spoken, walls nicely tiled.
Raidd (23 rue du Temple), nightly nude shower-dancer hunks, packed most nights with handsome crowd, basement lounge, buff and shirtless staff.
Sly Bar (22 rue des Lombards), new upscale gay/mixed cocktail lounge.
Snax Kfe (182 rue Saint-Martin) tranquil bar and restaurant, nice terrace, noon to 3pm breakfast, polyglot staff, near Pompidou Centre.
Spyce Bar (23 rue Ste-Croix-de-la-Bretonnerie), upscale, popular cocktail lounge/warm-up music bar, cabaret shows, mostly men, sexy go-go dancers, DJs, special parties.
Le Velvet (43 rue Saint-Honore), chic bar/lounge on two levels, DJs, snacks, 5pm happy hours, young friendly crowd.
Ze Baar (41 rue des Blancs Manteaux) two-level bar & restaurant, convivial crowd.
Bars & Clubs, Beyond
Alex's Bar (2 rue de Marivaux) - CLOSED - looking for new location after loss of lease; mixed crowd, cocktails, music soirees, "dînettes," laid-back cocktail hours.
Bataclan (20 bd Voltaire, Bastille) sing-alongs, huge crowds, special parties La Nuit des Follivores and Crazyvores.
Cafe Moustache (138 rue du Faubourg St Martin, Gare de l'Est) local guys' pub, cruisy backroom with cabins, porn videos.
Rex (5 bd Poissonniere) young, mostly straight crowd, trendy music and performances in old cinema building.

Backrooms, Sex Clubs & Cruise Bars
The French enjoy sex as much as they do discussions of politics or religion over good food and wine. Sex in public, or in private clubs, has a long Parisian history. The many dark nooks and subterranean crannies have provided discreet areas for sex play far into the past. Outdoor cruising, in places like Bois de Boulogne, are a long-standing tradition, but can be risky.
Besides the many saunas, a variety of bars porn stores and sex clubs provide sexual opportunities not only at the center, but in outlying neighborhoods too. It's worth the trip to Metro Anvers to visit MecZone, a club proud to stand a little apart from the throng. Others like MicMan are right at the center. Shops, including Boxx Man in Les Halles, are alternative places for sexual encounters. Some outright sex clubs, with naked-always policies, can be less impersonal than the zombies in the hall vibe of some saunas or porn shops.
Many bars around the Marais feature ancient stone arched-ceiling cellars, with low lighting and flickering videos -- and men in heavy sex play. Slings, glory holes, cabins and piss benches may also be provided.
Each place has its own ambience. Some are always naked, or have fisting events or nights for piss aficionados or sneaker sniffers, and some have showers, (but most don't). Condoms and lubes are usually at hand, sometimes even gloves and enema kits. Weekend afternoon parties can be as popular as the late night events.
Backrooms: Marais/Les Halles
Depot (10 rue aux Ours), city's largest sex club, black-out areas, younger crowd than most, big Sunday tea dance.
Full Metal (40 rue des Blancs Manteaux), cellar with military theme, slings, jail, cabins, and piss bench. Parties include sneaker sex, leather nights, and cockring-only attire.
l'Impact (18 rue Greneta) an all-nude bar and sex clud mixes both tourists and locals at the center of things, and there's a free Sunday night buffet.
Krash (12 rue Simon Le Franc), Marais gay fetish, cruise and sex club, black-out, naked & underwear party nights - the former QG bar.
Mic-Man (24 rue Geoffroy l'Angevin), small local's bar right across from Pompidou center, hot cellar playroom with hard-core videos; busy all afternoon and into the night -noon-2am.
Next (87 rue St. Honore), sex complex, labyrinths, cabins, slings, showers and video salon seven days a week, non-stop on weekends.
SEcteurX (49 Clos des Blancs-Manteaux), adult fantasy, role-playing, cruise bar; leather/ fetish nights.
Backrooms: beyond center
Bunker (150 rue Saint Maur), private cabins, slings, glory holes, prison cells, and some extreme action.
Entre Deux Eaux (45 rue de las Folie Mericourt, Oberkampf), pleasant, snug, welcoming bar where being naked feels comfortable, natural and playful, and regulars are newcomer-friendly.
Glove (34 rue Charlot) Thursday - Saturday men't sex club, strictly for those into latex/leather, piss and fisting, with sling, maze and showers.
Keller (14 Keller), long-time Bastille men's bar reopened as private men-only sex club, sign up online, fetish nights, sex parties.
MecZone (27 rue Turgot, Anvers) upstairs neighborhood pub, sociable encounters, friendly bar staff; dark cellar playroom with slings, and naked weekends that get down to basics.
Steel Club (23 rue de Penthièvre), no dress-code cruise bar, hard-core men's sex club on 4 levels, old Banque location; fantasy rooms, glory holes, cabins, videos, cage, slings, showers.
Dancing: smaller clubs
The city's dance clubs generally operate from midnight to dawn. Some are in les boites de nuit -- tightly packed basement rooms. Others take place in large venues drawing massive weekend crowds. Local gay magazines, websites and flyers keep you posted on special events.
Club 18 (18 rue de Beaujolais) hottest, most energetic scene of the moment, packed with young guys Wednesday to Saturday until 5am, Thursday Latino nights.
CUD (12 rue des Haudriettes) mostly men, then mixed when dancing begins after midnight.

Dancing: larger clubs
Club 79 (22 rue Quentin Bauchart) special Sunday gay Fluid /Under T-Party after-hours dance parties, 10am-6pm.
Depot (10 rue aux Ours) Friday and Saturday dancing from 11pm until 8am, mostly young crowd, men-only, on two floors, cabins and labyrinth. North African Saturdays, Sunday tea dances from 5pm.
Le Queen (102 av des Champs Elysees) mixed crowd, youngest & gayest on Sunday nights for Overkitsch.
Mix (24 rue de l'Arrivee) monthly venue for gay Happy-Pulse soirées, usually last Saturdays, huge dance club beneath the station at Montparnasse.
Le Rive-Gauche (1, rue du Sabot ), large mixed dance club near St-Germain-des-Prés, women's nights Saturdays after 11pm.
Scream (18 rue du Faubourg du Temple) popular gay summer Saturdays, 18+ dance parties on 3 floors, different music styles, House to Pop; lounge bar, men-only dark cruise area, porn movies.
Tango, la Boite a Frissons (13 rue au Maire) Friday/ Saturday all-ages gay dance nights, tangos, waltzes, cha-chas until 1am, then '70s, '80s pop hits. Sunday Tea-dances
Dancing: after hours
Wake-Up at Theatre Rouge (77 rue JB Pigalle), weekly gay afterhours dancing, 7am-1pm Sundays.
Saunas: Day
Paris saunas with competition from the many backrooms, must offer something more. Many have hammams, the Turkish ritual baths mixing dry sauna, steam, massage, and time-out relaxation. Sexual adventures are provided for with dark rooms, mazes, and cabins. Bars, cafes, internet lounges, and work-out areas are also common. Most here are day saunas, busiest in the late afternoon to early evenings.
Bains Montansier (7 rue de Montreuil, Vincennes), gay men's sauna well out of the center, 30-foot pool, popular with bears.
Bains d'Odessa (5 rue d'Odessa, Montparnasse), 1895 classic facade, sauna/bar, massage, WiFi, no-attitude all-male patrons include bears.
Gym Louvre (7 rue du Louvre), full sauna facilities, full gym, cafe, lots of toned bodies running around an immaculately clean and modern facility.
Euro Men's Club (8-10 rue Saint-Marc), on three levels, mostly older guys crowd, pool/sauna, tea bar/lounge, theater, smoking room.
Hammam Boulevard (23 rue des Jeûneurs), men's, women's, mixed days; traditional services hammam/sauna, massage, scrubbing.
IDM Sauna (4 rue du Faubourg Montmartre), busy and popular hamman/sauna club just beyond Les Halles, varied mix of guys, workout area, theater, small pool, naked nights, Sunday food/drinks.
Key West Sauna Club (141 rue Lafayette) is one of the biggest and best endowed gay men's facility in all respects, on four floors. Huge spa/saunas and pool, bar/TV lounge, cabins, naked area, smoking zone.
Riad (184 rue des Pyrenees), sauna/hamman/pool, bar, exotic ambience, varied clientele, several massage techniques, a bit out from things but worth the trip.
Sauna Atlantide (13 rue Parrot; Gare de Lyon), mixing all genders and sexual orientations, for those who like to experiment with any aspect of the sexual divides.
Sauna Mykonos (71 rue des Martyrs), cozy homo enclave in otherwise mostly hetero Pigalle, patrons may always be naked - or not if they prefer.
Steamer (5 rue Dr Clemenceau), small and funky sauna on the Left Bank, fun for meeting locals who don't venture far from home.

Saunas: Night
The three night saunas are open overnight until dawn.
King Sauna (21 rue Bridaine) near Place de Clichy, has all the facilities plus cabins, and a mellow clientele that loves to sprawl in their popular TV lounge.
Sun City (62 Boulevard de Sebastopol) vast Marais facility on three levels attached to Le Depot sex club. India-inspired decor with giant Ganesh at the entrance, full sauna facilities, dark rooms, cabins, beautiful pool, and bar. Sometimes better for voyeurs than sex-pigs if pretty patrons get too picky.
Tilt Sauna (41 rue Sainte Anne) France's first gay sauna opened in 1974, located near Palais Royal amid the many Japanese shops and restaurants, open all day and all night.

Restaurants
French cuisine stands atop the world and Paris sits at the center. Not only for native foods, this city wants to experience all the others too, so every culture and tradition is represented, often in neighborhood clusters. Much as in New York you'd never have time to try them all. See our map and listing section for locations and links to restaurants listed below, and some others - then go explore for yourself.
Restaurants, traditional
After cocktails, Parisians head for the restaurants In continental style, there are often designated seatings at 9pm and 11:30pm.
48 Condorcet (48 rue Condorcet, Anvers) intimate setting, homey countryside ambience, modern cuisine prepared by chefs who know their stuff and care enough to do it right.
Aux Trois Petits Cochons (31 rue Tiquetonne) superb classic French cuisine, excellent service, and a solid reputation.
L'Alivi (27 rue du Roi de Sicile) known for their Corsican cuisine.
Les Affranchis (5 rue Henri Monnier, Anvers) relaxed ambience, traditional French neighborhood bistro, near Place Pigalle.
Une Poule sur un mur (5 rue Marie Stuart) classic Parisian with a twist, modern vibe in relaxed setting, good wines.


Restaurants, other
Cafe Beaubourg (43 rue St Marri), a well-situated terrace overlooking the Marais throng.
Diable des Lombards (64 rue des Lombards) Franco-American restaurant, perfect for late sleepers, American-style brunch served until 6pm.
Happy Days Diner (6 Sq Ste-Croix de la Bretonnerie) American 50's style burgers, dogs, shakes, Sunday brunch.
Lezard Cafe (41 rue Tiquetonne) big sprawling gay-friendly cafe and bistro with large heated sidewalk terrace.
Loup Blanc (42 rue Tiquetonne) relaxed vibe, specialties of grilled meats, unique mix of world cuisine, a gay favorite every night until midnight with a popular Sunday brunch until 4:30pm.
Ozo (37, rue Quincampoix) freshest meat, poultry and fish filets, individually cooked in sauce or seasoning of your choice. Also grand Sunday brunches until 4:30pm.
Stuart Friendly (16 rue Marie Stuart) popular hetero-friendly tea and coffee salon for lunch, dinner and brunch, served in a setting of modern minimalist decor.
Le Who's (14 rue Saint Merri), bar/restaurant open daily/nightly noon to 6am, Sunday brunch, gay-central between Les Halles and Le Marais, old Curieux Spaghetti site.
Take-out
Legay Choc. (45 rue Ste-Croix de la Bretonnerie) handmade breads, irresistible quiches, cakes and tarts of many flavors, and penis-shaped bagettes while they last.
Pizza Rustica (36 rue Montorgueil), pizza squares for 4-5 euros, many topping choices, open to 2am. Also at Forum des Halles and St-Michel.
Sandwicherie Legay Choc (17 rue des Archives) has tasty, generous and nicely priced sandwiches for those on the run in the gayborhood.
Victor 1920 (33 rue Rambuteau), sandwiches, pies, tarts and other sweet & savory take-out treats.
And yes, there are McDonalds, KFC, Subway, Starbucks, and other American fast-food chains, in case you've been away too long.
Shopping: Sex boutiques
Les Halles and Le Marais are famous for sex shops and peep shows, particulary along rue Saint Denis. Look for rainbow decals, but check the following shops first.
Boxxman (2 rue de la Cossonnerie) magazines, big DVD sections, video booths, unfiltered internet.
BMC Video (21 rue des Lombards) wide range of DVD viewing choices for 10 euros.
IEM (16 rue Ste-Croix de la Bretonnerie; 43 rue de l'Arbre-Sec) big DVD section, sex magazines, books, toys.
Club 88 (88 rue Saint-Denis) mixed sex shop with gay DVD section and cruisy booths.
Mister B (24 rue du Temple), leather, rubber, fetish attire/gear, accessories, toys, magazines, DVDs.
Rob@Zone 2 (8 sq Ste-Croix de la Bretonnerie) leather, rubber wear and fetish items. Also at this address the Menstore Boutique has sex videos and a wide range of sexual accessories.
Rex (42 rue de Poitou) serious fetish, leather and latex gear, body enhancements, accessories.
Shopping: other

ArtMenParis (64 rue Notre-Dame de Nazareth) regular exhibitions of the male figure in art, in all its forms; gallery open daily by appointment only. Browse or buy online: Artmenparis.free.fr
Boy'z Bazaar (5 rue Ste-Croix de la Bretonnerie) many labels of fashionable club attire, cute staff and customers.
Comptoir du Marais (8 rue de Moussy) and PierreTalamon (15 rue du Temple) are two more local shops for the latest fashions of Parisian males.
Pharmacie Du Village (26 rue du Temple) gay pharmacy open until 8pm.
Space'Hair (10 rue Rambuteau) fashionable hair salon that plays great music.
Sunlimited (3 bd. de Sebastopol) can banish wet gray days from mind with tanning facilities and special events.
Among the many bookstores in the city the two gayest are:
Gallerie Au Bonheur du Jour (11 rue Chabanais), classic male erotic photo books, prints and drawings gallery. Not far from Jardin du Palais-Royal.
Les Mots a la Bouche (6 rue Ste-Croix de la Bretonnerie) overflows with gay literature, graphics, and photo books on two levels. Their windows alone provide an education for the passers-by. Browse online at Motsbouche.com

Shopping Centers
Galleries Lafayette is a big indoor shopping center not far from the Jardin du Palais-Royal; there are several levels of shops underground at Forum des Halles; and department stores line the busy Rue de Rivoli, near Paris City Hall (Hotel de Ville).