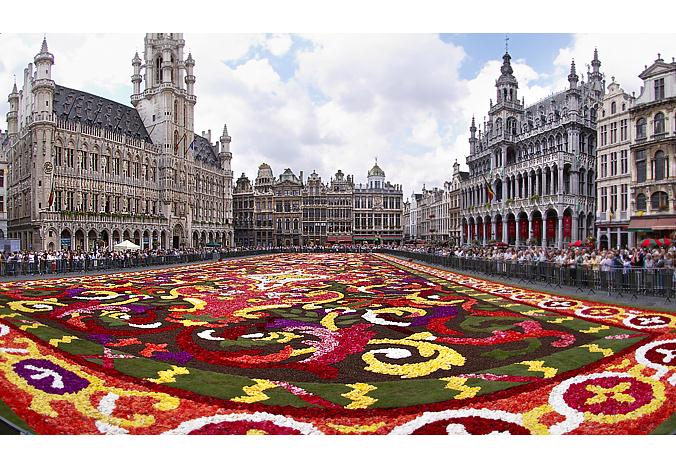 Brussels
Capital of Belgium, administrative center of the European Union, and home of the headquarters of North Atlantic Treaty Organization, Brussels has a reputation for bureaucracy.
But this city is also a cultural capital, home to more than 40 fascinating museums. It's main square, the Grand Place, is one of the most beautiful anywhere, with gilt-covered guildhalls soaring heavenward on all sides. Around another square, Place Royale, you'll find most gay establishments. The scene is surprising vibrant and diverse, with many bars and restaurants, circuit parties and alternative/indy parties, music and art happenings.
In Brussels, cineastes can take their pick of two gay film festivals. The Tels Quels festival takes place is late January and early February. The Pink Screens festival rolls around in October. Belgian Pride is held each mid-May. The streets around Rue du Marché au Charbon are car-free for the event.
Getting here
Many visitors fly into Brussels National Airport. The direct Brussels-to-London Eurostar train has resulted in many more English-speaking visitors.
Getting around
Brussels is a compact city, and most of the sights are within walking distance of each other. Alternatively, trams, buses, and taxis are easy to find and quite inexpensive. STIB is your key to public transportation here, with a website in French, English and Flemish. Note that street names are in both French and Flemish.
Neighborhoods
The main gay district is in the vicinity of Place Royale, amid rich and varied architecture.
Currency and Money
Belgium is part of the Euro Zone, so the euro is the accepted currency. There are plenty of ATMs in the downtown area.
Media & Resources

Tels Quels is the GLBT community center with services, library, cafe, and a magazine that's been in print for 30 years.
EGG, the English-speaking gay group in Brussels, have a website at Away Magazine
For general tourist information see the website Visit Belgium
For map locations and website links to the businesses below, and more, see our gay Brussels listings pages.
Travel and accommodations
Hotels in Brussels are often fully-booked due to the city's role as de facto capital of Europe; hotels seem to be less busy on weekends, but book ahead if you want good value.
Residence Les Ecrins (15 rue du Rouleau), large century-old building, quiet area of cobbled streets near St. Jean Baptiste church, easy walk to gay district, gay-owned/mixed clientele. Standard rooms to luxury suites, small apartments with adjoining terrace.
Brussels @ Heart (32 rue des Commercants), chic guesthouse, spacious rooms with dining areas and kitchenettes, some with balconies; ample breakfast of fresh juices, cheeses, ham, toast, tea, coffee, and chocolate. Free Wi-fi.
La Casa BXL B&B (116, rue du Marche au Charbon) near Grand-Place in lively Quartier Saint-Jacques; two double rooms, private bathrooms, Wi-Fi connections.
Royal Windsor Hotel (5 rue Duquesnoy), 266 rooms and suites, many gay visitors during pride and the frequent La Demence parties.
Holiday pride (53 rue du Midi), shop at center of gay district to book hotel, transportation, and travel. Gay pride packages include gay club passes, official party VIP tickets, and info pack. Website for car rentals, hotel bookings, ski-trips, travel insurance, and to compares flight options.
Going out

Le Belgica (32 rue Marché au Charbon), 1920's decor, gay-friendly pre-club warm-up pub, international mix of artists, musicians, actors, and creative types congregate.
Le Boys Boudoir (25 rue Marche au Charbon), chic restaurant and piano bar, open nightly. Weekend nightclub dancing, shower boys, casino nights, drag shows and special events.
Chez Maman (7 Rue des Grands Carmes) small cabaret club for men, popular drag shows, Thurdays through Saturdays until 5am.
Dolores (40 rue Marché au Charbon), small locals' bar behind the Grand Palace, patio tables, mature crowd of bears and regular guys.
Duquesnoy (12 rue Duquesnoy), intimate drinking and cruise bar, men only; three floors, dark rooms; leather, latex, rubber, uniform or nothing at all.
Le Can-Can (55 rue des Pierres) small karaoke bar, Thursday and Saturday show nights, open 4pm-4am.
Le Club (45 Rue des Pierres) gay/ lesbian mixed crowd cocktail bar, weekend DJs.
L'Homo Erectus (57 rue des Pierres), open daily, dancing, strip-tease naked parties, live music, and drag shows; weekend night afterhours until 5:30am, then breakfast.
L'Homo Erectus Classicus (5, rue du Marché au Charbon), gay party bar, go-go boys, drag shows, theme nights.
La Reserve (12 rue Petite au Beurre) oldest gay bar in Brussels, small, packed on weekends with all types and ages.
Dance clubs and parties

Bitchy Butch at Biberium (Cantersteen 55) monthly Saturday dance party, modern pop mishmash, kinky and urban videos, outlandish decor, mixed, queer, festive, mostly men.
Gelatina (Musicagelatina.blogspot.com) contemporary electro, reggaeton, cumbia and rock en español alternative music, semi-bi-monthly party, live groups.
La Demence (208 rue Bleesstraaat), huge monthly circuit party at Club Fuze; muscle men, leather types, twinks, and older guys from far and wide, by the busload for high-energy night on 3 dance floors, cruisy darkroom - among most exciting party nights in Europe.
Los Ninos (Losninos.be) presents periodic gay-friendly party nights at various venues in Brussels and Atwerp. See their website for upcoming events.
Le Thé Dansant at Smouss (112 Rue du Marché au Charbon), Sunday T-dance on small dance floor.
Le You (18 rue Duquesnoy) Friday/Saturday gay-friendly dance/nightclub, open until 6am, theme parties, young crowd.
Nation (7 rue des Riches Claires), top DJs boast best music in city, three-clubs-in-one big space at heart of the capital, two dance floors, male strippers. After-hours dance parties get going at 3am, continue until dawn. Was Box Club.
Saunas
Club 3000 (9 Boulevard Jamar), six-floor complex, just south of main gay area, includes bar, cinemas, sex shop, internet station, inside and outside Jacuzzis, steam sauna, and restaurant/lounge, massage services. Open "big screen" playroom for men in towels and those in street clothes.
La Griffe (41-43 rue de Dinant), well-equipped facility, open daily, strong-jet Jacuzzi, hammam, steam, sauna, showers. Top floor private rooms and communal video; bar, 5pm free buffets. Naked Sunday 1pm.
Macho Sauna (106 rue Marche au Charbon), large facility, pool and terrace, sauna, hammam, solarium, massage, bar/cafe, cabins and mystery room for discrete liaisons.
Sauna Oasis (10 rue van Orley), Finnish sauna, whirlpool and massage pool, Turkish steam, cold bath, cabins, and darkroom. Also with bar and big Sunday buffet brunch from noon.
Spades 4our (23-25 rue Bodeghem), large, popular sauna, young crowd, roof garden and SM catacomb.
Shopping
2b Fashion and Underwear (31 rue du Lombard), spacious shop at center of gay area; designer jeans, tops, underwear, and accessories; labels such as Calvin Klein, Andrew Christian, and Gsus, at prices to feel as good as you'll look.
Argos Video (13 rue de Riches Claires), huge selections of international DVDs, clothing, leather gear, thongs and underwear. Toys include solid brass cock castings in gold, silver, and black. Flyers, magazines, and club information and events too.
Boris Boy (95 rue du Midi), condoms, lubricants, toys, leather, and rubber. Online shop has slings, aromas, undergear, DVDs, and douches.
Darakan Bookstore (9 rue du Midi), gay literature, crime novels, photo and cinema books, magazines.