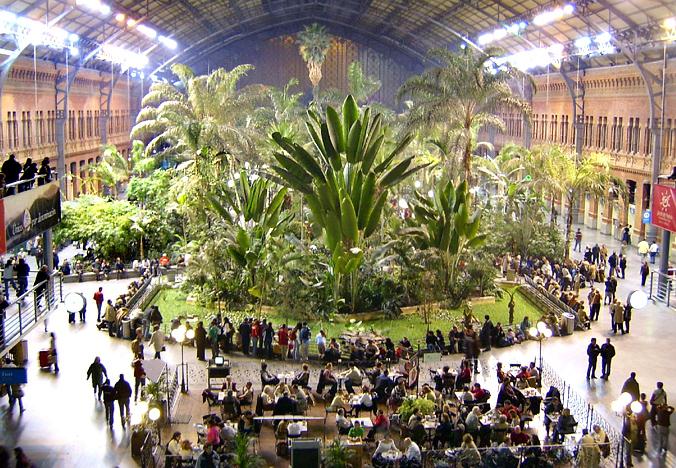 Madrid
Spain is a country of fiestas, and the capital city of Madrid really knows how to throw a party. Throughout the year there are a host of festivals including El Dos de Mayo, marking the anniversary of Madrid's uprising against Napoleonic forces. For gays, the annual June/July pride celebration nearly takes over the entire city. For those who like more kink, the Madrid Sleazy Festival sizzles in late April and early May.
Getting here
Madrid's Barajas Airport is about 7 miles east of the city. Many of the airlines from North America arrive here, and national carriers worldwide have service, along with several low-cost European airlines. The airport is connected by Metro line 8 to the city, with stations at the terminal buildings. The train takes about 50 minutes to reach the Chueca station, the gay district, with two line changes, costing under $5.
There are overnight sleeper trains from Paris Austerlitz station (7:43pm) to Madrid Chamartin station (9:13am) costing from around $150 to twice that (or more for first class). Charmatin is on line 10 of the Metro. See EuroRailways for info. The Atocha station, on Metro line 1, is where most RENFE trains come in from elsewhere in Spain, along with their high-speed AVE trains from Barcelona, Seville or Valencia.
Buses arrive at Estación Sur de Autobuses where long-distance carriers ALSA (from Barcelona or Malaga) or Avanza (from Valencia or Lisbon) are the two largest. Each of these has online ticket sales, and Movelia handles that service for the many smaller lines. If departing, and buying tickets at the station, be prepared for confusion and crowds - give yourself extra time, and consult the information booth if necessary.
Getting around
Madrid is a walker's city, so make sure to plan plenty of time for strolling. Metro Madrid is big, cheap (1.50 euros per single trip, or less with a day pass), efficient, and a great way to move from one part of the city to another. English is the second language on the signs and maps are free at the ticket booth. The Metro stations close overnight, opening at 6am, but RENFE stations like Puerta del Sol open at 5am, with commuter lines for the airport or Atocha Station intercity trains.
Neighborhoods
The majority of gay venues are situated in the maze of small streets around Plaza Chueca and onward towards Gran Via. The area around Metro Lavapies also has a cluster of clubs and restaurants of interest. Puerto del Sol is a large square at the end of the pedestrian shopping streets from Gran Via - a gathering spot for many, with Metro underground train connections to most everywhere.
What to do
Madrid is full of cultural and artistic highlights. Well-known art galleries worth a visit include the Prado, the Thyssen-Bornemisza, and the Reina Sofia. The Museo Sorolla was the Madrid home of Joaquín Sorolla, the Valencian painter who created epic canvases of everyday Spanish life, imbued with mythic grandeur. His work can also be seen at the Prado, and in New York City at the Hispanic Society Museum.
Currency and Money
Spain's official currency is the euro. There are ATMs scattered about the center, so you won't have trouble getting more cash. Consult your bank before departure as some larger US banks have network agreements with locals, to save on costs of withdrawal charges.
Media
800 Madrid is a new concept in media, with sexclub, bar and art gallery at Calle Cadarso 3. Their website covers artists, film and art happenings, and has an interactive "Cam Room" in the works.
Guía Gay Magazine, has regional editions, including one for Madrid, a small bar glossy give-away with a big and comprehensive website in Spanish. Shangay Magazine and their listings edition Shanguide is another Spanish gay media group with Madrid coverage.
Oh My God! gay magazine also has events listings for all regions of Spain, along with glossy lifestyle and travel spreads and online edition. QTravel is a Spanish-language gay travel magazine covering Spain and the world.
For map locations and website links to the gay businesses below, and more, see our listings pages.

Accommodations
At Hostal Adriano (Cruz 26), private bathrooms, telephones, digital safe, internet access, English spoken. Connected to Hostal Adria and Hostal Adria Santa Ana.
Casa Chueca (San Bartolome 4), six rooms, balconies overlook street, interior courtyard, located at center of the gay district. Spanish, English, and French-speaking staff.
Chueca Pension (Gravina 4), clean, bright, inexpensive rooms, laundry service and free internet.
Hostal Hispano (Hortaleza 38), at heart of the gay zone, elevator, clean and comfortable rooms, AC, television, and ceramic-tiled bathrooms.
Hostal Odesa (Hortaleza 38), inexpensive rooms, bright decor, AC, and television.
Hostal Puerta del Sol (Plaza Puerta del Sol 14), overlooks large lively square, clean, comfortable rooms, private baths, televisions, WiFi, bargain prices. Breakfast served until noon, tea and coffee anytime. English-speaking staff, homey, relaxed ambiance.
Hostal La Zona (Valverde 7), in 19th-century Neo-Classical building, modern rooms, steps from Gran Via. Gay but straight-friendly hostal. Staff are gay and helpful with tips on local area. Also with apartment rentals, fully equipped with washing machines, DVD players, kitchenettes and free Wi-fi.

Bars and nightlife
A listing of bars and clubs in Madrid can never be complete, even local gay publications can't keep up. But with a walk around the Chueca area the gay scene will quickly reveal itself. Many clubs don't open until around midnight, and metal shutters can make them look closed forever, just an hour before they're teeming with people. Check the flyers and local press in evening cafes, and strike up conversations with local guys for the latest scoop. See our map & listings tab for locations and websites for the businesses below, and more.
A Noite (Hortaleza 43), small elegant nightclub, drag performances each night, guest participation.
Angel Sierra (Gravina 11), gay-friendly traditional Spanish terrace bar in Plaza de Chueca; drink beer and watch the parade of guys pass through the square.
Bear's Bar (Pelayo 4), friendly English-speaking cosmopolitan place for bears, chubbies, chasers, and daddies - know everyone in no time. Back room bear porn, and private frolic space.
Bebop Café (Chueca 9), gay cafe/ bar right on Chueca Plaza, modern decor, trendy international vibe, large terrace seating area, busy day and night.
Black and White Bar (Libertad 34), busy after 1am, drag shows, lively weekend dancing, go-go boys, special theme nights, mixed crowd, old and young, lots of cuties -- some for hire.
Café Acuarela (Gravina 10), 1940's decor coffeehouse and cocktail bar, afterwork and before-clubs mixed crowd, free WiFi. Look for the gold naked angel.
Cruising Disco Bar (Perez Galdos 5), small dance-floor cruise bar, free-lance escorts, dark room maze, videos, Sunday strippers.
D'Mystic (Gravina 5), gay cafe/wine bar, breakfast, music videos, high-energy young male mix.
Enfrente (Infantas 12), nightly disco music pub for bears, packed late weekend nights, opposite Hot; home to annual Mr. Bear Spain contest each October.
Escape (Gravina, 13), popular women's lounge, small dance club, live music entertainment.
Gris (San Marcos 29), two level music club, young alternative gay/men/women, students, straight-friendly, Indie music, late happy hours.
Gula Gula (Gran Vía, 1), traditional Spanish cuisine, flamboyant drag cabaret & nude male burlesque shows "for the whole family."
La Bohemia (Plaza de Chueca 10), relaxed bar, terrace on the plaza to watch the passing parade.
Liquid (Barquillo 8), chic gay music video bar, straight-friendly, handsome but cliquish international crowd, mostly men, busy after midnight on weekends, warm-up spot for late-night dance clubs.
Local (Libertad 28), relaxed vibe, modern cocktail and music bar/cafe above Delerio dance club, mostly young gay male crowd.
LL Bar (Pelaya 11), cafe/bar, daily from 5pm; nightly drag shows, sing-a-longs, strippers on stage from midnight, cruising area.
Museo Chicote (Gran Via 12), famous cocktail bar since 1931, long-time favorite of writers and artists; steep drinks prices but great atmosphere, good music, theater performances.
Paso (Costanilla de Capuchinos 1), neighborhood bar, pulls a good crowd of locals of all ages almost every night, packed on weekends.
Ricks (Clavel 8), mixed crowd, mixed ages and genders, best on weekends, decor redolent of movie Casablanca.
Rimmel Pub (Góngora 2), gay bar, friendly, mixed age, mostly male crowd, two-for-one happy hours all evening, theme parties.
Tábata (Vergara 12), small mixed-crowd varied music bar, near the Palace.
Taberna El Buo (Gravina 4), mixed restaurant/bar, chef's daily specials, tapas, open 8am-2:30am, former Baires location.
Tántalo (Libertad 14), gay Chueca, 5pm-2:30am lounge, theme parties, shows, music videos, coffee copas and cocktails, WiFi.
Truco (Gravina 10), gay and lesbian terrace bar on Chueca Plaza, busiest on warm sunny evenings for drinks before the late clubs get going.
Volta Cafe (Santa Teresa 9), cafe/bar, Wednesday - Saturday, art/alternative crowd, men/women, electronic music.
Why Not (San Bartolomé, 6), lively and friendly Chueca warm-up bar and lounge, busiest around midnight, mixed gay/straight, men/women.
Men's Cruise/Sex Bars and Clubs

800 Sexclub & Art Gallery (Cadarso 3), men-only naked sex club, bar, music, art gallery, private cabins, internet access, cinema, maze, fantasy zone.
Attack Fun SX Bar (Lavapiés 12), daytime bar, cyber-cafe, free WiFi, cruise area in rear; nightly themes parties: naked, black-out glo-stix, "milkshake," "kink," etc - the former Blue Bar/Querelle location.
Bangalá (Escuadra 1), cruise and sex club in Lavapiés, weekends naked only, lockers, bear, daddy and chubby nights.
Cage (San Marcos 16), leather/fetish and sex bar, play room, jocks, naked nights; also "a chat, some laughs, and the daily papers."
Copper (San Vicente Ferrer 34), let go of everything, check the clothes and join in. Nightly naked fetish, leather, rubber or military parties, five minutes walk from Chueca. Special hard-core and fisting nights, limited capacity so arrive early.
FU3L (San Marcos 16), Chueca men's party bar, dancing, videos, bears, special & theme events.
Hell Sex Club (Buenavista 14), Lavapiés membership sex club, daily except Mondays, where "real men can fuck." Naked, jockstrap, underwear nights. Get invitation (Spanish or English) by email before arriving.
Hot Bar (Infantas 9), small, friendly, international bear bar, fun 'til dawn, videos, afternoon coffee from 1pm, wine by the glass, free WiFi, basement cruising.
Leather (Pelayo 42), no dress code leather club for men, darkroom sex, cabins, porn videos, slings, glory holes.
MadNess (los Tres Peces, 30), Lavapiés fantasy and fetish sex club for men, sling, St Andrews cross.
Odarko (Loreto y Chicote 7), hardcore men's sex and fetish bar near Plaza Callao, strict leather/rubber/uniform dress code, dark rooms, private cabins, naked and jockstrap nights, DJ music.
Paw (Calatrava 29), naked and underwear sex club, leather/fetish dress code nights, mostly older guys,
Strong Disco (Trujillos 7), nightly parties, busiest weekends, hard-core fun, large dark labyrinth, cabins, porn videos, cruising, Saturday DJs, man/man action, mixed-age range, rent-boys.
Xtrem Sex Club (Valverde 3), men's cruise bar, naked nights cabins, slings, live sex shows.
Dance clubs
Boite (Tetuan 27) Thursday through Saturday gay '70s-'80s retro disco dance club, weekend performances, lively young mixed crowd.
Delirio Dance Club (Libertad 28), small upscale disco, three bars, clean white space, go-go dancers nightly.
Divotica at Paddock Club (Paseo de Recoletos 16 ), new Saturday House party night for men near Plaza Colon, performers, guest DJs.
DLRO Live (Pelayo 59), new weekend pop alternative music dance club, 2 levels, midnight to 6am, live entertainment, young and trendy guys.
Griffin's (Marqués de Valdeiglesias 6), longtime favorite dance club, older male crowd, shows, performers, weekend disco parties.
Goa at Fabrik (Av. de la Industria 82, Humanes de Madrid), seven times a year, electronic sessions Sundays about noon to midnight. There are shuttle buses from Plaza de España -- see website for dates and bus schedules.
Kluster at Chango Club (Covarrubias 42), every Saturday night gay House party for men, bears, theme nights, black-outs, international guest DJs, performers, amazing videos.
Mad Hunter Club at Ya'sta (Valverde 10), Friday and Saturday dance party 'til 5:30am, bears, muscle guys, leather men, regular guys and friends.
Ohm at Bash (Plaza del Callao 4), Friday/Saturday, big dance night out in Madrid, lively crowd, top DJs, performers, dancers, entertainers, midnight to dawn.
PK2 Sexion at Sala Wind (Plaza del Carmen), new Saturday twin-hall all-age gay men's dancing, Commercial House/Disco Pop, go-go dancers and performers, cruisy dark room frolics.
Shanghai Club ( Costanilla de los Ángeles 20), gay-friendly dance club, gayest Fridays, open to 5:30am, live performers, go-go boys, Commercial House.
Studio 54 (Barbieri 7), flashy cocktail lounge, small dance floor, good sound and lights, theme nights.
Space of Sound, Macumbo Club (Estación de Chamartin), gayest Sundays, dance club legend, great sound, dazzling stage shows.

Saunas
Premium Sauna (Costanilla de Los Ángeles 5), new modern central facility, dry sauna, steam, Jacuzzi, bar, cabins, dark room.
Sauna Adán (San Bernardo 38), busy place from late afternoon, known for the many South Americans showing off their manhood, offering massage, and intimate services for pay.
Sauna Center (Cuesta de Santo Domingo 1), one of Europe's largest men's saunas, open 24 hours, busiest weekends after-discos all-ages crowds - long lines.
Sauna Gran Via (6 Barco 6), small place just off Gran Via, gets going after midnight; Turkish bath, Finnish sauna, massage services, cabins, videos and bar.
Sauna Lavapiés (Zurita 3), steam, dry sauna, Jacuzzi, dark room, cabins, bar.
Sauna Men (Pelayo, 25), tourist and locals mix, younger guys included.
Sauna Octopus (Churruca 10), watch swimmers in small pool from bar area, private cabins, Jacuzzi, dry & steam saunas, dark room, cinema.
Sauna Paraiso (Norte 15), large space, hot tubs, pool, sauna, steam room, bar with TV, cabins, dark room disco, fetish & S&M gear, cinema, massage services.
Sauna Principe (Travesía de las Beatas, 3), focus is on bears, mature & big guys; bar/cafe, massage, dry sauna, steam, video lounge, maze and cabins.
Sauna Puerta de Toledo (Descargas 6), small clean sauna, after-work guys looking to play.
Food
The choice in Madrid is vast for food styles and preference. The Spanish love small plates samples -- known as tapas -- of meat, fish, and vegetables. These are often served casually day and night with beer or coffee, and at reasonable prices. But there are many more luxurious ways to eat, too.
Baco y Beto (Pelayo 24), Chueca wine and tapas bar, chef's Spanish home-style daily special meals.
Dammi un Mozzico (Gravina 10), 24-hour/7-day inexpensive pizza slices, many varieties; next to Truco.
El Estragón (Plaza de la Paja 10), vegetarian restaurant to impress even non-vegetarians.
El Rincon Guay (Embajadores 62), Lavapiés internet cafe, cocktail bar, hamburgers, salads, tapas and meals, from breakfast onwards.
El Rincon de Pelayo (Pelayo 19), "not-tapas" bar, in Chueca, excellent restaurant, small terrace, inexpensive three course daily special with wine or coffee.
Mama Ines (Hortaleza, 22), cafe/bar, English, American or French breakfast and brunch, sandwiches, salads, full-course meals, deserts, cocktail all day and into the evening.
Mercado de San Antón (corner of Barbieri & Figueroa), three-level indoor market in Chueca, gourmet and fresh food stands, baked goods, sandwiches, quiche, fruits, cheeses, ice cream, coffees/teas - eat in or take out for hearty plaza picnic on the cheap. Upper level La Cocina de San Antón restaurant with terrace seating.
Sama Sama (San Bartolome 23) fresh & tasty Mediterranean-style cuisine in Chueca, bright elegant dining.
Tepic Urban-Mex Restaurant (Pelayo 4), modern, bright design in crisp pink and white, extensive and modern Mexican menu, vegetarian options.
Tommy Mel's Classic Diner (Hortaleza 34), American-style 1950's decor and jukebox music to match; traditional & veggie burgers, dogs, fries, BLTs, BBQ chicken, pancakes, cheesecakes and pies, Ben & Jerry's shakes and sundaes - plus cocktails, wine and beer. Mixed, mostly young crowd.
Vinoteca Barbechera (Gravina 6) wine bottles line the walls, tapas to amaze, unexpected taste combinations: salmon with honey, slices of rump roast in fig sauce, hazelnut bisque.
Shopping and services
Berkana Book Shop (Hortaleza 62), long running gay-shop, bookstore for gay fiction, biography, travel guides, magazines, comics, sexuality, poetry, queer theory, religion, photo, cinema, theater, art books, cine-X and mainline DVDs; coffeeshop teas, coffee, beers, and cake.
Different Life Book/Sex Shop (Pelayo 30), full range of play toys, gifts, gay mainline and erotic DVDs, music, comics, magazines, travel guides and books, including photo tomes -- open till 8:30pm daily.
Juan, Por Dios! (Perez Galdos 3; Juanpordios.com), hair and beauty world, appointments anytime Monday to Saturday between 10am and 9pm. A second shop at Manuela Malasana 26.
Ovlas (Augusto Figueroa 1), sexy-wear, hottest, gayest fashion in the world; three stores: Madrid, Barcelona, and Sitges.
SR Leather (Pelayo 7), leather, rubber, SM gear, military, industrial clothes, toys and art, custom-made SM furniture, leather goods and clothes. Local artists' exhibits, nude and semi-nude drawings.