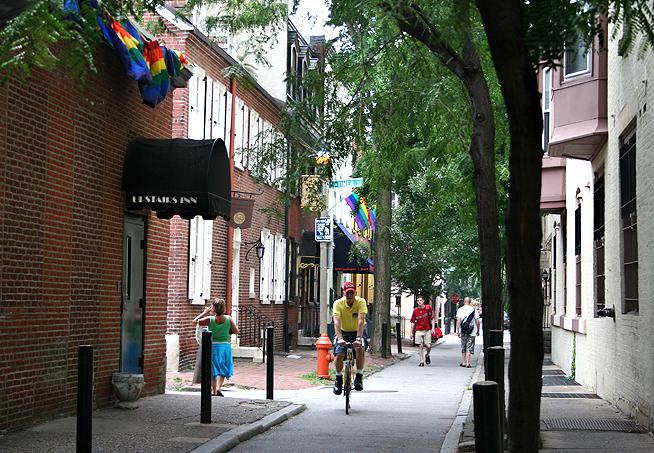 Philadelphia
If you think Philadelphia is all about history, think again. The forward-thinking city has the world's largest urban park, a great collection of public art, some of the country's most interesting architecture, and an unexpectedly varied restaurant scene.
Philadelphia's gay life is in the Center City area. Within a few blocks of Camac Street (once the heart of the red-light district) is a cluster of establishments bedecked with rainbow flags. You can walk to any of them in minutes.
Getting here

From Philadelphia International Airport, a taxi to the city center costs around $30. The SEPTA regional rail service's R1 Airport Line connects you to the downtown 30th Street Station for $7.
If you're arriving by rail, the Amtrak trains pull into the 30th Street station.

Getting around
A travel pass for SEPTA buses, trollys and subways within the city costs $6 a day, or $20.75 per week. Otherwise it costs $2 per single trip, (or $1.45 with discount tokens). See details, purchase locations or buy online. For a nearby gay-friendly Bucks County PA gettaway, check out New Hope.
Getting online

Surfing the internet in Philadelphia is free and easy in many public areas, including Love Park, Benjamin Franklin Parkway, Reading Terminal Market and the Convention Center.
Media & resources

Philadelphia Gay News or PGN, is an award-winning regional gay newspaper with plenty of news and listings. The PhillyGayCalendar is an excellent website for keeping up with what's happening in Philadelphia, and the surrounding area.
Phillesbian.com digital magazine, catering exclusively to women who love women in Philadelphia and surrounding areas, stopped publishing in January 2013, but still posts to their Twitter account.
Philadelphia City Paper, and the Philadelphia Weekly are the city's alternative papers, with general rundowns of arts and events.
The Barbara Gittings G&L Collection at the Independence Branch of the Free Library of Philadelphia (18 S 7th St) has the second largest gay and lesbian collection of books in the US. The San Francisco Public Library has the largest.
For locations and website links to businesses listed below, and more, see our gay Philadelphia map & listings pages.

Accommodations
Two comfortable hotels are at the center of the gay neighborhood.

Alexander Inn (304 S 12th; 877-253- 9466) Art-Deco flair, continental breakfast, fitness center, free email.
Ubar Upstairs Inn (1220 Locust; 215-546-6660) centrally located above their popular bar with continental breakfast, business facilities and discreet side entrance onto Camac St.


Bars & Clubs
Bike Stop (206 S Quince) sports bar with dance floor. An everybody hangout, mostly men, from leather, fetish and bears to sports fans and drag queens.
ICandy (254 S 12th St) multi-level dance club, lounge, old 12th Air Command site, events, and entertainment.
Raven Lounge (1718 Sansom) alternative lounge, comedy club, live music and DJ nights, karaoke, Quizzo game nights.
Shampoo (417 N 8th) warehouse-sized dance club with mixed crowd but gayest on Fridays for 21-plus. Gothic Wednesdays are 21-plus. 18-plus Sunday Hip Hop nights with house dancers. Saturdays 6-10pm teen nights ages 14-18-only; or special all-ages parties; or 21-plus until 2am.
Sisters (1320 Chancellor) women's club with Sunday brunch buffet that's popular with everyone.
Stir (1705 Chancellor) cocktail lounge, old Post location in Rittenhouse Square, men's revues and porn guest stars, Women's Sundays.
Tabu (200 S 12th) new gay-friendly lounge and sports bar, with food, next to 12th Street Gym.
Tavern on Camac (243 S Camac) every night piano bar sing-alongs, basement restaurant, upstairs Ascend Lounge open nightly with DJ/VJ dancing and Sunday showtunes.
UBar (1220 Locust, at Camac corner) New Orleans-style bar, open to overlook Locust Street beneath their guesthouse. A relaxed place to see and be seen, older crowd. Was Uncles.
Varga Bar (10th & Spruce St) bar and restaurant with lunch, supper and late night service.
Venture Inn (255 S Camac) neighborhood tavern and restaurant, local institution in a quiet location with a welcoming crowd of regulars.
Voyeur (1221 St James) the former Pure, seven-day after-hours dance club with three floors of music from the hottest DJs around.
Westbury Bar and Restaurant (261 S 13th) neighborhood pub and place to eat hearty, a longtime favorite with truly friendly staff.
Woody's (202 S 13th) complex of bars, cafe, disco with guest Dj. House music parties draw a diverse crowd.


Restaurants

Knock Restaurant and Bar (225 S 12th) has classic gay style and ambience, serving lunch 11am to 3pm daily, and Sunday brunch. Tasty dinners 5-10pm (9 on Sunday) and late-night menu too. Generous cocktails daily until 2am; extensive wine list.
Mixto (1141-43 Pine) zesty combination of Cuban, Colombian and Caribbean flavors and styles; breakfast, lunch and dinner, full bar, extensive wine list, wood and brick decor.
Mi Lah Vegetarian (218 S 16th St) world- fusion cuisine, vegetarian/vegan lunch, dinner and Sunday brunch.
Positano Coast (212 Walnut St, fl-2), a bit of Amalfi Coast in the Old City. Five course meals, creative variations of classic Italian dishes, a special emphasis on fresh seafood ingredients. Small sampling plates, warm-weather al fresco dining, and comfortable lounge.
Tavern on Camac (243 S Camac) modern intimate cozy restaurant in cool stone-wall basement, serving New American cuisine, and fine wines. Wide selection of starters, and entrees to tempt and satisfy. Central location below one of gay Philly's best-loved piano bars and dance clubs.
Valanni Restaurant & Lounge (1229 Spruce) bright open decor, "Medi-Latin" cuisine, seating indoors and out for dinner and brunch. Happy hours Monday through Friday with half-price tapas and speciality cocktails.
Venture Inn (255 S Camac) local favorite with inexpensive Continental food and special menus for holidays. Relaxed vibe in an attractive setting and live entertainment on occasions.
Westbury Bar and Restaurant (261 S 13th) home cooking with a gourmet touch for Saturday and Sunday brunch (11am to 3pm). All-day burgers, nachos, quesadillas, salads and sandwiches; big selection of beers.
Woody's (202 S 13th) cozy cafe to escape from disco crowd with soups, salads, wraps, burgers and hoagies, plus Sunday brunch until 4pm.

See our map and listings for more Philadelphia restaurants in the downtown Gayborhood and the South Street District.


Saunas & adult shops

Adonis Cinema (2026 Sansom) video mini-theater screens old porn favorites and latest releases. DVD retail sales too.
Club Philadelphia (1220 Chancellor) former Club Body Center, reopened May 2013 with new owner, completely renovated men's steam and sauna, open 24/7, private rooms, slings.
Danny's (133 S 13th St) private booths, big magazine and video selection, rubber and leather goodies.
Samson Cinema (120 S 13th St) all- male movie house with maze of nooks to play in, basement bookstore for magazines, videos, adult novelties.
Sansom Street Gym (2020 Sansom) male play space open 24/7, with maze, slings, deluxe rooms, outdoor deck, exotic dancers, special parties.


Shopping & services

12th Street Gym (204 S 12th St) popular with locals, great place to acquire the body beautiful. Full gym facilities, personal trainers, basketball, indoor pool, tanning, one month to three year memberships.
Giovanni's Room (345 S 12th St) world- class gay bookstore, well worth going out of your way for, with queer literature, rare items, music, calendars and posters. Shop mail-order online and get help with hard-to-find out of print books.
Matthew Izzo (111 South 12th St) fashions for men and women, home furnishings and accessories.
Phag (1225 Walnut St) discriminating taste in art, trinkets, home and garden decor. Open daily until 8pm (Sunday 6pm), with online store too.
The Philadelphia Film Society presents the annual Philadelphia Film Festival, as well as three year-round screening series, sneak preview screenings, and other local film events. A Spring Preview takes place April 9-11, 2010 at the Prince Music Theater (1412 Chestnut St).
Spruce Street DVD & Video (252 South 12th St) independently owned video store with thousands of gay titles for rent and sale; general, cult classics to porn.
TLA Video (1520 Locust & 517 S 4th) top-notch distribution, retail and rentals, hip, foreign, cult, music, camp, alternative, and gay movies. Four informative websites, one exclusively for gay men, wide assortments, under $10 specials.