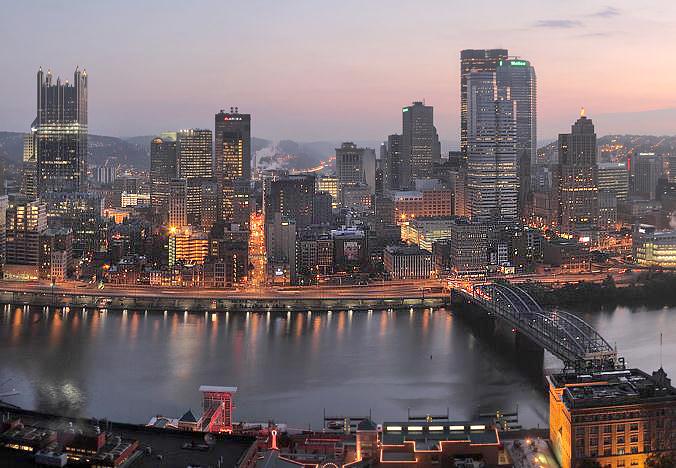 Pittsburgh
Pittsburgh might not be filled with the trendy clubs of Queer as Folk, or the post-modern strip bars of Flashdance, (both of which featured storylines set in Pittsburgh), but there's still plenty to do in this steel town on a Saturday night.
Modern and cosmopolitan, Pittsburgh pulses with 21st-century energy. From the first wave of Scottish-Irish immigration in the mid-18th century, Pittsburgh has made a tradition of welcoming newcomers. The gay community is thriving, too, drawing guys from three surrounding states. In 2012, National Geographic's Traveler magazine called Pittsburgh one of the best worldwide travel destinations, citing "a natural setting that rivals Lisbon and San Francisco, a wealth of fine art and architecture, and a quirky sense of humor."
Wealthy businessmen, the likes of Carnegie and Mellon, helped to create rich art and cultural institutions such as the Pittsburgh Opera and the Pittsburgh Ballet. The Cultural District is home to these, and many theater productions at venues including the Benedum Center for the Performing Arts, the City Theatre, the Pittsburg Musical Theater, and the Pittsburg Public Theatre. Music & dance-based performances of "ninja-like intensity" may be seen at Attack Theatre, in the Strip District.
Other cultural institutions include Heinz Hall for the Performing Arts, home to the Pittsburgh Symphony Orchestra, and the Carnegie Museums, including the Museum of Art, the Museum of Natural History, and the Andy Warhol Museum.
Pittsburgh Filmmakers nurtures all forms of visual art, and screens a wide variety of classic, indie and foreign films at 3 art-house cinemas in downtown Pittsburgh.
Getting here

Greater Pittsburgh International Airport, is 14 miles west of downtown. The Port Authority bus number 28X, the Airport Flyer, costs $3.25 for a trip into Downtown via the West Busway, also serving Oakland. Bus drivers accept exact change only. If a tranfer from Downtown is required, you must buy that ($1 extra) at the same time. Limos, taxi cabs and vans can also whisk you downtown - see the airport website for more info.
The city has Amtrak intercity rail service at Pennsylvania Station (aka Union Station) at the Grant and Liberty Avenue/ 11th St intersection. Major lines lead to Philadelphia and Washington DC, with connections to Eastern Seaboard cities north and south; and to Cleveland, with connections north into Canada, or west-bound through Chicago.
Intercity bus services are provided by Greyhound from their station at 55 Eleventh Street (Grant & Liberty Avenues), and MegaBus with curbside service, 10th Street and Penn Avenue.
The Great Allegheny Passage cuts through Allegheny Mountain country to join with the Chesapeake and Ohio Canal Towpath in the Potomac Valley. Together they create a continuous bike and running trail, 325 miles long, between Pittsburgh and Washington DC.
Getting around
Pittsburgh has a small but efficient subway system (called "The T"), light rail suburban transit, and an impressive network of buses to get you around town, operated by the Port Authority. They also operate the Monongahela Incline funicular railway on Mount Washington. The Duquesne Incline, first opened to the public in May, 1877, is operated separately, but accepts Port Authority passes.
The center of the city is compact and walkable, and there are over 20 miles of traffic-free bicycle paths along all three rivers. See Golden Triangle for bike rentals at one of their three locations.
Neighborhoods

Downtown is to the east of Point State Park, where the Allegheny River and Monongahela River converge to become the Ohio River. The area between the rivers, known as the Golden Triangle, is where many of the GLBT clubs have traditionally been located, on or near Liberty Avenue - including the local bathhouse. More clubs are located further to the northeast in the Strip District and the Lawrenceville neighborhood.
Eastward from Downtown, the Oakland and Shadyside sections are home to the University of Pittsburgh, Carnegie Mellon University, Carnegie Museum and Library, and other educational and cultural institutions. Gay clubs are among the area's many cafes, restaurants, bars and small shops. The Eagle/Pegasus complex, across the river to the northwest, and Backdraft in Baldwin on the south side, are notable exceptions.
Media & Resources

Pittsburgh's Out, which evolved from the old Pittsburgh Gay News, no longer publishes a print edition, but their website continues with some local listings.
Pittsburgh Pride takes place each year in early June. The Pittsburg Lesbian & Gay Film Society presents the Reel Q Film Festival each October.
The Three Rivers Leather Club sponsors the Mr/Ms Pittsburgh Leather Fetish Contest and other community social events.
RCC, the Renaissance City Choir of Pittsburgh is western Pennsylvania's LGBTQA choral group with men's and women's choirs, and concerts at East Liberty Presbyterian Church.
The Dollar Bank Three Rivers Arts Festival takes place over ten days in early June, each year in downtown Pittsburgh, with music, film, and other performing and visual arts presentations.
GLCC, the Gay & Lesbian Community Center of Pittsburgh (4905 Fifth Ave), provides community services, and hosts events such as bingo and dances. Their library contains over 8,000 books, CDs, DVDs and videos.
For general listings, the local alternative weekly Pittsburgh City Paper has arts and restaurant reviews and events.
The City of Pittsburgh official website, and Visit Pittsburgh are two more travel and information resources. The Pittsburgh Post-Gazette is the daily newspaper, with website.
For locations and website links to businesses listed below, and more, see our gay Pittsburgh map & listings pages.
Accommodations
Arbors B&B (745 Maginn St; 412-231-4643) gay-owned farmhouse, country location, minutes to the city.
Inn On Mexican War Streets (604 W North St; 412- 231-6544) just across the Allegheny River from downtown, comfortable Victorian mansion.

Bars & clubs

Downtown & Eastside
5801 Video Lounge & Cafe (5801 Ellsworth Ave) video lounge and café, darts league, softball team.
941 Saloon (941 Liberty Ave) dancing, after hours, darts, pool and karaoke, special events.
Brewer's Hotel Bar (3315 Liberty Ave) inexpensive drinks, unassuming and casual crowd, welcoming to all.
Cruze Bar (1600 Smallman St), new club, DJs, dancing, 18+ Thurs, special events nights
Donny's Place (1226 Herron Ave) Polish Hill neighborhood bar, long-time favorite, mostly male crowd including leather guys.
Friends Under The Rainbow (5840 Forward Ave, Squirrel Hill), neighborhood LGBTQ bar/lounge, pool table, darts, jukebox, live entertainment, theme nights.
Images (965 Liberty Ave) open every night, go-go dancers, karaoke, DJs on weekends, mostly men.
Leather Central (1226 Herron Ave), long-time men's leather/ fetish and bear bar beneath Donny's.
PTown (4740 Baum Blvd) naked male strippers nightly except Monday, pool table, juke box.
Real Luck Cafe (Lucky's) (1519 Penn Ave) aka Luckies, nothing fancy decor, two levels, dancing, nude male strippers, pool tables.
Spin (577 Ellsworth Ave) video lounge bar for a fashionable crowd.
There Video Lounge (931 Liberty Ave) downtown after-work cocktail bar/ video lounge, mixed crowd, game nights, wet-underwear contests.

Lawrenceville
Blue Moon (5115 Butler St) unpretentious neighborhood tavern, drag shows, fair-weather outdoor patio.
Cattivo (146 44th St) neighborhood pub, restaurant serves to 1am, dancing weekends, mostly women.
Remedy (5121 Butler St) artsy mixed crowd for dinner, cocktails and the odd dance night.
Southside
Backdraft Bar & Grille (3049 Churchview Ave), nightly food & drink specials, Internet Jukebox, DJ's, Live Bands, Karaoke, 7 gaming machines, pool tables, theme parties, mixed crowd, live bands, & TV sports events.

Out of town (off our map)
Link Club (91 Wendel Rd, Herminie, PA), drag shows, karaoke, games and contests.
Vice Versa (335 High St; Morgantown, WV), 18-plus dance club, mixed crowd, drag shows, karaoke, theme nights, underwear contests, male strippers, guest porn stars.

Restaurants
Point Brugge Cafe (401 Hastings Ave) European-style bistro, neighborhood gathering place, Sunday brunch until 3pm.
UUBU6 (178-180 Pius St) unique building, eclectic and constantly changing food combinations.
See the City Paper food+drink guide for easy-to-navigate listings of hundreds of Pittsburgh restaurants, of many ethnicities and price ranges.

Sauna
Club Pittsburgh (1139 Penn Ave) 24-hour/ 7-day men's club, multi-level social areas, weekday lunch, video lounge, steam, whirlpool, sauna, tanning, gym, internet, roof deck smoking; naked Fridays, leather Sundays.

Shopping
Pleasant Present (2218 & 2301 Murray Ave) gay-themed merchandise, gifts, DVDs, dance mixes, clothes, jewelry.
ER Room (5151 Butler St) surplus style, rubber and leather clothing, toys and devices, jocks and bondage gear.