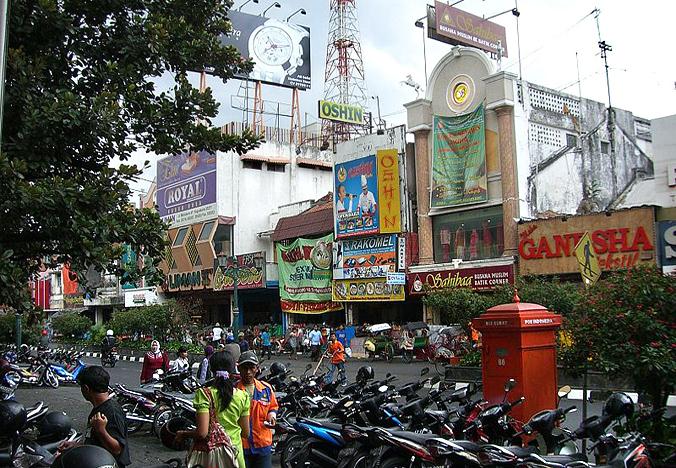 Yogyakarta
Yogyakarta was established after a civil war in 1756 between princely brothers, in a disagreement about relations with the Dutch and their use of Javanese slaves in Dutch Guiana (now Suriname). With special status this is the only Indonesian province headed by a monarch, the Sultan. Today it is the more laid-back and cultured alternative to the capital city and business center of Jakarta, on this most populous of Indonesian islands. Gadjah Mada, one of Indonesia's most prominent universities, along with several more private institutions, make this an academic center too, with students making up almost 30% of the population. A center for classical Javanese fine arts and culture such as painting, gamelan music, poetry, drama, puppet shows and dance, the city is also home to an emerging scene of independent filmmakers, experimental musicians, performance and visual artists.
Tourist attractions of Yogya, as it is also called, include: Jalan Malioboro filled with restaurants, inexpensive shops, and crowds of friendly students; the Hindu temple of Prambanan with towers reminiscent of (but predating) Angkor; and the Candi Borobudur, (or Barabudur), an 8th-century Mahayana Buddhist monument with 504 statues of Buddha, once lost and deserted for centuries in nearby Magelang. The "kraton," or Sultan's palace, is at the core of the modern city. Gunung Merapi, just to the north, is Indonesia's most active volcano, with regular eruptions since 1548.
There are also beaches to enjoy at Parangtritis, Baron, Kukup, Krakal and Drini. Silverwork, batik, earthenware pottery, masks, bamboo furniture and leather handcrafts are made locally. The museums Sonobudoyo, Affandi, Kakayon and Vredeburg provide more reasons to visit. Hundreds of budget hotels can be found in Yogyakarta, many of them on Sosrowijayan, by Malioboro, or in the Prawirotaman area, about 3km south of downtown.
Getting here

Adisucipto International Airport connects the city to major Indonesia hubs such as Jakarta (a trip of 7-12 hours), Surabaya, Bali, Makassar, Balikpapan, Banjarmasin, and Pontianak. There is also air service to Singapore and Kuala Lumpur, Malaysia. Trans Jogja buses will get you from the airport to Prambanan Bus Terminal or to Giwangan Bus Terminal. The Pramex Train connects Maguwo Station, in front of the airport, with Yogyakarta 15 times each day; also the towns of Kutoarjo, Solo, Balapan and Palur.
The city is located on one of two major railway lines across Java between Jakarta/ Bandung and Surabaya. The Tugu Railway Station serves business and executive class trains, and Lempuyangan Station serves economy class trains. Both are downtown.
Getting around
Maps in English can be found at the Tourism Authority offices next to Hotel Mutiara on Jalan Malioboran, at the airport and the train station.
Yogyakarta's taxis are metered and traditional three-wheeled pedal-powered carts, known as becak, can be found all around the city. Regular buses and the air-conditioned patas of TransJogja operate from 6am to 10pm, with stops at designated shelters where tickets can be bought.
Media and resources
Rebecca Tour & Travel will take care of all the details of a trip to this part of Java; all the tourist attractions and places such as Merapi Volcano.
Travelunik Yogyakarta is a gay-friendly tour operator helping visitors to experience the culture, history and scenery of Yogyakarta and Central Java.
For gay info see the Utopia website guide to Asia, and for general tourist information see the YogYes website.
For a glimpse into Javanese mysticism, the influences of Hinduism, Buddhism, Christianity and Islam on the original animist religions of the island, and to better understand the way people experience the world from here, see Javenese Mystical Movements.
See map locations and website links for area businesses at our gay Yogyakarta listings.
Gay Yogyakarta
"Varied sexualities are an integral part of Indonesia's cultural mosaic. Many married men and women may also maintain same-sex relationships" - Utopia
To find the small but lively local gay scene, get your bearings at one of several places:
Banana Café (Jalan Parangtritis 64; phone 62 813-9205-6646), gay-owned and managed, inexpensive cafe/bar, Indonesian and international fare.
Boshe Club is a large, mixed, gay-friendly dance club on Jalan Magelang, with live bands nightly.
Hugo's (off the Sheraton Hotel parking lot), an upscale mix of glbt/str8, gayest Saturdays. The Embassy Club, a small disco just behind Hugo's, has a gay dance and drag show night each third Saturday.
The Hyatt Hotel has a sauna that is cruisy on Fridays, but not blatently so.
ViaVia Travelers Café/Restaurant (Jalan Prawirotaman 30), glbt-friendly, world menu includes veggie items, promotes community-based, sustainable tourism. They also have a guesthouse (phone: 62 274-374-748).