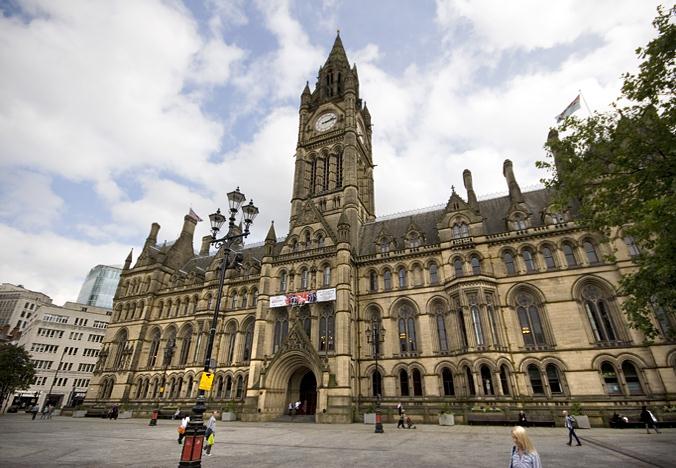 Manchester
From a small Roman fort at Mamucium in 79 AD, Manchester has grown to become Britain's second largest metro area, with a population of over 2 million. Once dubbed "Cottonopolis" during the heyday of textile manufacturing when 65% of the world's cotton was processed in this area, Manchester became the world's first industrial city during the early-19th century.
"What Manchester does today, the rest of the world does tomorrow" was a 19th century saying, and the first train station was built here. Later the first programmable computer was built at the Victoria University of Manchester, and scientists at the Manchester College of Technology are credited with first "splitting the atom" in 1932. The atomic trio were Irish, English and a New Zealander, illustrating the long-time cosmopolitan character of this city, the commercial center of a far-flung empire. Even earlier, 14th century Flemish weaver immigrants made their contribution to the genesis of the textile industry to come.
Today, with the factories gone, Mancunians have moved decisively into the post-industrial age, retaining the best industrial architecture, recycling buildings that survived the war, and creating new urban models - especially since the late-1980s. The incredible stretch along Canal Street is arguably the finest example of a Victorian commercial district in England. Now, instead of transporting coal and cloth, the old canals serve as a backdrop for chic to funky boutiques, thronged bars, renowned dance clubs and top DJs who create cutting-edge music trends - one of the world's most vibrant gay villages.
It took the TV series Queer as Folk (British original version) to put this city in England's northeast on the gay map for most Americans, but area pubs have welcomed a gay clientele since at least 1940. The Festival of the North East takes place each June throughout the region, with artists, museums, galleries and other organizations celebrate local creativity and innovation. Manchester Pride happens over ten days in August event, bringing in visitors from around the country and around the world.
As befits a city with such a history of industry, the Museum of Science and Industry, and the Museum of Transport have major collections of steam locomotives, machinery, aircraft, buses and trams. The Manchester Museum has Egyptology and natural history departments of note, the Manchester Art Gallery is known for European paintings, and the Whitworth Art Gallery has displays of modern art, sculpture and textiles. At Chetham's Library, the oldest public library in the English-speaking world, the economics books read by Karl Marx can be seen on the shelf, as can the window seat where Marx met Friedrich Engels. In his book, The Condition of the Working Class in England in 1844, Engles drew on the period he lived here to critique rising inequalities of wealth and the poor living conditions of many workers in this early industrial society.
The Hallé Orchestra, founded in 1857, is the fourth oldest symphony orchestra in the world. The Manchester Opera House, featuring large-scale touring shows, dance, opera and West End theater productions, is just one of several large stage venues. The Manchester Evening News Arena (the MEN) is the world's busiest indoor arena, and Manchester United and Manchester City are the famous local football (soccer) teams.
Getting here
Manchester Airport has direct flights from nine major North American cities, ten Caribbean airports, over one hundred from cities around Europe, as well as others from Africa and Asia. On arrival there is fast and frequent Trans Pennine Express train service linking the airport with over 100 destinations across the North of England and beyond. Their website has links for services to Scotland, Wales, Ireland, the Midlands, and the South of England. There is also 24-hour bus service from the airport into downtown Manchester. See GMPTE for details.
National Express coaches make the three-hour journey from London Victoria Station to Manchester Central Coach Station, Chorlton Street. National also operates trains from London to Manchester Oxford Road & Piccadilly Station. The Virgin Train brings party people from Paris to Manchester in about 5.5 hours and offers WiFi service too. For more rail connections into Manchester see National Rail.
Getting around
Within the city, Manchester's train and tram system is excellent. See TFGM for info on all public transport here.

Currency and Money

The British pound is king — we mean queen. ATMs are sprinkled throughout the downtown area, in all the usual places. Contact your local bank for possible UK partners to save on withdrawal fees. A smart chip credit card with a pin number, now required by some ticket machines on this side of the pond, can also be useful.
Media & Resources

Canal Street and the Discover/LGBT section of Visit Manchester are two good online sources for what's happening around town. Manchester Bars covers over 500 pubs and bars of all kinds in Manchester, plus restaurant and hotel listings.
Manchester Gaydio can be heard locally at 88.4FM or live online everywhere. The station gets news feeds from Pink Paper, and Gay Times, two UK national gay magazines.
Attitude and QX are two more national gay periodicals, with information on what's happening around the country, including Manchester. Check out the HOT Magazine website for pdf downloads of the latest monthly issue -- "for men, not boys."
Besides their gay listings, Visit Manchester also has a good local tips on where to stay and eat, and what to do around town. For another good restaurant guide see ManchesterRestaurants. Their sister site ManchesterTheatres covers all the arts and entertainment listings.
Based in Altrincham, just outside Manchester, the Vegetarian Society continues the 1807-1816 work of Reverend William Cowherd, who led his Salford, Manchester congregation to abstain from meat, and of Joseph Brotherton, a local MP during early years of the Industrial Revolution. Members have since included George Bernard Shaw, Mahatma Gandhi and Leo Tolstoy.
The Edward Carpenter Community (ECC), a group of gay men of all ages, abilities and backgrounds, offers alternatives to the commercial scene, with gatherings across the country, from Scotland to the Lake District. Regular groups meet in both Manchester and London.
Accommodations:
New Union Hotel (111 Princess St; 44-0161-228-1492), value for money, friendly and knowledgeable staff, lively pub, dance area, canal-side seating.
Rembrandt Hotel (33 Sackville St; 44-0161-236-1311), spacious hotel and bar, center of Canal Street action, six newly renovated rooms above gay men's pub, some overlook canal, TV, free WiFi.
Hotel International (34 London Rd; 44-0161-236-1010), around corner from gay bars, 40 rooms to suit every budget, modern comforts, free WiFi, full breakfast, bar with leather chairs, books, games, large flat-screen TV.
Doubletree Hilton Hotel Manchester (One Piccadilly Place, 1 Auburn St. 44-0161-242-1000), centrally located, beautifully appointed, comprehensive amenities.
Malmaison Hotel Piccadilly (Piccadilly Manchester M1) 167 rooms. 44-0161-278-1000, centrally located, comprehensive amenities.
For map locations and website links to the businesses below, and more, see our gay Manchester listings pages.
Going out
Alert (Club-Alert.com) members-only strict dress code leather/fetish/skins club, 4th Fridays and special nights. Temporary memberships for visitors if accompanied by an existing member.
Alter Ego (105 Princess St), subterranean club, home to Saturday and Tuesday Poptastic parties, indie, grunge, and trash pop, Manchester's best gay alternative night out.
AXM (100 Bloom St), late-night large modern venue, polished decor, pop and commercial music, seven nights of events, game shows, karaoke, cabaret, DJs, dancing, foam parties.
Baa Bar (27 Sackville St), two floors of dancing, pop and disco classics, bar with booth seating, restaurant, good food, inexpensive drinks.
Belinda Scandal's Show Bar (Sackville & Canal Streets), nightly live shows, games, cabaret, male strippers, no cover charges, upstairs at The Rem.
Bijou Club (1-7 Chapel St), metro-sexual nightclub dress-up dance party nights like One Religion and the stylish Mode events - until 5am.
Churchills (37 Chorlton St), popular pub, entertainment, karaoke nights,
Company (28 Richmond St), downstairs intimate spot, low-light atmosphere, sensual fun, packed and friendly, leather and fetish guys.
Coyotes (14 Chorlton), large entertainment nightly bar, open late, women's favorite.
Crunch (10 Canal St), American theme diner food and musiv on the jukebox, computer area, spacious lounge and VIP area; basement dance bar.
Cruz 101 (101 Princess St), behind Canal Street, large dance club, open late, big weekend crowds. Mixture of hard-hitting house and camp, singing, performance acts, Thursday Poptastic parties. Downstairs smaller SUB, most underground clubbing space in the gay village.
Eagle (15 Bloom St), basement men's club, industrial style with dash of plush Victorian, dress code leather/rubber/skin/uniform nights, bear events, progressive electro, funky house to chill-out tunes.
Eden (3 Brazil St), foot bridge across the canal, restaurant seats inside, out or on a floating barge; great food, wide selection of drinks, spacious, dancing till dawn.
G.A.Y Manchester (63 Richmond St), large multi-level cocktail lounge, space to sprawl, cushy sofas and beds to cuddle or chill out, rooftop garden for smokers, overview of Canal Street below. Big-name weekend DJs, former Spirit site.
Legends (4-6 Whitworth St), every Saturday, occasional Fridays or Sundays, largest gay club, maze of three levels, four areas, each with distinct atmosphere, huge themed events, "Legend-ary" foam parties, wall-to-wall testosterone. New Year's Eve party will be the goodbye last-ever night - building to be demolished in 2013.
Living Room (80 Deansgate), leisurely lunch, evening bar/restaurant, elegant comfort food, Sunday brunch and traditional roasts while they last. First Saturdays each month bear nights.
Manto (46 Canal St), 24-hour lively party venue, younger mixed crowd, drinks specials, two floors, veranda upstairs, outdoor seating, new roof-top Sarasota restaurant with retractable roof.
Molly House (26 Richmond St), new three-level cafe/bar, stylish, mixed crowd, adjoining Company Bar.
Napoleons (33 Bloom St), two-level mixed crowd bar, oldest in the Village, events nights, open late.
New Union (111 Princess St), long-time favorite village show bar, mixed lively crowd.
New York New York (98 Bloom St), loyal regulars, cabaret entertainment, two popular bars, open early from 1pm, or to 3-4am, difficult website.
Outpost (4-6 Whitworth St), day and night, laid-back bears/leathermen mix, outdoor area, at Legends.
Paddy's Goose (29 Bloom St), traditional pub, traditional ales, older and drag crowd, home cooked pub grub, jukebox, across from coach station.
Queer (4 Canal St), lifestyle cafe bar on canal street, mellow daytime music and food; lively night-time club open until late.
The Rem Bar (33 Sackville St), below original Village gay b&b, men's bar; leather, bear, comedy, stripper, & sports nights.
Taurus (1 Canal St), friendly, busy day and night, cheap pints of beer, wide mix of ages, genders and types. Downstairs performance space, theatrical and vocal talent.
Thompsons Arms (21 Sackville St), small, central bar, regular live entertainment on the schedule.
Tribeca Bar & BED (50 Sackville St), burgers, appetizers, sandwiches - noon to 8:30pm, daily drinks specials, Quiz Nights, DJs, dance floors, gay/straight mix.
Vanilla (39 Richmond St), women-only club, considered among the best lesbian bars in Britain, WiFi.
Velvet (2 Canal St), hotel, restaurant, breakfast, soup, sandwich, small-plates, pizza lunch, classic British comfort foods, Sunday roasts, canal-side seating, eclectic music style.
Via (28-30 Canal St), daily from 11am (Sunday noon), stunning venue, handsome men, nice-price cocktails, good food, nightclub, entertainment into early hours, comfy chairs.
View (40 Chorlton St), large bar/club venue, young, mixed crowd.
Two famous local dance events ended this year: Essential (8 Minshull), the all-star DJ, mostly guys dance club closed in May 2012 (new owners may reopen later in year); and Federation, the 10-year-running nights at HMV Ritz had their final night this past August, 2012.
Cocktails and Dining
The Alchemist (3 Hardman St, Spinningfields), gay-friendly cocktails or dining establishment, early morning coffee, lunch or weekend brunch. Check out their Cocktail Master Classes. Also with a new location at 1 New York Street, at Mosley.
Australasia (1 The Avenue, Spinningfields), straight but very stylish and gay-friendly spot with world-class dining. Ranks among the finest restaurants in the city.
Chaophraya (Chapel Walks) Thai restaurant & bar offers award-winning food, plus cocktails and Saturday cooking classes, just off Cross Street. Look for their Tuk-Tuk at the Manchester Pride parade for meal discount vouchers.
Ning Malaysian Restaurant (92 Oldham St), a straight but stylish and gay friendly spot. Cozy, intimate; reasonable prices, delicious food.
Smoak Bar & Grill (1-3 Piccadilly), funky, upscale steak house and burger joint at the Malmaison Hotel.
Saunas, escorts
Basement (18 Tariff St), sauna, wide array of facilities, wide mix of people, spacious steam and sauna rooms, double jacuzzi, big TV screens, snacks and drinks, maze and relaxation areas, spa/massage treatments.
H2O Zone Sauna (36-38 Sackville St), central-location sauna just off Canal Street, large Jacuzzi, communal relaxation room, private rooms, snacks.
Shopping and grooming
Rob Manchester (17 China Lane), leather, fetish, sex-toys, lubes, accessories, full leather gear. T-shirts and vests, football socks, fetish gear, rubber and leather accessories.
Clone Zone (36-38 Sackville St), newspapers, mags, DVDs, CDs, t-shirts, leather thongs, street wear, and accessories, as well as aromas and lubes in abundance.

For locations and websites for the above businesses see our map & listings tab.