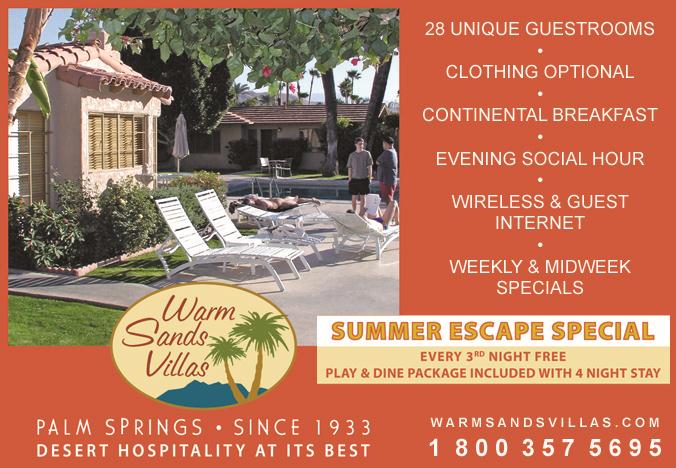 Warm Sands Villas
Hotels & Guesthouses
Warm Sands

555 Warm Sands Drive
Palm Springs, CA, United States
92264

760 323-3005
800 357-5695
760 323-4006
http://www.warmsandsvillas.com
Historic resort in the heart of Palm Springs offering charming Spanish architecture with modern amenities. Bungalow style rooms with full air conditioning surround our pool. Jacuzzi, sun deck, spectacular mountain views, lush landscape and friendly staff. Wireless internet. Kitchens, apartments and suites available. Continental breakfast and evening refreshments. Clothing optional. Midweek and weekly discounts.
Established in 1933, the Warm Sands Villas has a history as colorful as the city of Palm Springs. In 1947, under the ownership of then police chief Gus Kettman, the hotel experienced a dramatic expansion, nearly tripling its size and further developing the grounds. The hotel was host to its share of notables as well, from Shirley Temple to Clark Gable (known to love Mrs. Kettman's enchiladas).
In 2001, the hotel underwent an equally dramatic renovation, updating guestrooms to include modern amenities while preserving its charming Spanish architecture and expansive courtyard. All 27 rooms now feature complete climate control, travertine stone floors, king sized beds, and wireless access to our high speed internet connection. New furnishings were added late last year.
» Return to Search