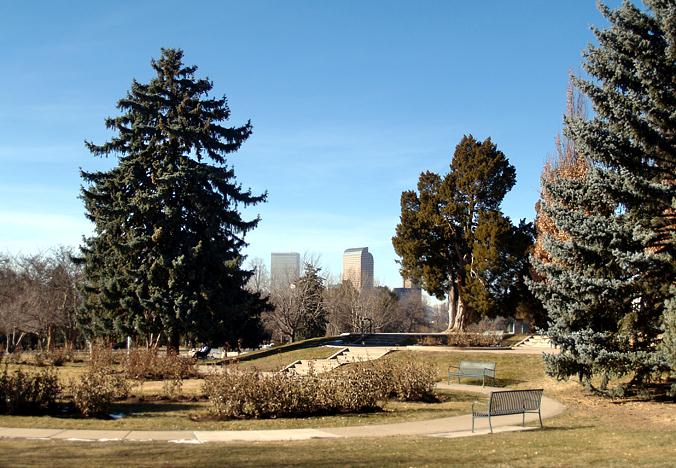 Denver
Denver will surely take your breath away. Be prepared for the change in altitude here in the "Mile High City." The attitude's different, too, as you'll meet some of the friendliest and most helpful folks you may ever encounter.
Denver has preserved a vibrant downtown, one of its great charms. Here you'll find a convention center, a performing arts complex, and a wide variety of shops, restaurants, and nightspots. Also here are some of the city's top attractions, including the US Mint, the Denver Art Museum, and the Colorado History Museum.
Capital Hill, Broadway Street to the south and East Colfax to the east have long been the main gay district for bars, restaurants and shops. Cheesman Park, a few blocks from these two streets, is a green expanse with city skyline and mountain views. With 80 acres next to the Denver Botanic Gardens, the area is popular for daytime sunning, volleyball and cook-out, plus the occasional concert or drum circle. Long a men's cruising area, the guys come here in cars, on bikes or on foot. Officially closed 11pm - 5:30am, the road stays open, so it's mostly a drivers' scene during later hours. Once a cemetery, the area is known for ghost sightings too.
Denver's Pridefest takes place each June, along a route from Cheesman Park, down East Colfax, into Civic Center Park where the two-day festival takes place. Cheesman Park is also the location for the AIDS Walk, mid-August each year. Other community events include the Rocky Mountain Regional Rodeo, and Thunder in the Mountains with Rocky Mountain LeatherSIR among the contests.
Getting here
Denver International Airport is likely to be your gateway to the Mile High City. The ultra-modern facility is about 25 miles from downtown. Skyride is the RTD bus into downtown, with departures every 15-60 minutes, 3:30am to 1:30am, at a cost of $9-13, depending on destination.
Getting around
A car is usually your best bet for getting around this sprawling city. RTD has bus and light rail service, at $2.25 ($4 express) per trip in cash. See their website for maps, fares, passes, and schedules.
Media & resources

The local gay press includes Out Front and Gayzette: each with news and events and listings. Westword is Denver's alternative weekly for news, arts, music, restaurant reviews and general events listings. Denver Pride is another of their projects.
The Colorado LGBT Center on Capitol Hill provides legal & advocacy programs, hosts SAGE for older gay people, youth services, job assistance, and organizes various events. Denver Pride is another of their projects.
As in many western cities, the rodeo is a popular gay pastime hereabouts. See the CGRA, Homorodeo, and IGRA websites for info on local events, including gymkhanas, schools and the big Rocky Mountain Regional Rodeo.
Activities of bears in the Rocky Mountain region can be followed at the Front Range Bears website. They organize various trips, get-togethers, and do first Friday socials at the Wrangler.
For drag pageants and cabaret shows see the websites of Broadways, Charlie's, Club M/ Hamburger Mary's, and Tracks. Go to our map & listings tab for links to these and businesses listed below.
The Rocky Mountain Arts Association, RMARTS has information about the Denver Women's Chorus and the Denver Gay Men's Chorus.
Thunder in the Mountains is the big leather/ fetish July party weekend, with contests including Rocky Mountain LeatherSIR. Their website has details for this and other events, news, and links of interest to the community.
Queer lives, voices and visions are presented in all their diversity in film screenings by Cinema Q. See their upcoming programs at their website.
Denvergov.org is the official city website. Denver.org can answer most general tourist FAQs about Mile High City. For daily news coverage, sports, arts and entertainment, see the Denver Post.
For map locations and website links to the businesses below, and more, see our gay Denver listings pages.
Accommodations
Capitol Hill Mansion (1207 Pennsylvania St) in the Capitol Hill district downtown, combines turn of the century opulence with every modern convenience in this eight room B&B.
Holiday Chalet Bed & Breakfast (1820 East Colfax Ave), accommodations in the Wyman District, Victorian brownstone, with elegant period decor. Their full breakfast of pancakes and quiche, lox and fruit get you nicely started.
Ramada Inn (1150 East Colfax Ave), Capitol Hill, downtown, minutes from many tourist attractions and local gay clubs. Outdoor heated pool, whirlpool, and fitness center, restaurant, laundry, WiFi, on-demand movies.
Bars and clubs
Aqua Lounge (1417 Krameria St), gay/straight mixed neighborhood lounge; live music, DJs, karaoke, video bingo, darts, poker, Wednesday go-go dancers.
Barker Lounge (475 Santa Fe Dr), older, welcoming crowd neighborhood bar, large screen TV, dogs welcome.
Black Crown (1446 South Broadway), piano bar/lounge, game room, patio, small plates menu, Sunday brunch, mixed older crowd.
BoyzTown (117 Broadway) strippers are the specialty, never a cover, hot men six nights a week, from 10pm, theme and holiday special parties.
Broadways (1027 Broadway), small Hollywood-theme bar, easy-going folks, HDTV sports, all-weather patio, dance floor, DJs, beer busts.
Charlie's (900 East Colfax Ave), over a generation, among nation's finest, Colorado's largest. Pool tables, video games, dart machines, outdoor patio, non-stop calendar of events. Big Sunday afternoon beer busts, karaoke, Undie Mondays, shirtless guys Friday/Saturdays, Sunday drag. Country Western music dance floor; second level party bar wide music variety.
Club M (709 East 17th St), at Hamburger Mary's restaurant, drag cabaret shows, TV sports and "Mary-oke." Shares "Denver's best patio" with restaurant.
Compound (145 Broadway), delightfully funky bar, patio, dancing; DJs, state-of-art sound/lghting. No dress code, anything goes, Levis to drag. Weekend beer busts. Open daily from 7am.
Denver Eagle (1475 36th St), Levi and leather men's bar; games, Thursday underwear nights, third Saturday Gear leather/fetish nights.
La Rumba (99 W 9th Ave), mostly straight crowd, Lip Gloss Friday Latin music dance nights.
Lannie's Clocktower Cabaret (1601 Arapahoe St), cocktails, appetizers, dessert, eclectic entertainment, comedy, variety, music and cabaret for mixed crowd.
R-R Bar (4958 E Colfax Ave), long-time locals' favorite on East Side, old-time Denver charms, games, theme nights.
Tracks (3500 Walnut), big gay dance club: Superstar 18+ Thursdays; Bad women's night first Fridays; Haus of Flesh men's dances with guest porn stars second Fridays; Hip Hop dance third Fridays; Drag Nation last Fridays; theme dance parties on Saturdays.
Vinyl (1082 Broadway), Friday-Saturday 18+ mixed, 3-floor dance club, 9 DJs, theme parties; Sunday "Climax" gay T-Dance from 6pm on rooftop patio, city vistas, fire pits/ grilled food.
The Wrangler (1700 Logan), home to Front Range Bears, known as Denver's top men's cruise bar. Leather and underwear nights, pool games, karaoke; legendary Sunday beer busts, wall-to-wall men and line at the door.
X-Bar (629 E Colfax Ave), gay mix neighborhood video bar, weekend dancing, karaoke, games, women's nights. Daily 3pm-2am, 18+ Sunday from noon, DJ and go-go dancers to close.
Baths
Midtowne Spa (2935 Zuni), fantasy sets, glory holes, cell block, maze, dungeon room, video-arcade booths. Steam, dry sauna, hot tub, porn and general-release movies, backyard deck hot tub. Open 24 hours. Specialty rooms, TV, sling, St. Andrew's cross. Hot JO parties, strip shows, free food and beverages.
Other baths, also open 24 hours, include:
Denver Swim Club (6923 East Colfax Ave) with outdoor pool, nude sunbathing and heated indoor poll along with their many sauna and cruising facilities; and
Triple C (2151 Lawrence) a large gay sauna with all the amenities.
In Colorado Springs Buddies Private Club (3430 N Academy Blvd) is a sex club with group showers, video booths, and dark room.
Restaurants & Cafes
Barricuda's (1076 Ogden Street), daily brunch until 3pm, dinner, late snacks, even later on weekends, veggie options, full bar.
Dazbog Coffeehouse (1201 E 9th Ave) gay favorite since time it was Diedrich, now part of growing Russian immigrant chain, still great gourmet coffee, bagel and pastry option.
At the Denver Hamburger Mary's (700 East 17th St), you'll find them up to the usual standards of this campy chain. Their Club M bar is a couple of doors down.
At Racines (650 Sherman St) from 7am weekdays breakfast, lunch, dinner, weekend brunches from 8am. This comfortable gay-frequented restaurant is a favorite meeting place.
Shops and entertainment
Denver Film Center (2510 E Colfax), finest indie & world cinema, limited releases, arthouse retrospectives, Cinema Q queer films, on weekly-changing schedule.
Needz (135 Broadway), close to Compound, variety of novelties, sexy underwear, fetish toys, and other fun items.
Crypt (131 Broadway) has leather goods, bondage and fetish gear and plus cards, gifts, lubes, dvds and other erotic needs and whims.
CJ's Leather (212 S Broadway), leather clothing, bondage and S&M gear, good prices.
For a unique gifts, be sure to visit Heaven Sent Me (116 South Broadway).
Tattered Cover Bookstore (1628 16th St) is an indie bookseller with four area locations.
Local Gay History
In 1858 news of gold strikes brought hundreds of prospectors to the eastern edge of the Rocky Mountains. Where Cherry Creek met the South Platte River the city of Denver, would soon be established with an overwhelmingly male population, 35 saloons and no churches. See Gay American History, by historian Jonathan Ned Katz which cites 1914 works by Dr. Magnus Hirschfeld in Berlin. Hirschfeld had received reports from a gay Denver University professor who told of a well-developed network of gay life in the city at that time.
Historians John D'Emilio and Allan Bérubé continue the story after World War II, when airmen from nearby Lowry Air Force Base helped to maintain Mary's Tavern on Broadway as a gay space, long before post-Stonewall social changes took hold in the 1970's. Subsequent political battles raged around the passage of anti-gay Amendment 2 which was finally overturned in the US Supreme Court's Romer v. Evans decision. As a whole Colorado remains relatively hostile, but the city of Denver, along with nearby Boulder, maintains far more tolerant attitudes towards sexual minorities.