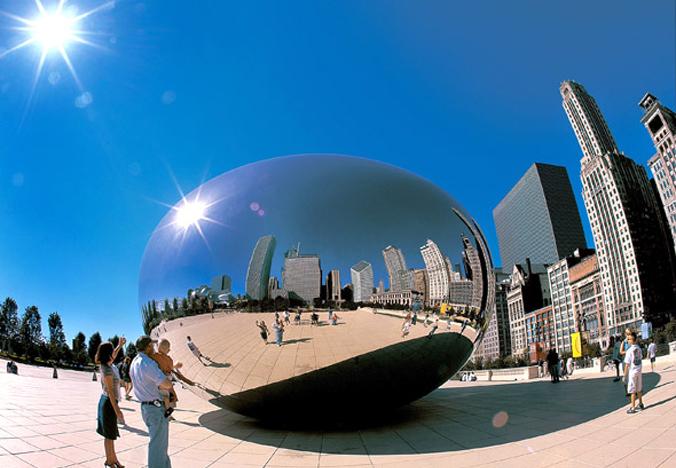 Chicago
The country's third-largest city, Chicago has a totally different vibe from the big cities on either coast. Nicknamed "Paris on the Prairie" because of its wide boulevards and tree-shaded parks, Chicago has a lot in common with that European capital. It has world-class museums, a breathtaking array of restaurants and gay nightlife that rivals any of its neighbors.
This sophisticated city was home to the world's first skyscraper. (That was 1885, and the Home Insurance Building was just nine stories tall.) Since then, the city has attracted famous architects like Louis Sullivan and Mies van der Rohe. The skyline's main feature these days is the iconic Willis Tower, the former Sears Tower.

Getting here
From O'Hare International Airport, take the Chicago Transit Authority's Blue Line train heading east for $5. Change at Addison for a bus over to Lakeview, or go all the way into the Loop (about 45 minutes) for Downtown destinations, or connections to other lines. For information, contact Transitchicago.com. A taxi to Lakeview averages $45.
Midway International Airport, on the southwest side, eight miles from the Loop, also offers air connections to cities all over North America and the Carribean -- dominated by low-cost carrier Southwest Airlines and their AirTran subsidiary, with over 90 destinations.
Chicago, the hub of the Amtrak national rail system, has trains coming into Union Station (225 South Canal St) from all regions of North America.
Greyhound has service to 2,400 locations in North America, with several Chicago stations. Their main terminus, at 630 Harrison St, is just west of the Loop, where I290 intersects with I90/94. MegaBus has low-cost intercity express bus service between Chicago and 21 other Midwest cities.

Getting around
The Windy City is a breeze to get around, and a car is not only unnecessary, but often difficult to park. Bus routes 22 along Clark, and 36 on Broadway and the CTA Red Line EL will get you most anywhere in gay Chicago, and taxis are easy to find. Night services operate every 30 minutes on the Red and Blue lines, and the N22 bus along Clark, between Boystown and the Loop.
CTA full fares are $2.25 per trip. Pass cards for unlimited rides of one ($10), three ($20) or seven days ($28), may be purchased online, from station vending machines, or or at retail locations around town, including CVS and Walgreens drug stores. Visit TransitChicago.com or DriveLessLiveMore.com to plan your route.
With more than 170 miles of on-street protected, buffered and shared bike lanes, along with off street paths such as the 18.5-mile Lakefront Trail, Chicago is getting more bike-friendly every year. See the ChicagoBikes website for maps and information. BikeChicago offers rentals and city tours.

Neighborhoods
Boystown: Chicago's biggest concentration of gays is in the high- energy neighborhood of East Lake-view, perhaps better known as Boystown. It's a triangle between Belmont Avenue, Halsted Street and Broadway.
Andersonville: The mellower Anderson district stretches into Edgewater and includes many bars and restaurant of interest, plus one of the city's two gay bathhouses
In focus:
'Just be whoever you want'
Nightlife options can often seem limited for gay men who would rather dance to Le Tigre than Lady Gaga or who want to bring along a lesbian friend or two. But thanks to the efforts of several party people, the Windy City now has a lot to offer those in search of something a little different.
"I feel like many bars on Halsted can be very unwelcoming to people that are a little different, whether that means you dress differently, you're a woman or a trans person," says Erik Roldan, a DJ of both the dancefloor and radio waves. "You end up seeing the same types of people, who are surprisingly conservative in a lot of ways."
Roldan, also known as Stinky Pinky, spins Fridays at Wang's, 3317 North Broadway, a low-key, dimly lit spot decked out in Asian decor. The bar offers the perfect opportunity for enjoying a marvelous martini -- try the green tea variety -- and music that skews indie.
If you're hungry for dancing, Berlin Nightclub, 954 West Berlin, is where you need to be. The club is open until the wee hours of the morning and caters to artsy and punk types while offering a hodgepodge of themes. A quarterly Bjork night, a monthly Madonnarama party, and the latest addition -- a monthly Perv night, complete with lots of onstage spanking -- highlight the diverse party lineup.
"The music at Berlin is accessible yet different, and we don't want to alienate anyone," says Chester Holowicki, who DJs on Thursdays at the club. "It's the spot where you can be whoever and whatever you want."
And that even includes you Gaga monsters out there: both Holowicki and Roldan were quick to admit they couldn't resist an occasional pop gem. But expect your Gaga served up in a mix with indie queens located a bit left of the mainstream, like Goldfrapp or Peaches, as well as fathers of new wave, like New Order or Yaz.
"I definitely will play some pop music, but there's always some much more interesting and newer stuff happening in the underground that might become pop later," Roldan says. "I like to try pushing you to listen to and like something you may not have heard before."
"We're gays and we're supposed to be smart. So let's challenge ourselves and embrace something different," Holowicki says.
Small town, big backyard
In Too Much Light Makes the Baby Go Blind, the Neo-Futurists zip through 30 original plays in 60 minutes. Never the same show twice, the lightening-fast performances are hilarious and sometimes heartbreaking. Even though the show has been running for 20 years, it's sometimes hard to get a seat at the renowned theater troupe's home base, the Neo-Futurarium (5153 N. Ashland Ave. 2nd Fl).
The improv group brings fans of alternative theater to Andersonville, roughly five miles from downtown.
Other theater and musical troupes in this neighborhood present everything from a live-action gay soap opera to a tribute to The Carpenters. There's also a bi-monthly queer music showcase called Homolatte.
Shopping
The Magnificent Mile is a high-end shopping district on Michigan Avenue between the Chicago River and Oak Street. The Bucktown and Wicker Park neighborhoods, both off North Milwaukee Avenue, are full of boutiques, galleries, theaters, eateries and nightclubs.


Media and resources
Windy City Times is the city's gay newspaper. Boi Magazine covers gay entertainment and clubbing. Grab Magazine is Chicago's gay bi-weekly magazine, with business listings, bar events and maps, plus local color - filling the gap left by the recent closing of Gay Chicago Magazine.
Pink Magazine is a GLBT lifestyle quarterly and business directory, in print and online. Chicago Special Events has gay and general events listings for the area. ChicagoGoPride and Chicago Phoenix are two more online gay resources.
The Chicago Reader is a great alternative paper for general listings, reviews, and events around town. Newcity is another general online resource.
The City of Chicago Office of Tourism has a thousand ideas for places go and things to do. Consult them online, at their visitor centers, or download free tours in five languages at Downloadchicagotours.com
The Center on Halsted is one of the world's best gay community centers -- and its construction was financed without any government money.
For area bars, lodgings, bathhouses, restaurants and shops, with locations and website links, see our Chicago gay maps & listings tab. Some of these are listed below. See events for what's happening around town, and gallery for photos.


Accommodations: Gay-friendly hotels
Acme Hotel Company (15 E Ohio; 312-894-0800) newly remodled downtown boutique hotel, hardwood floors, all modern amenities.
Amalfi Hotel Chicago (20 W Kinzie; 312- 395-9095) downtown Loop, Magnificent Mile shops location, luxurious feel.
Best Western Hawthorne Terrace (3434 N Broadway; 773-244-3434) Boystown location, free breakfast, internet access.
City Suites Hotel (933 W Belmont; 773-404-3400) art deco-style building, Boystown location, at Belmont El station.
Dana Hotel (660 N State; 312-202-6000) modern boutique hotel, big windows overlooking State Street.
Hilton Chicago (720 S Michigan; 312-922-4400) over 1,500 rooms, host to International Mr Leather competition.
Hotel Monaco Chicago (225 N Wabash; 866-610-0081) downtown boutique hotel, luxurious French decor, part of Kimpton chain.
Majestic Hotel (528 W Brompton; 773-404- 3499) cozy rooms, closest to the lake in Lakeview.
Bed & breakfasts
Ashland Arms Guest House (6408 N Clark; 312-498-9979) North Side location, five rooms with leather/fetish themes.
House 5863 (1248 W Ardmore; 773-728- 5414) former Ardmore B&B, between lake and North Clark nightlife.
Villa Toscana Guest House (3447 N Halsted; 773-404-2643), small gay-friendly guesthouse at Boystown central.
Hostels
HI Chicago (24 E Congress Pkwy; 312-360- 0300) downtown location, all ages, no curfew, inexpensive dorm beds.
Chicago Getaway Hostel (616 W Arlington Pl; 773-929-5380) youthful atmosphere, fun neighborhood, outdoor patio, inexpensive dorm beds and private rooms, just south of Boystown.
Bars & clubs: Lakeview area
3160 (3160 N Clark) small neighborhood bar with open mic nights, local and celebrity guest drag performances, plus cabaret shows in their piano lounge.
Berlin (954 W Belmont) acclaimed multicultural alternative and queer dance club, late-night crowd, performance artists, live music, comedy, drag shows, guest DJs, dancing until 4-5am. Just-released cutting-edge nuggets mix with classics in hands of Chicago's freshest generation of DJ talent.
Bobby Love's (3729 N Halsted) tiny neighborhood bar where karaoke rules.
Bucks (3439 N Halsted), casual, relaxed neighborhood saloon, sports on the tube, garden patio bar, jukebox, darts and pool table; picture-window views of comings and goings on Northalsted. A genuinely friendly staff, decent drinks prices too.
Cell Block (3702 N Halsted), men's cruise, video and dance bar, games, bear nights, IML and Mr. International Rubber events & special parties.
Charlie's (3726 N Broadway) rollicking country-western bar, morphs into high-energy dance club after 2am Thursdays - Sundays (tp 5am Saturdays) when other Boystown bars have closed.
Circuit (3641 N Halsted), limited re-opening, Thursdays/Sundays, Latin dancing, go-go boys, drag shows - see their new website for updated info.
Cocktail (3359 N Halsted) intimate lounge, mixed crowd, great window on Halsted, vibrant music from hot DJs, sexy stripper-boy nights, plus The Gardens warm-weather sidewalk cafe. The bar reopened in February after closing for 3 months.
DS Tequila Co (3352 N Halsted St), tequila bar, beer and cocktails, bar food includes appetizers, burgers, and tacos.
Elixir Lounge (3452 N Halsted), specialty cocktails, prohibition-era classics, tastings, special events, next to Hydrate.
Hydrate (3458 N Halsted) crushingly packed, cruisy dance club, young, fashionable, attractive crowd and staff, hot dancers and contests, blackout parties, drag shows, cabaret and theme nights like lube wrestling first Fridays. Monday $1 drinks.
Little Jim's (3501 N Halsted) early or late-nights, after all the others have closed, men's drinking and cruising bar, cheap drinks.
Lucky Horseshoe Lounge (3169 N Halsted), Chicago's only every-night rotation of erotic male dancers, on stage, on bars, and mingling. Holidays always celebrated in style, and if porn stars in town they usually show up here.
Manhandler (1948 N Halsted) men's cruise bar halfway from Boystown to Downtown, very active patio and backroom, especially in the later hours.
Metro (3730 N Clark) concert and party venue, special gay events and performances.
Minibar (3341 N Halsted) long narrow lounge and cafe for style-conscious metrosexuals.
North End (3733 N Halsted) Chicago's original gay sports bar, neighborhood tavern, ports video and TV games, pool tables, dart boards, athletic crowd. Bar-sponsored football, water polo, darts, bowling, softball, and volleyball teams, porn stars headline special events.
Patron's Hacienda (316 West Erie St), Near North Mexican restaurant, video sports bar, weekend Latin dance club.
Roscoe's (3356 N Halsted) popular bar complex at Boystown center, compact, intensely active dance area, lounge and pub, plus patio and sidewalk restaurant. Constant stream of events include Wet Boxer Shorts, weekly drag, and Male Call game nights with Miss Foozie.
Scarlet (3320 N Halsted) rich decor, small, pleasant escape from Boystown crush. Rotating events include local artists, independent film, top name DJs, comedy and theme parties.
Sidetrack (3349 N Halsted) spacious video bar compex, many rooms and ambiences, inside and out. Central big-screen video bar, laughing and singing crowd, queer and eclectic fare from amazing archives. Show tunes Sunday, Monday favorites, Thursdayscomedy. Special events, biggest, most diverse crowd in Chicago. Valet parking too.
Spin (800 W Belmont) energetic young crowd, dance club and lounge; Friday night famous amateur shower contests, and new Latin dance party with sexy Papi Dancer go-go boys and diva performances.
Bars & clubs: Northside to Andersonville & Westside
Atmosphere (5355 N Clark) dance bar, strippers Thursday to Sunday.
Big Chicks (5024 N Sheridan) local bar and restaurant for all, patio, Sunday BBQ buffet. Bear Den at Big Chicks every Thursday night.
The Call (1547 W Bryn Mawr) video, dance and party bar until 2am every night, pop and retro music, home-inspired entertainment. Easy to reach at Bryn Mawr Red Line station.
Crew Bar and Grill (4804 N Broadway) popular music and sports video bar, cute and trendy crowd. Good basic food, 68 kinds of beer inside, or at sidewalk cafe, daily until midnight; weekend brunch 11am - 3pm.
Davenport's Piano Bar (1383 N Milwaukee, Wicker Park) mostly straight but gay-friendly piano and cabaret bar with student discounts.
Granville Anvil (1137 W Granville) men's dive bar, opens early at 9am for the dedicated regulars.
Hopleaf (5148 N. Clark St) bar with kitchen, known for their Belgian ale selection.
In Fine Spirits (5420 N. Clark St), wine bar, mostly straight but diverse and gay-friendly crowd.
Jackhammer (6406 N Clark) diverse crowd upper bar for gay men and women, dance floor, patio. Downstairs basement Levi-leather/fetish and sex-charged Hole. Bear events, strippers, theme parties. Open to 4am nightly, 5am Saturdays.
Joie De Vine (1744 Balmoral) wine bar, arts crowd, mostly women.
Marty's (1511 W Balmoral Ave) often crowded chic gay martini bar, back patio relieves the crush. Martinis include: Pineapple-Upside-Down, Strawberry, Pomegranate, and Chocolate Mint.
Parlour on Clark (6341 N Clark St), LGBT nightspot, mixed genders/ages, vodka cocktails, dancing, special events.
Scot's (1829 W Montrose) neighborhood bar in Ravenswood area, near Montrose (Brown) CTA stop, busiest after 5pm, mostly gay, welcomes all.
Sofo Bar (4923 N Clark) mixed gay/lesbian neighborhood bar, pool table, large dog-friendly patio.
Star Gaze (5419 N Clark) small dance bar, outdoor garden, women and transgendered people. Rumored to be closing so call ahead.
Touche (6412 N Clark) leather/rubber/fetish men's bar with cheap beer, fun contests and porn star events, dress-code and very active and cruisy back rooms.
Bars & clubs: Downtown & Southside
Baton Show Lounge (436 N Clark) first-rate drag shows for a mostly straight crowd.
Club Escape (1530 E 75th St) Southside, Friday, Saturday, Sunday, "Chicago's number one black alternative nightclub," low-price drinks.
Downtown (440 N State St), gay/lesbian video and karaoke lounge at old Gentry address, afterwork drinks and relaxation; masquerade and underwear parties alternating Fridays.
InnExile (5758 W 65th) sociable neighborhood video bar in the Southwest, near Midway Airport, with free parking and Chicago Beef dancers on Fridays.
Second Story Bar (157 E Ohio) long-time downtown gay bar in area convenient to Magnificent Mile shoppers.
Bars & clubs: Suburbs
Club Krave (13126 Western Ave, Blue Island) mostly gay crowd in southern suburbs with Hot-n-Hunky male dancers hosted by Sarabia, plus karaoke, bear nights and other parties.
Forest View Lounge (4519 S Harlem Ave, Forest View), bar and grill with cozy North Woods tavern vibe, hot sandwiches, comfort foods, beer garden, games, women's sports teams.
Hideaway Nightclub (7301 W Roosevelt Rd, Forest Park), karaoke, weekend dancing upstairs, male erotic dancers, free pool game nights.
Hunters (1932 E Higgins, Elk Grove Village) suburban GLBT club, dancing, karaoke, Latin and other special nights, open weekends until 4am.
Maneuvers (118 E Jefferson St, Joliet), GLBT/ everyone welcome neighborhood bar for 32 years, weekend DJs, Latin nights, chili cook-offs. (Off our map).
Saunas & sex spaces
Banana Video (4923 N Clark) adult gay video store with screening rooms and accessories.
Bijiou Theater (1349 Wells) multi- level porn heaven with large screens and action-filled garden.
Man's Country (5017 N Clark) grand old-style bathhouse with all the steamy amenities and lots of male interaction. Famous for their Friday and Saturday midnight nude stripper and guest porn star shows at no extra charge.
Ram Bookstore (3511 N Halsted) adult magazines and DVDs, video booths with 'ventilation' -also with Thursday through Saturday late night dance and play floor, with music DJs and light show, 3-7am
Steamworks (3246 N Halsted) ultra modern gay gym and sauna with all the bathhouse, video, internet and playspace facilities and then some, including live DJs.
Restaurants
For a more complete list of area restaurants see our listings section.
Restaurants: Lakeview
Ann Sather Restaurant (909 W Belmont) grand Swedish diner serving superb breakfast varieties of Eggs Benedicts, omelettes, wraps, pancakes and waffles; also lunch and justly famous cinnamon rolls. Additional locations in Andersonville, Granville, and on Broadway (see website).
Chicago Diner (3411 N Halsted) award-winning, mostly vegan meat-free meals, brunch, bakery, organic wines and beer, juice bar, margaritas and shakes.
Halsted's Bar & Grill (3441 N Halsted) gay crowd for brunch, dinner, beer and cocktails, large outdoor beer garden, music video jukebox.
Jack's Bistro (3201 N Halsted) American contemporary bistro, healthy global cuisine, open seven nights for dinner and for live DJ Sunday brunch with Mimosas and Bloody Mary specials.
Melrose Restaurant (3233 N Broadway) casual vibe, big menu, always open, all-American diner with breakfast all the time.
Nookies Tree (3334 N Halsted) casual American no-nonsense wholesome food Boystown restaurant, open 7am to midnight, and 24 hours on weekends. Before or after the bars meeting place, quiet afternoon meal, or hearty Sunday brunch.
Orange (3231 N Clark) inventive breakfast, brunch & sandwich fare until 3pm every day. Orange flavored infused coffee a specialty here.
Pie Hole (3477 N Broadway) convenient and tasty late-night slices after the nearby Boystown bars close (moved from Roscoe).
Stella's Diner (3042 N Broadway) good American no-frills diner food includes soup, salads, sandwiches, milk shakes and plenty more from a big menu, 7am to 10pm.
Taverna 750 (748 W Cornelia Ave), Italian traditional food, small plates, dinner, brunch, crafted drinks, patio, at old Cornelia's location.
Whole Foods (3640 N Halsted) freshly prepared takeout and self-serve salads at Center on Halsted.
Restaurants: Uptown
Crew Bar and Grill (4804 N Broadway) gay sports bar and grill with fabulous weekend brunches, inexpensive all-American fare until 10pm inside or out on the sidewalk cafe. All You Can Eat Thursday pasta specials, Fish Taco Fridays, half-price appetizers from 10pm to 1am on Fridays and Saturdays, and many daily drinks specials.
Hamburger Mary's (5400 N Clark) gay diner, 11-11 weekdays, with weekend brunch 10:30am to 3pm. Sports on TV, trivia games, gong shows, karaoke, cabaret and live soaps keep things always interesting.
Indie Cafe (5951 N Broadway), a stellar restaurant serving spice authentic Thai cuisine and sushi from their large menu.
M Henry (5707 N Clark) new American-style restaurant and bakery with healthy cuisine for breakfast from 7am, (8 on weekends) and lunch. Famous for blackberry bliss cakes.
Tweet (5020 N Sheridan) breakfast and Saturday/Sunday brunch until 3pm; dining in the salon six nights a week (closed Tuesdays) from the grill menu plus Friday night specials. Free wi-fi.
Restaurants: Downtown
Pizzeria Uno (29 E Ohio) Chicago's famed deep-dish pizza, since 1943. A classic, pleasantly different from the multitude it spawned. Also try Pizzaria Due (619 N Wabash Ave) around the corner.
Shopping & services:
Lakeview
Brown Elephant Resale (3645 N Halsted) second-hand shop, benefits gay and AIDS groups.
Chicago Male (3418 N Halsted) salon and spa has been called "one of the best" in Chicago by Tabatha Coffey of Bravo TV.
The Chicago Tattooing and Piercing Company LTD (1017 W Belmont) does safe branding and piercing with a gay-friendly outfit.
Cupids (3519 N Halsted) 'love' boutique has leather, rubber, sex toys, potions and a good selection of x-rated dvd movies.
Gay Mart (3459 N Halsted) is a warren of rooms brimming with rainbow gifts, cards, jewelry, t-shirts, calendars, music, comic book action figures and fun toys.
Shel-don Custom Leather (3920 N Broadway) custom leather creations and alterations from a Chicago leather legend. With Sheldon's retirement in 2013, store hours are Friday/Saturday noon-7pm, with bargains while they last.
Unabridged Books (3251 N Broadway) has focused on gay and lesbian titles since 1980 with good general public selections too. From the latest issues of gay magazines to Children's classics they cover the spectrum.
Uptown
Brown Elephant Resale (5228 N Clark) sells pre-owned household items, books, music, kitchenware and clothing, etc, to support services for gay under or uninsured people and AIDS organizations.
Gold Crown Barber (1481 W Balmoral) professional and personal service, good but inexpensive haircuts.
His Stuff (5314 N Clark and 3162 N Broadway) stylishly distinctive clothing and accessories for guys to look good and feel confident. Casual and unpretentious store ambience.
Leather 6410 (6410 N Clark) leather and fetish boutique.
Women and Children First (5233 N. Clark St) is a women's bookstore.
Gyms
Cheetah Gym (5248 N Clark) Andersonville's gay choice.
Fitness Formula Club (3228 N Halsted) gayest outpost in Lakeview.
Quads (3727 N Broadway) cheapest gay friendly gym in Lakeview.