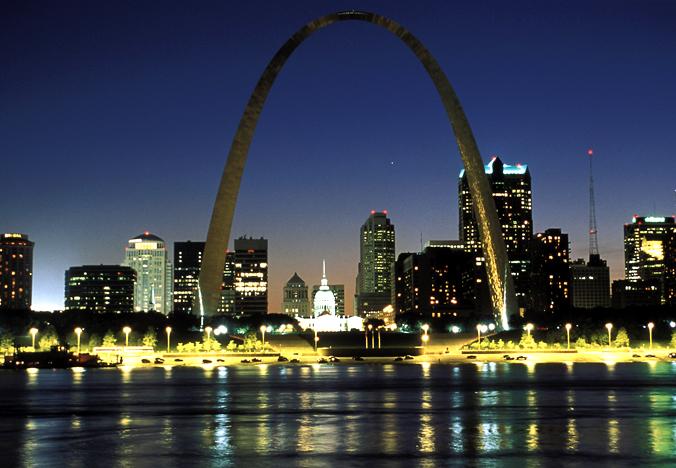 St. Louis
St Louis was founded by New Orleans fur trader Pierre Laclede and his teenage stepson Auguste Chouteau in 1764. Just as France was giving up their American territories they provided a settlement for French families at a point where British, (soon American), French, Indian and Spanish interests converged. Drawing from its unique geographic location on the Mississippi River, bordering the Midwest to the east and the Ozarks to the west, the city soon became a jumping-off point for people headed in every direction, but especially to points west. Today, St Louis is a magnet for young and ambitious folks from vast areas of surrounding farmland and small towns of the region. The Gateway City is a also a gay-friendly destination marked by diverse neighborhoods, eye-catching architecture and local charm.
Though the city has fallen from its glory days -- the fourth-largest US city at the time St Louis hosted the World's Fair and Olympic Games in 1904 -- it is in the midst of a massive makeover, particularly in its downtown area, complementing an already expansive list of entertainment, dining and nightlife attractions sure to entice the most cosmopolitan of travelers. Beyond the iconic Gateway Arch, whose observation area offers views of up to 30 miles on a clear day, the Clydesdale horses of the Anheuser-Busch brewery and the city's many parks, St Louis' gay centers are also vibrant and diverse.
Gay people have been important players in the restoration of many elegant old neighborhoods. As the Central West End, (once the center of gay life), became gentrified, gays moved to the cobblestone streets of the Soulard, the Victorian architecture and parks of Grand South Grand, and other neighborhoods. Recently the Grove area on Manchester became the most bustling district with the most gay bars. The gayborhoods are incredibly multi-faceted, offering something for art lovers, beer drinkers and theater queens alike. Other lively areas include Laclade's Landing, a vibrant riverfront district of shops, pubs and restaurants, hosting events such as the Big Muddy Blues Festival on Labor Day Weekend - and there's a statue of Pierre Laclade and Auguste Chouteau getting off their boat at river's edge.
Getting there

Lambert-St Louis Airport, located approximately 13 miles from the heart of downtown, is the city's main gateway. Set aside $30 for one-way cab fare. The Airport Express shuttle vans head directly to many downtown hotels, or hop on the MetroLink Light Rail. The trip into the city will take just over half an hour and gets you downtown for $3.75.
Getting around

The city's light rail line, opened in 1993, and bus lines connect many of the popular places you'll want to see, but a car might be worth it for convenient travel between the somewhat scattered gayborhoods. And, while the city does have taxis, you'll want to call ahead as drivers won't be seeking your street-side hail.
What to see
Staying downtown, you will have easy access to many of the city's more traditional tourist haunts and some of its best shopping, dining and wandering. Be sure to hit the Citygarden, a large urban oasis completed last year and loaded with paintings, sculptures and flora. It feels straight out of the pages of a Lewis Carroll story. And, if you like drinking under the stars, visit the rooftop terrace of the Moonrise Hotel for a cocktail.

If you're chasing historical flavor, visit the Soulard district, home to Clementine's, which claims to be the first gay bar established west of the Mississippi River. The neighborhood's farmer's market, which has been in operation since 1779, is a favorite among locals, as is the annual Mardi Gras celebration, one of the most rambunctious in the country.
The Grove, where you'll find the largest concentration of gay nightspots and rainbow flags, is where you'll get much of your cruise on.
And then there is Central West End, which playwright Tennessee Williams called home. While not as gay as the Grove, this neighborhood has a lot to offer the artistically inclined, with its location near St Louis University and has a number of prominent gay-friendly festivals and house tours.
The nearby U City Loop area also has an artistic feel and it's full of sidewalk cafes, galleries, boutiques and coffee spots. While not as gay as the Grove, these neighborhoods have a lot to offer the artistically inclined. As you venture out of the Loop, there are some of the Midwest's best museums and more outdoor space. The St Louis Art Museum is in Forest Park, one of the nation's largest urban parks in the Central West End. The City Museum is closer to downtown. For "the bad boy in musical theatre" see New Line Theater's provocative productions on politics, religion, race, sexuality, drugs, art, obscenity, violence, and other contemporary issues at Washington University St Louis.
The Grand South Grand is home to a number of ethnically diverse restaurants and beautiful Victorian-style homes. Gay coffeehouses and bars and Cheap TRX, one of the most interesting gay stores anywhere, are here. South Grand and Tower Grove Park are where Pride is celebrated each year too.
Media & Resources

Riverfront Times is the local alternative weekly. Vital Voice covers local gay news, and has events and business listings.
Pride St Louis celebrations take place each June, and their website has details about summer events.
The Shameless Grounds cafe human sexuality lending library titles range from biology to history, classical literature to raunchy pulp fiction - on loan for two weeks, at no charge.
For map locations and website links to businesses listed below, and more, see our gay St Louis listings pages.
Accommodations
Take a break from cookie-cutter hotels at two guesthouses in the Soulard area, both owned by gay couples who live on site, know the history of the city, and can fill you in on gay life. Book early, as they both fill quickly. A third gay-friendly Lafayette Square Inn offers another option, and there are plenty of hotels in every part of the city. See our map listings.
Brewers House B&B (1829 Lami; 314-771-1542) Civil War-era home in Soulard, fireplace, wi-fi, sunny garden with hot tub, gay couple.
Napoleon's Retreat Inn (1815 Lafayette Ave; 314-772-6979), historic district, five rooms, private baths, TV/DVD, refrigerators, WiFi, full breakfast.
St. Louis Guest House (1032-38 Allen; 314-773- 1016) brick Soulard townhouses overlook Clementine's, gay couple, kitchenettes, wi-fi, hot tub in private courtyard.

Bars & Clubs
The gay scene isn't centered in one neighborhood in St Louis. There are several clusters of gay life, each with it's own character.

Bars & Clubs: Downtown, North Midtown to Central West End
Hamburger Mary's (3037 Olive St), gay restaurant chain, lunch, brunch, dinner, cocktails, divas, Mary-Oke, drag bingo.
Magnolias (5 South Vandeventer) gay dance club, hip-hop/country/house music nights, until 3am weekends.

Bars & Clubs: South Midtown and the Grove
The district blossomed in recent years to become the heart of the gay scene in town.
Attitudes (4100 Manchester) women's dance and party club, shows, karaoke, live music.
Atomic Cowboy (4140 Manchester), mixed crowd party bar, Tex-Mex food, live music, art and theater events, WiFi.
Bad Dog Bar & Grill (3960 Chouteau Ave) well-established bar for biker, leather, and fetish-loving men; burgers, pizza, sides, and snacks; also karaoke, Wednesday Cowboy Happy Hours, and dancing at the warehouse.
Complex (3515 Chouteau), long-time dance club closed summer 2011.
Erney's 32 Degree Vodka Bar (4200 Manchester) huge vodka cooler, sipping station, comfortable lounge.
Honey (4170 Manchester Ave), party bar, women/men mix, video sports, comedy open-mic nights, drag shows, weekend dancing.
Just Johns (4112 Manchester Ave) former Freddie's, video bar, dance floor, open-air patio bar, mixed but mostly male crowd, bingo, special events.
JJ's Clubhouse, (3858 Market) time- honored institution, denim and leather bar, shop, tournaments and competitions.
Meyer's Grove (4510 Manchester), neighborhood gay bar, weekend dance spot, Saturday drag shows.
Rehab Lounge (4054 Chouteau Ave) daytime and early hotspot, patio, food, cheap drinks.

Bars & Clubs: Soulard
Bastille Cobalt Grill (1027 Russell) Mardi Gras atmosphere, local hangout, bar and grill, friendly vibe.
Clementines (2001 Menard) New Orleans-style bar, outdoor patio, popular holiday pig roasts.

Bars & Clubs: South Grand to South Broadway
Absolutli Goosed (3196 South Grand) primarily for women, mixed crowd, fine martinis.
Grey Fox (3503 South Spring) neighborhood bar, weekend drag and variety show.
Hummel's Pub (7101 South Broadway), neighborhood bar, drag shows and entertainment.
Korners (7109 South Broadway), darts and games, drag shows, live entertainment.

Across the river in Illiinois
Bubby & Sissy's (602 Belle St, Alton) near Argosy Casino, two levels, dance floor, female impersonators, huge patio.
Boxers 'n Briefs, (55 Four Corners Ln, Centreville) non-stop totally nude strippers, public or private shows, 18- plus admission.
Club Escapade (133 W Main St, Belleville IL), gay party bar, men/women mix, karaoke, snack foods, live music entertainment.

Restaurants
South Grand's dining options include Vietnamese, Thai, Latin American, and Chinese. Soulard, the Central West End, and the Grove area on Manchester, have lots of options as well.
Bastille Cobalt Grill (1027 Russell, Soulard) hearty fare, nothing-fancy menu, booths and sidewalk tables.
Chava's Mexican Restaurant (925 Geyer, Soulard) local favorite, satisfying servings, traditional fare and local recipes.
Chez Leon (4580 Laclede Ave, Central West End) fine French cuisine, house-made country pate, full bar.
Coffee Cartel (2 Maryland Plaza, Central West End) open 24 hours, big variety of coffees and ice cream, youthful crowd.
MokaBe's (3606 Arsenal, Tower Grove Park) gay cafe, email, coffee, sandwiches and baked goodies.
Novak's (4121 Manchester) everyday bar and grill, basic and hearty food, friendly gay atmosphere.
O My Darling Café (2001 Menard, Soulard) at Clementine's, New Orleans and local fare, nightly specials, weekend brunch.
Pho Grand (3195 South Grand) authentic Vietnamese food, gracious service, lunch and dinner menus.
Soulard Farmer's Market (Lafayette at Seventh) since 1838, fresh produce, baked goods, famous donuts.
St. Louis Bread (3114 S Grand) a St Louis original, soups, sandwiches, baked goods, internet.
Soulard Coffee Garden Cafe (910 Geyer) omelets, sandwiches, pastries, good coffee, inside or garden seating, relaxed vibe.
Ted Drewes (4224 S Grand) unforgettable old-fashioned frozen custard treats for hot summer's day relief.
Wild Flower (4590 Laclede, Central West End) Greenwich Village-style bistro, open for lunch, brunch and dinner.

Saunas
Club St. Louis (2625 Samuel Shepard Dr) complete sauna facilities, private sling room, outdoor pool, Sunday buffet.

Shopping
Cheap Trx (3211 South Grand) stuff seen nowhere else, amazing emporium, leather store, safe piercing and tattooing.
Left Bank Bookstore (399 North Euclid), independent bookseller in the Grove, gay titles, magazines, author events, radio tapings.