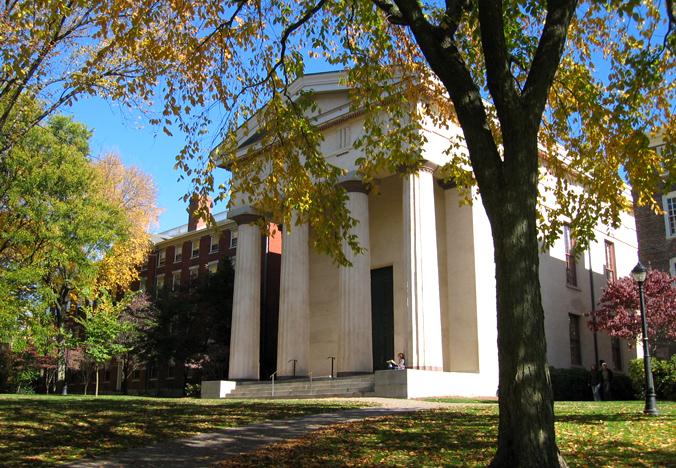 Providence
Providence proves that size isn't everything. Rhode Island's compact capital has everything from stripper bars to drag clubs and raucous bathhouses to pounding discos, meaning there's something for everyone. And most nightspots are conveniently located within walking distance of one another in a downtown club district.
And, boy, do the locals like to party! Even on cool, drizzly nights you see throngs of revelers on Richmond Street, the heart of the club zone. There's milling about or queuing up outside a variety of clubs catering to crowds that are straight, gay, and in-between. The atmosphere can resemble that of New Year's Eve or Fat Tuesday, with a charge in the air. The annual Pride celebrations take place in mid-June and there are year-round fund-raiser events around town.
Few major American cities have this small-town feel anymore, but folks here are friendly and helpful, so ask around for what's going on. Bar websites are often badly maintained, and local media doesn't cover the bar scene well, so word of mouth is your best guide. The scene is younger here too, with many 18-plus events, Providence being a college town. Brown University, Providence College, Rhode Island School of Design, and Johnson & Wales University are all clustered nearby. In a city of only 160,000 people, the student population contributes a sizable youthful demographic, full of spunk.
But Providence has long thumbed its nose at Puritan sensibilities. Co-founder Roger Williams turned his back on the puritanical Massachusetts Bay Colony in 1636 —one step ahead of the stocks and perhaps the gallows. The city remains a contrarian enclave in many ways, and everyone is made to feel welcome.
The city has also long enjoyed a reputation as New England's recreational sex-getaway, providing pleasures denied in other regional cities. Since neither Boston, nor anywhere else in New England, has a single bathhouse, you'll need to come to Providence for a night at the two tubs - the city has two. Also, erotic male dancers often strip all the way here.
Getting here
TF Green International Airport, served by most major airlines and several low-cost carriers, is just south of Providence in Warwick, Rhode Island. Another option is to fly into Logan Airport, Boston, about an hour north of Providence by train or car.
From other cities in the Northeast, you can easily reach Providence by train or bus, especially those in the Boston to Washington corridor, with frequent Amtrak service.
Getting around
You may want to rent a car to get around. Public transportation is hard to figure out, but RIPTA has bus departures from downtown Kennedy Plaza to most anywhere in the city -- and asking for directions can provide a conversation ice-breaker while waiting for the bus.
Media & Resources
In business since 1982, Options, and the more recent addition Get, are the two local gay magazines.
The general circulation alternative weekly, the Providence Phoenix, is a gay-friendly source for news, events listings, and reviews. MotifMagazine is another publication for keeping up with the local scene, in print and online.
The RI PrideFest takes place in mid-June each year -- see their PrideRI guide to all events, bars, and restaurants, plus a map.
BearProvidence has activities throughout the year, and the website of Northeast Leather lists the events around the group's annual April Northeast LeatherSIR / Leatherboy contest weekend, plus other special dates.
Find concert dates for the Providence Gay Men's Chorus on their website, and see the Rhode Island Prime Timers site for information and events for gay and bi senior men and their admirers.
The Flickers Arts Collaborative sponsors the RI International Film Festival in early August - last year with 204 cinematic works over six days. See dates and schedules online.
See our listings tab for map locations and website links to gay Providence businesses and more.
Clubs, bars and restaurants
A six-block area in downtown has many of the gay bars, clubs and bathhouses, making a pub crawl fun and easy.
Alley Cat & Dark Lady (17 Snow St), classic gay bar, 'at-home' feel. Many ages and ethnicities mix. Packed for weekend 18+ dancing, drag shows; relaxed weekday conversations, overstuffed leather chairs.
AS220 (115 Empire Street) part incubator, part bazaar, unjuried and uncensored arts forum. The Food restaurant soups, salads, sandwiches, fish, veggie/vegan meals; fruity tropical cocktails, unique jukebox music.
Chris Harris Presents (ChrisHarrisPresents.com) veteran local producer, circuit dance parties, various venues in Boston, Providence and around New England including Loft 71 in Providence.
Club Ego (73 Richmond St), gay nightclub by Chris Harris Presents, drag shows, 18+ Thursdays and 21+ Saturday dance nights.
Deville's (345 S Water St), old Providence favorite returns to new location, women & men, live music, brunch, pool table.
Hush (257 Allens Ave) intimate male shows, Adonis to jocks, totally nude strip shows, two up-close stages, private man-man dances, shower shows, regular guys sometimes joined by top-rank porn stars. Former Touch/Trixx.
Loft 71 (71 Richmond St), newly renovated 18+ dance club, Fridays Hip Hop/Top40/"Reggay" and Saturdays Girlspot.
Mediterraneo Caffe (134 Atwells Ave, Federal Hill), Italian restaurant, indoor and outdoor seating, excellent Italian food, fun, sympatico staff. Upstairs terrace busy, Euro-style weekend nightclub, though not especially gay.
Mirabar (15 Elbow St), upbeat 18+ college guys dancing. Strip Poker amateur contestants, Kitty Litter commentary. Also karaoke, Wet Underwear contests. Now reopened in November 2012 at new location (moved from old Richmond St site, closed in September).
Providence Eagle (198 Union St), leather and denim-clad bears, cubs and friends party bar. Male videos, Friday Jockstrap cruise, Saturday Hook up in the Dark Saturdays, dancing both nights. Sunday Tea Dance, noon to 8pm. Northeast Leather Family events.
Roots Cultural Center (276 Westminster St), live band concerts, regular jazz nights.
Stable (125 Washington St), former Wheels, now with total make-over as upscale video and dance bar. Big crowd, cozy space.
Union (200 Union St) connects to Eagle, karaoke nights, big screen music videos and movies, a uniquely Providence mix of people.
Bobby's Place (60-62 Weir St; BobbysPlaceMA.com) is about 20 minutes drive northeast from Providence, in Taunton, Massachusetts. All kinds mixed dance club and video bar with pool tables, comedy, karaoke nights, live music acts and piano sing-alongs.
For locations and links to the businesses above, plus more restaurants and cafes, see our map & listings section.
Bathhouses
Club Body Center (257 Weybossett St), second floor walk-up at center, with exercise room, playroom equipped with games and pool tables, porn video lounge, steam room, tanning booth, and showers. Day passes $5, fetish shows. CBC never closes.
Mega-plex (257 Allens Ave) in same erotic mall as Hush. Saunas, showers, private rooms for overnight stays, dry sauna, steam room, video rooms and single rooms. Events include blackout nights, and special bear nights. Rumored to be closing.
Lodgings
Annie Brownell House (400 Angell Street), gay-friendly College Hill B&B, convenient to Brown University and RISD, under a mile from downtown. Full breakfast served daily at this 1899 Colonial Revival home; each room with private bath.
Hilton Providence (21 Atwells Ave) full-service luxury hotel, 274 guestrooms, downtown, adjacent to the Dunkin Donuts Center.
Hotel Dolce Villa (65 DePasquale Sq) gay-friendly full-service boutique hotel in Federal Hill Italian neighborhood near downtown. A perfect base for checking out Providence's cultural, culinary and club scenes. Restaurant with outdoor seating.
Hotel Providence (311 Westminster St) elegant, almost swanky, and far pricier, adjacent to the club district downtown..
Wyndham Garden (220 India St), 136 rooms, harbor waterfront views, restaurant and bar, WiFi throughout, (the former Radisson).