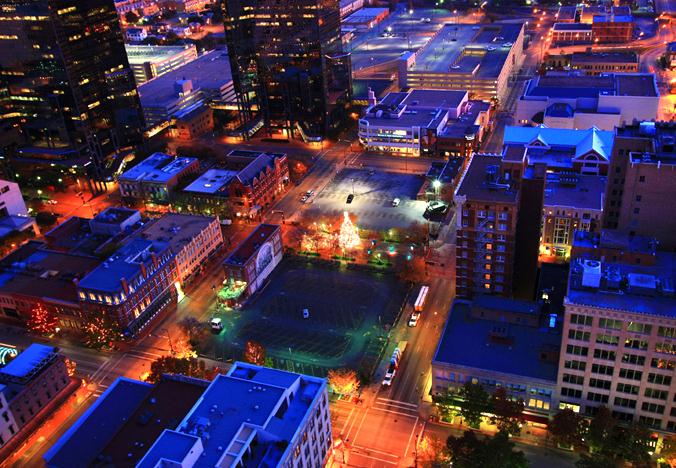 Fort Worth
The sister city to Dallas, Fort Worth has charms of its own. First of all, it's a town that hangs onto its century-old nickname of "Cowtown." If you're looking for men whose boots and ten-gallon hats are part of their daily attire, you've come to the right place.
The gay community here is surprisingly lively. Q Cinema hosts one of the region's biggest gay film festivals in June, and the Texas Gay Rodeo Association stages an annual day of calf roping and bull riding in September. In October, when the weather's cooler, things heat up for Tarrant County Gay Pride Week.
Getting here
Dallas/Forth Worth International Airport sits between the two metropolises. It's 24 miles from downtown Fort Worth. Several bus companies will shuttle you to the city.


Getting around
This city sprawls in every direction, so the car is the easiest way to get around. Public transit buses and commuter rail lines are operated by the "T" - the Forth Worth Transportation Authority.
Neighborhoods
Most of the gay establishments are located in the historic downtown area.
Media & Resources
The Tarrant County Lesbian & Gay Alliance has updated information on what's going on around town.
Cowtown Leathermen is the local sponsors an annual run at the Texas Conference of Clubs Landsite among other events throughout the year.
The Trinity River Bears organize year-round social get-togethers with brunches, cook-outs, camping weekends, pub crawls, and more.
See our gay Fort Worth listings tab for map locations and website links for clubs below, plus hotels, restaurants, performance venues and museums/galleries.
Bars
1851 Club Arlington (1851 W Division St), small neighborhood bar, karaoke, Sunday drag shows, internet jukebox, pool table, WiFi access.
Best Friends (2620 E. Lancaster) a laid-back cocktail and dance club with patio, a short drive from the gay-friendly Hotel Trinity (2000 Beach St; 800-989-3556).
Club Changes (2637 E Lancaster), "Cheers" -style neighborhood gay bar, casual mix, "Wall of Food Show."
Club Reflection (604 S Jennings), gay & lesbian Country & Western dance club, home bar of Cowtown Leathermen.
Rainbow Lounge (651 S. Jennings) hot dance club mix, men/women, gay/straight, friendly lounge, boy and girl stripper/dancers, 18+ Wednesdays.