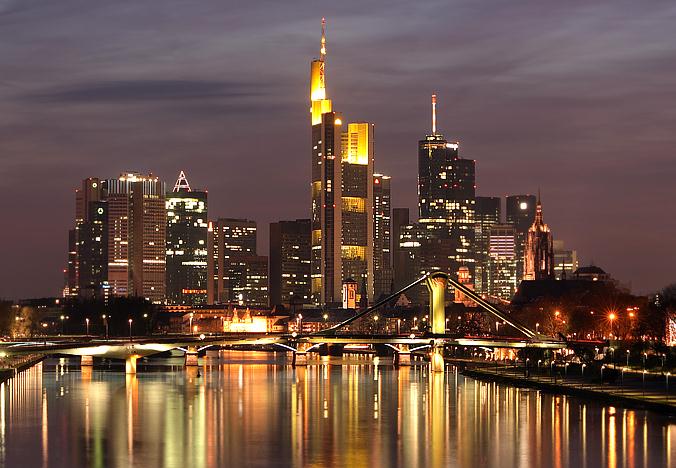 Frankfurt
Frankfurt — or "Bankfurt," as it's sometimes dubbed — is the country's financial hub. Fortunately for Frankfurters, the gay scene is anything but buttoned-down. After leaving those sleek downtown skyscrapers, locals turn on the juice for an active and sophisticated gay nightlife.
Getting here
Frankfurt am Main Airport is the busiest airport in Germany, and the third busiest in Europe. InterCity and EuroCity train connect you to cities in Germany and the rest of Europe. See Deutsche Bahn for train info.
Getting around
There's a network of buses, trams, and U-Bahn and S-Bahn trains at your disposal. See the English language pages of RMV for details. Look for the Nachtbus - night bus -- late at night.
Neighborhoods
The gayborhood here is in what's called the "Bermuda Triangle" district around Alte Gasse, north of Konstablerwache train station, by the intersection of the Zeil pedestrian mall and Konrad Adenauer Strasse. Some of Frankfurt's most popular gay bars, cafes and nightclubs are in the area. The "Mahnmal Homosexuellenverfolgung" memorial to gay and lesbian victims of the Nazi years is at Klaus-Mann Square nearby.
Currency and Money
Germany is part of the Euro Zone, so the euro is the accepted currency. There are plenty of ATMs in the downtown area. Some machines require credit cards with a pin number. Ask your bank before leaving home, and inform them of your travel plans.
Media & Resources
A good first stop is the information center and café called Switchboard (Alte Gasse 36). GAB, of the InQueery group, is the local gay magazine for Frankfurt. Frankfurt.Gay-Web is another online info source.
The official city tourism site Frankfurt-Tourismus has hotel, sightseeing, shopping and dining information in eight languages, plus a GLBT section.
Das Kulturportal is an online guide to Frankfurt art, music, museums, stage productions, film, literature and more, in German and English.
For map locations and website links to the businesses below, and more, see our gay Frankfurt listings pages.
Accommodations

Downtown Hotel Frankfurt (Schafergasse 27; 49-69-83-1022) modern "hetero-friendly" hotel at the center of the gay district, above Lucky's bar and cafe.
Villa Orange (Hebelstrasse 1; 49-69-40-5840) very gay-friendly reasonably-priced business hotel, a short walk from the bars.
Nightlife

Birmingham Pub (Zeil 92), late-night hangout, gayest after dark (rainbow flag displayed after sundown), stage performances, late food service -- rare in Frankfurt.
Central (Elefantengasse 11) sleek, modern bar in blue and dark tones, young, urbane clientelle, good cocktails.
CK Studio (Alte Gasse 5) completely remodeled, former C5 bar, attracts local and foreign party people to Frankfurt's hottest gay lounge of the moment.
Comeback (Alte Gasse 33) standard neighborhood drinking and party establishment.
Lucky's (Schäfergasse 27), coffee or snacks on summer terrace, premier bar/cafe where everyone meets at gay central. Chic, friendly bar and lounge, theme parties, daily specials.
Monte Carlo (Alte Gasse 34) new sports night bar in the Bermuda Triangle with changing special theme nights, Friday and Saturday afterhours from 4am, Sunday live entertainment.
Panoptikum (Koselstrasse 42) former Iks, friendly neighborhood bar for all, goood prices, nice atmosphere, smoker's bar.
Pulse and Piper Red Lounge (Bleichstrasse 38a) restaurant, bar, lounge, disco; summer garden and winter garden-under-glass. Urban chic but friendly to newcomers.
Rebelicious (Mainzer Landstrasse 46) gay dance nights in the central financial district, top drag shows and sexy go go dancers, takes a break during the summer months.
Schwejk (Schäfergasse 20), unpretentious gay beer hall/party bar, men of all ages and inclinations, popular with bears, good times every night.
Stall (Stiftstrasse 22), the most popular bar for leather and uniform men. Porn videos heat up a steamy back room, and they have special parties in the darkroom.
Zur Hex (Elefantengasse 11) new home bar of the old Freddie's crew, with local legend, Mother Charlotte.
Dining
Cafe Rustico (Grosse Friedberger Strasse, 16-20) authentic Italian country cuisine, extensive wine list.
Exil (Mercatorstrasse 26) welcoming ambience at heart of the city, classic German, French and Mediterranean cuisine.
Friends (Bleichstrasse 46) new restaurant, friendly young bar scene bar, bright gold and red color scheme. Summertime open air seating.
Groessenwahn (Lenaustrasse 97) historic cafe and traditonal coffeeshop with long history, outdoor tables.
Harvey's (Bornheimer Landstrasse 64), Harvey Milk tribute restaurant at heart of the arts and cultural scene. Sumptuous dining room, deluxe breakfasts, snacks, schnitzel, burgers, waffles, and flammkuchen (tartes flambées), 10am to 4pm daily.
Suvadee Thai (Baumweg 19 and Steinweg 7), authentic, award-winning Thai cuisine, a gastronomic orgy and quite gay-friendly. Thai interior decor and gracious service.
Zur Schönen Mullerin (Baumweg 12), one of Frankfurt's oldest apfelwein (apple wine) restaurants; gay-owned and popular. Hessen-style cuisine, leaning heavily to meaty treats (such as schnitzel). Reasonable prices, outdoor seating.
Saunas
Club Sauna Amsterdam (Waidmannstrasse 31), 10-minute subway ride from the Zeil, in large villa on residential block. Cabins, steam and sauna rooms, whirlpool, plus a restaurant and bar.
Metropol Sauna (Grosse Friedberger Strasse 7), dry and steam saunas, open to 4am or later, 24 hours on weekends, daily reduced rates for under 26, Centro Delfino massage therapists.
Saunawerk (Eschersheimer Landstrasse 88), complete with swimming pool and jacuzzi, and, in the center of the gay area.
Swimming

German public swimming pools are often elaborate recreational complexes with saunas, fitness centers, and massage services, in addition to indoor and outdoor pools. See BBF for an overview of area facilities: Freibäder are outdoor facilities; Hallenbäder are indoors; and Erlebnisbäder are waterparks.
Langener Waldsee (Langen Lake). Take the S3 or S4 train for Darmstadt to Dreieich-Buchschlag stop. The path to the gay beach branches to the left of the one leading to "Badesee."
Rebstockbad (Zum Rebstockbad 7), general public waterpark, gay-popular on Thursdays, especially in the sauna section.
Shopping
Jerome (Elbestrasse 17) gay sex shop, DVD sales, magazines, erotic video cinema.
Oscar Wilde Bookshop (Alte Gasse 51) gay and lesbian bookstore in the thick of all things gay, book readings by prominent authors, nice gift items, online store too.
Skyline (An der Staufenmauer 5), helpful and knowledgeable staff, over 15,000 original DVD sex video titles for sale, also rentals, plus toys, accessories and magazines.