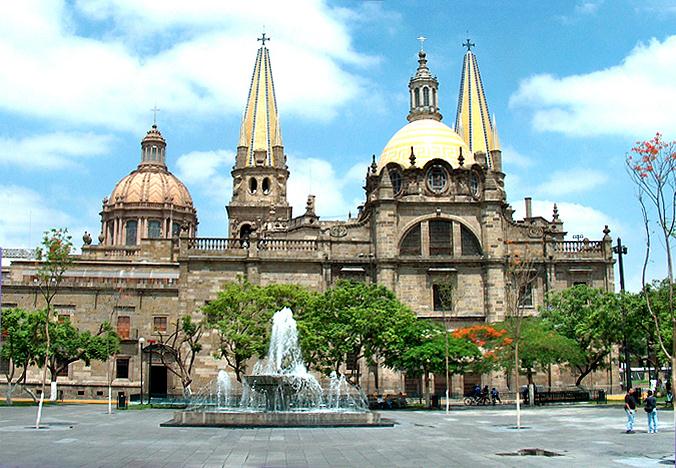 Guadalajara
Noted travel writer Andrew Collins calls Guadalajara "Latin America's most underrated gay urban getaway." Anyone who's been will know what he is talking about. Mexico's second largest city is a few hours from Puerto Vallarta, meaning many travelers include both on their itinerary. A colorful colonial-era old city, it has streets lined with graceful mansions and towering baroque churches. Many old home have been turned into B&Bs, including a few that are run by and for gay men.
More than two-dozen gay bars and clubs are one reason this has become a gay mecca. The scene is constantly changing, with new places opening as others close, and they range from swanky lounges to multi-level dance clubs that turn the beat around until dawn. Most are located a short stroll from downtown's Plaza Tapita (which also happens to be cruisy after dark) busy with crowds of mostly young guys. Many of the clubs feature male strip shows, some nude, plus dark rooms and play spaces for fooling around with a new friend. If you're exhausted from all that partying, you can relax the next day at one of the city's saunas. Connoisseurs shouldn't pass up the local tequila, as the liquor hails from the nearby town that gave it its name.
Guadalajara's annual Marcha de la Diversidad is held every June. There are ten days of celebrations including fiestas, dance parties, art exhibitions, concerts, parades, pageants, a film festival, and a carnival.
Getting here
Guadalajara International Airport is one of the busiest in the country. Getting to your hotel will mean a local bus, shuttle bus, taxi, or limo.
Puerto Vallarta, in the same state of Jalisco, is just over five hours away by car or coach. Mexico City is about seven hours by road. ETN (website in English) is one of several companies offering modern inter-city coach service, with eleven daily arrivals from Vallarta, and twenty from Mexico City from this company alone. They also connect Guadalajara with over 70 other Mexican cities, and some of their coaches offer Wi-Fi access.

Getting around town

Buses are always packed, drivers may or may not stop (even if you wave), bus stops may or may not be marked, and there are no set schedules. Should you want to try anyway, the main stations are at Central Vieja and Central Nueva. Take exact change with you. A guide to bus routes is sold at most downtown magazine kiosks. Find rider information, in Spanish, at Macrobus
The Tren Ligero light rail system is easier to use. On an underground and surface network of 28 stations on two lines, the trains run about every 15 minutes between 6am and 10:30pm. Unfortunately the stations aren't close enough to most favorite tourist destinations.
Taxis may often be the best option, and a rental car is handy for visiting out-of-the-way sights.
Currency and Money
Mexico's currency is the peso, which is divided into 100 centavos. In 2012 the exchange rate hovered around 13 pesos to the US dollar. See XE for current rates. ATMs are everywhere in the city, so there's no need to carry a lot of cash.
Media & Resources

GayGDL.com is a well-maintained, easy to use Spanish language website, the best source for all the information you'll need on gay GDL, with photos and party dates. Urbana Magazine is free around town, and can be read onine too. GayCity.mx is the newest online source for gay Guadelajara, and Ohm is the national Mexican gay magazine.
SCTours (Marseille 80, upstairs) is a travel agency that caters to gay and lesbian travellers to Mexico and the world.
For local general-public English language information see the Guadalajara Reporter.
For map locations and website links to the businesses below, and more, see our gay Guadalajara listings pages.
Accommodations

Casa Alebrijes (Libertad 1016; 52-33-3614-5232), boutique hotel, rooms and suites for gay men and women and friends, garden patio, remarkable fountain, near gay nightlife and tourist sites.
Dickinson Guest House (San Uriel 338) large home, easy taxi to downtown, perfect for a groups up to 8 to visit from beach resorts for long weekend party. Sat phones/free calls to US/Canada, WiFi, full cable TV, washer/dryer, breakfast.
Escape B&B (Enrique Gonzalez Martinez 446; 52-33-1596-6017), small, central gay guesthouse, bright rooms, patio, US-channel cable TV, media room, internet access, US$35-45 rooms with breakfast; also private apartment.
Hotel Francés (Maestranza 35; 52-33-3613-1190), city's first hotel 400 years old, modern amenities, great old world atmosphere, penthouse suite, good prices, restaurant and bar.
Hostal Lit (Degollado 413; 52 33-1200-5505), central rooms, under US$15 per person/night, breakfast included, all new furniture and bedding; semi-private rooms with cable TV, internet, sauna and massage services, solarium, terrace,
Hotel San Francisco Plaza (Degollado 267; 52-33-3613-3256), colonial-style building, pleasant rooms, singles/doubles or suites with balcony, cable TV, at heart of the scene, traditional Mexican restaurant.
Old Guadalajara B&B (Belen 236; 52-33-3613-9958), central location, unpretentious luxury, 16th-century former convent house, opera, museums, restaurants, cathedral nearby. WiFi access, spacious suites, private baths, interior patio garden.
Going out

Angels After Party Club (López Cotilla 1495), weekend dance club, top DJs; Saturday pre-hours cocktails and after-hours dancing 'til 11am Sunday, valet parking, lockers, VIP areas.
Avalonn (Lope de Vega 325), young crowd disco dancing, chill-out terrace, go-go boys in thong briefs, stage shows.
Babel (Morelos 741), shower go-go boys, resident and guest DJs, young mostly male crowd, pop and electro music zones, performers.
Black Cherry Grand (Popocatepetl at López Mateos), Saturday-only circuit party night, 10pm to 5am, guest star DJs, mixed men/women, mostly young crowd, go-go boys.
Botanero's Discoteque (Javier Mina 1348), reggaeton/cumbia/pop jukebox; men's dance club, drag shows, snacks, buffets, karaoke, terrace, most popular on Sunday nights.
Bugay (Galeana 293, at Miguel Blanco), new Wednesday through Sunday disco on two levels, terrace bar, self-billed as "youngest, most fun crowd" downstairs; upstairs drag shows.
Californias Bar (Pedro Moreno 652), traditional Mexican "macho" men's cantina at the center, good prices, food, music videos, jukebox.
Chivas (López Cotilla at Degollado), long-time gay and mixed cantina, recently renovated, low key, laid back atmosphere, mixed ages, mostly men, special events show nights.
Circus Club (Galeana 277), popular dance mega-club, men and women mix, stage shows, drag shows, performers, go-go boys; pop and arena music areas.
Dolce Veele (Enrique G Martínez 177), Mexican home-style food, theme party rooms, beer, wine, cocktails from 4pm, karaoke, go-go boys, passes for Babel disco.
La Estacion (Enrique Díaz de León Norte 20), daytime men's cruise and play club until 10:30pm, low lighting, variety of spaces, bunk beds, TV room, Wi-Fi access.
Equilibrio Discoteque (Ocampo 293), daily 1pm-4am bar and disco, DJs, drag shows, gay mix.
Green Light (Madero 494), art gallery photography, paintings; gay video/eco-bar and cafe, large terrace area, singles nights.
La Minerva Bar (8 de Julio, 73), totally nude male strippers for men but women welcome, at least ten dancers per night; karaoke talent shows.
Lujuria (Juan Manuel 482), "dark mind lust club" burlesque room, pervert shows, men's and women's "love rooms," House music zone with DJs, go-go dancers.
Monica's Disco (Obregon 1713), long-time gay dance party bar, show nights, good sound, open to 5am Tuesday through Sunday.
Om Club (Ocampo 270), three rooms, electro music, dancing, top-notch sound systems, mixed mostly young crowd, drag divas, live performers, go-go dancers, chill-out terrace.
Platino Club (Hidalgo 838), mixed men/women gay dance club, drag shows, male stripper/go-gos.
La Princiliano's (Princiliano Sanchez 396), chill-out conversation bar with patio above Club YeYe.
Seven Sins (Pedro Moreno 532), top-rated DJs, 2 dance floors, cocktail lounge and desert bar, dark room beds for whatever "sins" you crave.
Steel Glam Club (Lópèz Mateos 136), new upscale gay lounge, men and women mix, Hunk Guys go-go dancers, drag shows, top-level DJs, valet parking.
Sunrise (López Cotilla 497), gay party bar/club, male strippers, young guy body contests, drag shows, free WiFi.
El Solano Cantina (Galeana 159), cheap beers and tequila shots, regular guys, drag shows; part of steam/sauna complex with nude stripper shows.
Sunrise Bar (López Cotilla 497), party bar, strippers and body contests, drag shows, WiFi internet access, food, mostly guys mixed young crowd.
Vedette (López Cotilla 1752), elegant decor, trendy crowd gay nightclub.
Voltio Bar (Mexicaltzingo 1521), leather, bears, men's bar, guest porn stars, site for Leather/Fetish Fest in November.
YeYé Club (Prisciliano Sánchez 396), central, all-week neighborhood video bar, snacks and basic meals, mostly women young crowd.
Saunas
El Arenal (Leandro Valle 944), downtown sauna and gym, soda fountain social area, free WiFi, open daily 9am to 9:30pm.
La Academia (Priscilliano Sanchez 484), downtown sauna and gym, Turkish Bath, massage, leathermen and bear popular.
Riilax Sauna (Venustiano Carranza 313), sauna, steam and gym facilities, Mexico's largest Jacuzzi, massage, sun deck, private rooms, TV lounge, snacks, WiFi and computer access, open from noon until midnight weekdays, 11pm weekends.
El Solano Sauna (Galeana 159), dry sauna and steam complex for men, massage, nude male stripper shows; cheap beer and tequila bar.
Renacer Day Spa (Amado Nervo 106), spa facilities, relaxing tub immersion, steam, sauna, showers, Jacuzzi, food and drinks, Wednesdays 2-4-1 promotion.
Escorts

Maxxx (33-1282-5288; GDLEscort.com), ages 19-29 escorts, most on-call 24/7/365; special promotion deals.
Siempre Tuyo (Siempretuyo.com), guys of all kinds around Mexico, direct phone/ email/ facebook and IM access, online photos.
Vicarios (33-1137-3943; Gaygdl.com/vicarios), hombres para ti! Many kinds, local, all roles, 24 hours, hotel services.
Shops and services

Bite Gay Sex Shop (Garibaldi 1389), sex store focused on men4men, condoms, lubes, douches, underwear, DVD movies, calendars, posters, pumps, SM/bondage and leather accessories, toys and aromas.
Charchek Underwear (Marsella 80), good quality, design, price; young, dynamic crew; variety of fabrics, cuts, patterns, and accessories for body parts requiring comfort, ventilation and support.
Homo Souvenirs (Av Hidalgo 882/8), gifts, clothing, accessories, home decor, vinyl, decals, shirts, mugs, hats, flags, necklaces, bracelets, towels, pillows, piñatas, toy animals, key chains, essential and massage oils, candles, masks; bear, leather, gay, bi,and trans items.
Masajes GDL (33-1027-9596), association of independent masseurs, men for men, stress relief, therapeutic deep tissue and tantric services.
Mosko (Antonio Pedro Buzeta 424), hard-to-find elsewhere men's casual and clubbing fashions, good variety of many brands.
Papy Shulo (Marsella 163), men's clubbing, casual and sports fashions, underwear and swimwear.
Zodoma (Andres Teran 482), leatherwear, accessories: belts, bracelets, wristbands, vests, leather skirts, cock rings, shirts, necklaces and poppers.
For our coverage of the large and famous gay beach resort a few hours away, see Puerto Vallarta