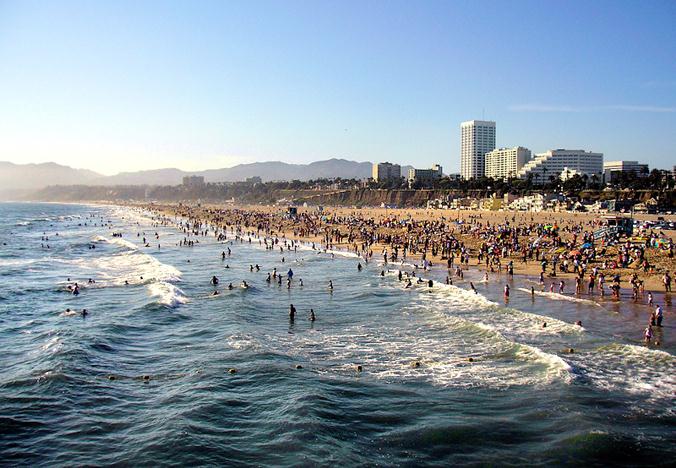 Los Angeles

Forget all you've heard about Los Angeles being all about pretty people living pretty lives. The City of Angels is a must-see destination for gay travelers looking for fun in the sun.
Known as the entertainment capital of the world, Los Angeles is home to millions of people, from young Midwesterners just off the bus seeking fame and fortune in Hollywood's "dream factory" to business execs in the financial industry to grizzled natives just trying to get by. Like other major cities, it's a melting pot, with a vast array of ethnicities living in the many smaller neighborhoods that make up the city and one of the largest gay populations to be found in any major city. You'll find the primped and pretty boys of West Hollywood's Boys' Town, as well as the edgy hipsters who frequent the leather-Levi bars found in Silver Lake, plus just about everything in between.
No matter what you're looking to get into during your trip to Los Angeles, the city and its surrounding areas have got you covered. From historical tours through the downtown area and star tours through the Hollywood Hills to hot gay beaches and even hotter nightlife options, Los Angeles certainly earns its reputation, so prepare to be entertained.

Getting Here
From both Los Angeles International Airport (LAX) and the Bob Hope Airport in Burbank (BUR), you can grab a Super Shuttle for about $20 a person, catch the Metro (free shuttle to LAX station on the Green Line), or simply hail a taxi.
Amtrak inter-city passenger trains arrive at and depart from the main rail station, Union Station, just north of Downtown. MetroLink trains too.

Getting Around
Because the city is so spread out (more a series of neighborhoods than a traditional city), getting around in LA almost requires a car. (The Missing Persons didn't sing "No one walks in LA" for nothing.) There are any number of car rental companies to choose from, and a good navigation system will help find your way around.
The Los Angeles Metro system, with both buses and subways to cart folks around, has a handy online site to help plan your trips. The rail system includes the Red and Purple subway lines, plus the Gold, Blue, and Green light rail lines. The MetroLine Orange line connects North Holllywood to the San Fernando Valley. The subway doesn't travel to many Westside locations however, including the popular beaches of Venice and Santa Monica, or Boys' Town in WeHo.
For a bit of WeHo's colorful history check out the gay bus tours from Out & About Tours, featuring a 1pm SunGay Brunch and Happy Hour ramble around town. Bikes & Hikes is the queer-friendly way to tour the city by bike, with guided tours and bike rentals. Both depart from West Hollywood locations.

Neighborhoods
Los Angeles boasts a very diverse gay community, though there is a bit of an east-side vs west-side split between them.

WeHo (aka Boys' Town): One of the most pristine, well-kept and quaintest areas in the city, it's also one of the liveliest, with many well-known bars (Rage, Mickey's, the Abbey), restaurants (Hamburger Mary's, La Boheme) and gyms (24-Hour Fitness). It's also home to porn directrix Chi Chi LaRue's self-named vanity retail shop, as well as several cafes and coffee shops. Just watch out for gym bunnies crossing the street. See: Touring the history-rich City of Angels by Steven Bereznai (Xtra 11/10/12).

Silver Lake: Similar in vibe to San Francisco's Haight District, this trendy east-side neighborhood is home to LA's most popular leather/Levi/bear bars, Faultline and the Eagle, as well as two others (MJ's, Akbar) that cater to both hipster gay men and their best girlfriends. Funky, edgy and arty, Silver Lake is the antithesis of the more mainstream WeHo, with vegans and tattooed indie rockers aplenty, though you can always find a few boys from the West side venturing out for an exciting new adventure. See: Silver Lake, LA's origninal gay village by Ted Flett (Xtra 11/12/12).

In Focus: Downtown LA heats up
Once thought of as a neighborhood that shut down after dark, Downtown is now a nightlife hub.
Though its skyline is instantly recognizable to filmgoers, it may come as a surprise to many to hear that Downtown Los Angeles (or DTLA, as it's known to most Angelenos) has until recently been thought of as dead.
But thanks to a renewed focus on loft living in the refurbished art-deco buildings, an extensive fashion and arts district and a burgeoning nightlife scene, DTLA is finally starting to come into its own.
Artistic-leaning gays might want to start at the Los Angeles Music Center, located in historic Bunker Hill. The Center is home to four major performance venues: the Dorothy Chandler Pavilion, the Ahmanson Theater, the Mark Taper Forum (where Angels in America had a successful pre-Broadway run) and the Walt Disney Concert Hall, home of the Los Angeles Philharmonic.
There are also a lot of museums in Bunker Hill, including the Museum of Contemporary Art. Meanwhile, the monthly Downtown Art Walk, held on the second Thursday of the month, attracts over 5,000 attendees to several galleries and studios over in the Historic Core area.

Another important part of DTLA's redevelopment has been the Fashion District, which spans over 90 blocks. Featured on the current season of Project Runway, the Fashion District is the hub of the apparel industry on the West Coast, and continues to lure both natives and tourists alike due to its funky curio shops, ethnic eateries and fashion bargains. And don't forget to check out the Old Bank District, where lovers of architecture will revel in the gloriously retro art-deco buildings that have been converted into lofts and offices. The Bradbury Building is especially noteworthy for its open courtyard and intricate wrought iron stairwells.
The increased traffic in the downtown area has brought many gays to the area. Falling somewhere in between the glitz and glam of Boys' Town and the self-conscious hipness of Silver Lake, DTLA is a haven for those looking for an alternative to the usual gay scene.


A bit of West Hollywood history
West Hollywood is one of the world's most notable gay villages. The now-famous Sunset Strip once connected the early Spanish settlement of El Pueblo de Los Angeles to coastal ranches along the Pacific. A century later the area was settled by workers in the railroad yards here a nonconformist and independent lot. By the 1920s night clubs and gambling joints sprang up in a town that was, and remains, outside Los Angeles city limits (and LA's historically more stringent regulations).
Proximity to the movie industry brought an influx of creative types, and in the '60s at safe distance from the LAPD gay life emerged from the shadows, as a part of West Hollywood's general countercultural ferment. The community coalesced around the Santa Monica Avenue strip, and that area remains central to this day. Gay people here comprise perhaps 40 percent of the population, and in 1985 voters here were the first in America to elect a gay-majority city council.
Media and Resources
Check out Frontiers Magazine, a free gay biweekly with loads of features, news and listings for arts events catered to gay audiences.
WeHo News, and GoGayWestHollywood, the gay pages of VisitWestHollywood, both have WeHo covered. Odyssey Magazine has the scoop on LA gay nightlife with upcoming club events and party calendars.
The GayWEHO website covers the whole city, but gives special attention to WeHo, with every night listings for all the clubs.
Adelante is the area's gay Latino magazine, with online digital editions.
Cybersocket, the gay online resource is based here in LA, as is the Advocate, one of the first, and still among the best of America's gay magazines.
Daniel Magazine is the New Asian Gay Men's Magazine, "for the strong, ambitious, driven male," with a December 2013 launch.
Starrfucker Magazine, a "self-printed quarterly homo/foto/art-zine with penis," is Jeremy Lucido's behind the scenes view from the world of gay porn - the struggling artist outsider looking in on both fans and stars.
For alternate and general news, reviews, and events listings see LA Weekly.
Founded in 1971, the Gay and Lesbian Community Center (1625 N Schrader Blvd), is the largest gay and lesbian organization in the world with several locations in the LA area. They host regular theater events, and comedy nights too.
ONE National Gay & Lesbian Archives, the oldest active LGBTQ organization in the USA, and largest such repository in the world, houses over two million archival items including periodicals, books, film, video and audio recordings, photographs, artworks, organizational records and personal papers.
For Booby Trap women's dance nights see the website, or those of DJs Kim Ahn or Anon (Anna Sitko).
LA Pride takes place each June. Black Pride sponsors an annual July beach party among other events. Outfest is LA's LGBTQ film festival, each July, with other special events and screenings throughout the year.
The Los Angeles Leather Coalition lists over two dozen member associations. The Tom of Finland Foundation, established to preserve the artist's vast catalog of work, also offers safe haven for all erotic art, educates the public, and promotes healthier, more tolerant attitudes about sexuality. Bears LA website will keep you up to date on their group and the events they host.
Ashram West explores Ramakrishna Tantra; queer love as a spiritual path, using ecstatic traditions of Tantric Vedanta.
"Shamanic, sacred fools," the Los Angeles Sisters of Perpetual Indulgence are dedicated to universal joy and the expiation of guilt. They organize events to raise funds for charitable organizations, providing fun, laughter, and a better understanding of gay diversity.
Visit West Hollywood, and Discover Los Angeles both provide good basic general tourist information for visitors to find their way around town.
LA has more than it's share of promoters presenting special events and circuit parties. Two of the biggest in the business: Jeffrey Sanker of White Party Palm Springs fame, and Tom Whitman with Cherry Pop, Size 9, Splash, Wonderland, and Elevation gay ski weeks. Also check out Club Nur, Club Papi, Freddy's Entertainment, Masterbeat, Ray & Dante, Reflex, Tigerheat - and for women's nights, Girlbar.

Reflex now presents two after hours events, Ascend (trance), and the original Reflex (tribal), plus special monthly events at EXLA, the former Stock Exchange in Downtown LA.
For locations and website links to businesses listed below, plus some of the many museums, galleries and theater/performance venues, see our Los Angeles gay map & listings pages.
Bars and clubs, West Hollywood area
It's not surprising there are so many nightspots in this town; here's a sampling of some of the main highlights.
Abbey (692 N Robertson), with long weekends lines, is a popular gay coffeehouse, restaurant, and full-service bar. At other times you'll find plenty of open-air seating. Cozy, curtained cabins that are great for making-out. Wednesdays here are GB2, Girls Night.
Eleven Restaurant and Nightclub (8811 Santa Monica Blvd), gay lounge, superbly designed former bank building dance club, two grand levels, big Friday night Jeffrey Sanker Fresh gay party; Tuesday 18+ Tigerheat "Recess" & Saturday 21+ "Monster." Sunday go-go boys, games, competitions; Musical Mondays.
Factory (652 N LaPeer Dr), large, slickly designed weekend dance club, several areas, many moods, fashionable people in their prime. Hype, Ascend, Cherry Pop events. The Ultra Suede lounge is upstairs with Robertson Street entrance.
Fubar (7994 Santa Monica Blvd), offbeat neighborhood dance spot for 20-30 somethings with counter-culture attitude, go-gos, karoake. Exhibitionists and voyeurs have fun each Thursday with Big Fat Dick erotic photo posing contests, and trashy videos.
Gold Coast (8228 Santa Monica Blvd), cheap drinks locals cruise joint, charmingly oblivious to trendiness, bartenders you can talk to wide cross-section of guys.
Gym Sportsbar (8737 Santa Monica Blvd), TV sports, happy hours, weekend beer blasts, local sports leagues booster, NYC bar sibling.
Hamburger Mary's (8288 Santa Monica Blvd) one of gay diner-bar franchise, big servings, popular all-you-can-eat Taco Tuesdays, Texas-size margaritas, Wednesday bingo, Thursday karaoke.
Here Lounge (696 N Robertson Blvd), a phenomenon and architectural delight, with a cute and happy crowd. Usually mobbed, always packed for Saturday guys' night with sexy dancers. Stripper Circus, Wednesdays. Sunday beer pong, Wii sports and wet go-go boys on the patio. Doors open at 4pm.
Hyde Lounge (8029 W Sunset Blvd), high covers, expensive drinks, tiny space, where patrons define the word "attitude" -- but with good music and occasional celebrity sightings.
Micky's (8857 Santa Monica Blvd), longtime gay WeHo icon, fresh energey, body-beautiful dancers and bartenders, and hot guys packing two floors. Hot Rod Wednesdays are sexy, and shows, guests and events fill their week. Lunch, dinner and weekend brunch are served here.
Mother Lode (8944 Santa Monica Blvd), no cover, cheap drinks, regular guys, a good age mix, no attitude, pool games, Boys on Parade male strippers, and they're chockablock Sunday for the "mother of all beer bashes."
The Palms (8572 Santa Monica Blvd), small, long-established local women's dance club.
Rage (8911 Santa Monica Blvd), two-level restaurant, daytime bar and nightclub with a young 18+ crowd, open daily. Popular events include: Latin Night Fuego, each Wednesday, and GameBoi with a young Asian crowd on Fridays. Mexican food, carne asada, salads and burgers.
Reflex Afterhours (661 N Robertson Blvd), every other Saturday night gay/mix dancing until 8am, at the Ultra Lounge/Factory complex.
Revolver (8851 Santa Monica Blvd), mixed, mostly men cocktail and video lounge, DJs, patio, go-go boys and shirtless bartender hunks. Better drinks prices than East West Lounge formerly here.
The Robertson (665 N Robertson Blvd), multi-level nightclub, 3 dance floors, no cover Russian-theme Rasputin Saturdays with go-go boys; Fantasy Fridays, Magnum Thursdays.
Trunks (8809 Santa Monica Blvd), longstanding Boystown sports bar, has laid back patrons, pool and softball teams, a smoking area, friendly bartenders, and drinks at good prices.
Ultra Suede (661 N Robertson Blvd), edgier than most, Wednesday night Metro Urban Party nights, new Friday Hype parties, Saturday Reflex afterhours dancing. Known for sexy bartenders.
Hollywood nightlife
Arena (6655 Santa Monica Blvd), Wednesday-Saturday dance club, Sunday cabaret, young, next generation, multi-ethnic, all-gender crowd. Popular Saturday Boyz Night has midnight shows. Wednesday Club Papi Hip Hop and Reggaeton.
Avalon (1735 N. Vine St) hosts the big Thursday night Tigerheat 18+ gay dance frolic, the largest weekly gay event on the West Coast, with CD releases, go-go dancers, and often famous guests too.
Circus Disco (6655 Santa Monica Blvd, behind Arena), Tuesday, Friday and Saturday gay Latino dancing, four floors, top DJs, "Macho Man" exotic dancers, drag shows and contests.
Club Tempo (5520 Santa Monica Blvd), gay dance and cruise club for Latinos and men who desire them, drag shows, strippers and events all week long.
Jewel's Catch One (4067 W Pico Blvd), one of America's first African-American gay clubs, pulls diverse and multi-ethnic crowds. They feature drag shows (Sundays), erotic dancers, Hip Hop, R&B, Old School, and alternative karaoke. Das Bunker Friday "power noise" is dance-your-ass-off night. Fridays, Saturdays, and first Wednesdays are 18-plus.
Plaza (739 N La Brea), Latin mix, Friday through Monday drag shows, Mexican club music, Thursday exotic go-go dancers.
Downtown nightlife
Bordello (901 E First St), part of downtown LA renaissance; nightclub, bar and restaurant, live jazz, blues, doo wop, cabaret and classic burlesque shows.
The Edison (108 W Second St), Art Deco-period swanky, dress-code enforced, smorgasbord of events, live music, premium beers, scotch, wine, snacks and big bites for mixed crowd; restored former downtown power station.
Jalisco (245 South Main St), Cholo, Latino and mixed crowd, DJs play cumbia, reggaeton, hip hop. Next to famous indie live-music all-ages no-alcohol venue, The Smell.
La Cita (336 S Hill St), afternoon/evening happy hours, Latino, Regge, Hip Hop, Punk Rock Dirtbag Tuesday nights, Queer Monday Moustache nights, Thursday Dance Right House/Trance, Sunday build your own Bloody Mary & live Cumbia/Banda. Large and lively patio.
Seven Grand (515 W Seventh St), upscale downtown pub with dress code.
Silver Lake Nightlife
Akbar (4356 Sunset Blvd) neighborhood oasis, great jukebox, attracts queer-thinking gentle folk of many sizes, shapes and proclivities. Weekly events include stand-up comedy, CraftsNight, and Friday/Saturday dancing. Bears in Space is one of their special events.
The Eagle (4219 Santa Monica Blvd), LA's top leather, uniform and fetish cruise bar, live DJs every night, pool tables, outdoor patio. Thursday wet shorts competitions. Friday night fetish and cigar socials, Sunday Beer Busts on their regular calendar. Saturday hot stud podium dancers --arrive early to avoid line.
Faultline (4216 Melrose Ave), leathermen's cruise bar, spacious patio, big Sunday crowds for cheap beer. Thursday Undy Nights, Friday go-go men and vintage porn. Holiday parties, big cock contests, and deep throat competitions are among special nights.
MJ's (2810 Hyperion Ave), attitude-free "industrial strength" dancing and cruising nightly. Rim Job Tuesday pulls long lines for hottest dance in town, "slutty go-go boys" on stage and in showers. Dancers are energetic, and approachable. Dancers and performers Wednesdays; Thursday Club Nur gay Middle Eastern night; Friday Sex Bomb go-go dancers; Saturdays Club Dick underwear dancing; BBQ hot dogs on Sundays, plus foam nights, special parties and gay porn star guests.
The Other Side (2538 Hyperion Ave), casual piano bar, live cabaret entertainment and snack foods.
North - N Hollywood/ Fernando Valley/ Van Nuys/ Pasadena

Boulevard (3199 Foothill Blvd, Pasadena), mixed gay crowd, big karoke song selection, Sunday beer busts and cabaret.
Bullet Bar (10522 Burbank Blvd), serious leather men's bar in the Valley.
C.Frenz (7026 Reseda Blvd), a little of everything, Sunday barbecues, drags show Wednesdays and Friday go-go boys.
Cobra (10937 Burbank Blvd) big gay Latin club in North Hollywood, drag shows, hip-hop, dance music and La Musica Latina, plus sexy Hot Papi go-go dancers.
Oil Can Harry's (11502 Ventura Blvd, Studio City), mixed, mostly men's bar, karaoke and Country music dancing most nights, but on Saturday there's disco music dancing.
Rain (12215 Ventura Blvd, Studio City), new upscale gay restaurant and nightclub "in The Valley," drag shows, nightly entertainment, Wednesday nights Country line dancing, once a month Saturdays GB2 Girl Bar.
South & Westside

Dolphin (1995 Artesia Blvd, Gardena), laid-back neighborhood bar, friendly bartenders, party nights, karaoke.
Roosterfish (1302 Abbot Kinney Blvd, Venice Beach), beach neighborhood gay bar & grill, patio, art exhibits, Hard-Core Karaoke and Bad Boy Bingo nights.

East - Pomona/ Montebello

Alibi East (225 S San Antonio Ave, Pomona) video bar, dancing, cheap drinks, Sunday beer busts, karaoke, pool games, Saturday theme parties.
Chico (2915 W Beverly Blvd, at Garfield, Montebello) sexy Latin club in East Los Angeles has hot shot boys and strippers, open nightly playing Musica Latina, Hip Hop, and Old School.
Three-Forty Restaurant & Nightclub (340 S Thomas St, Pomona), new Hollywood/New York-style 18+ club, hot Latin guys nightly on stage, RuPaul's Drag Race Superstars. Sunday Played by Tigerheat. Full dinner service nightly, plus Friday/Saturday after hours 'til 4am.
Restaurants - WeHo/ Hollywood/ Silver Lake

Bossa Nova (685 N Robertson, WeHo), meaty Brazilian treats and other international cuisine.
Cafe D'etoile (8941-1/2 Santa Monica Blvd, WeHo) good French and American food and wine, indoors or patio seating.
Caffe Marco (1051 N Havenhurst Dr, WeHo) as busy as ever in their new location, has plenty of outdoor seating, coffee, snacks and free wi-fi.
Champagne French Bakery Cafe (8918 Santa Monica Blvd, WeHo) breakfast, soups, sandwiches & salads, quiches and crepes; breads, cakes, cookies and pastries to delight any taste.
Falcon (7213 Sunset Blvd) formal elegance, chic Hollywood bar and restaurant, full meals and appetizer snacks, performances and live music.
Fiesta Cantina (8865 Santa Monica Blvd, WeHo) kicked-back atmosphere, beach bar and grill, kitschy Mexican restaurant with a thatched hut facade attracting many gay boys and girlfriends.
Flying Leap Cafe (2538 Hyperion, Silver Lake) fresh all-natural home-style American food, reasonable prices. Their kitchen also supplies the nearby Mary's Metro Station with al fresco dining.
French Quarter Restaurant (7985 Santa Monica Blvd, WeHo) good cruising as well as good food. Inside or out on their patio they serve breakfast, lunch and dinner; beer, wine, deserts and hot beverages.
Lola's (945 N Fairfax Ave, WeHo) martinis, cocktails, and eclectic comfort food for young, fashionable same-sex couples and groups, late into the night.
Marix (1108 N Flores St, WeHo) bar and Tex-Mex restaurant, popular all-you-can-eat Taco Tuesdays with pitchers of Margaritas.
St. Felix (8945 Santa Monica Blvd, WeHo) classy, vibrant bar & restaurant with outdoor patio for good passers-by viewings. Tapas, steak skewers, Cuban tacos, ravioli; half-off happy hour prices 4-8pm.
For additional Los Angeles restaurants, and locations and web links to the above, see our map & listings/restaurants page.
Lodgings, West Hollywood & Downtown LA

Ace Hotel (929 S Broadway, DTLA; 213-623-3233), restored 1927 United Artists theater building, small/large/loft rooms, terrace suites; part of gay-owned hotel chain.
Holloway Motel (8465 Santa Monica Blvd; 888-654-6400) next to the IHOP, "good bang for your buck" with free cable TV, voicemail, continental breakfast and parking.
The Ramada Plaza West Hollywood (8585 Santa Monica Blvd; 800-845-8585) Art Deco-style rooms and two-story loft deluxe suites; DSL, movies, refrigerators standard. 24-Hour Fitness, fine restaurants and outdoor heated pool.
San Vicente Inn-Resort (845 North San Vicente Blvd; 310-854-6915) mixes tropical tranquility with clothing-optional hedonism for international mix of guests at heart of WeHo. Rooms for any budget, apartments and bungalows, heated pool, 24-hour naked swimming, Jacuzzi, steam room, wi-fi, and breakfast buffet.
For more Los Angeles lodging options see our map and listing tab.
Shopping, West Hollywood
665 Leather (8722 Santa Monica Blvd) adult leather retailer, ready-made and bespoke creations, accessories from anal toys to whips, paddles and wrist-pads.
Chi Chi LaRue's (8932 Santa Monica Blvd), upscale sex boutique, entire Channel 1 catalog of over 2,000 titles and products; also DVDs, novelties, lubricants, condoms, apparel, cards, photo books and calendars.
Circus of Books (8230 Santa Monica Blvd), erotic videos and literature, "Vaseline alley" at the back does get its share of action but patrolling police are never far away.
Greasy Co (4228 Melrose Ave) uniform and fetish-inspired attire.
Mr. S Leather (4232 Melrose Ave) retail boutique, leather fantasy becomes reality.
Pleasure Chest (7733 Santa Monica Blvd) giant adult store, everything needed to tickle erotic fancies: magazines, specialty items, gifts, leather goods, condoms, love toys and the like.
Rough Trade (3915 Sunset Blvd), quality vendor of leather wares, specializes in hard-to-find items.
Steel Blue (8350 Santa Monica Blvd) "Not your daddy's leather"- West Hollywood's favorite leather-and-clothing boutique.
Unicorn Books (8904 Santa Monica Blvd) friendly, no-attitude staff, mags, videos, erotica and accessories, some 6000 DVDs, sales, rentals.
Bathhouses & sex clubs
Hollywood Spa (1650 N Ivar Ave) large and glamorous pleasure palace on 3 floors, with grand staircase. Loyal and international medley clientele, nightly DJ, assortment of special rooms with two-way mirrors.
K-Lyt Bath House (132 E 4th St), 24-hour every day downtown LA men's bathhouse, popular with Latinos.
The North Hollywood Spa (5636 Vineland Ave), steam, dry sauna, fitness center, erotic-TV lounge, private rooms, cafe, sun deck, plus free health clinic for testing and counseling.
The 1350 Club (510 W Anaheim St, Wilmington/ Long Beach) only men's steam and sauna in South Bay. Garden patio and sun deck, multi-channel videos, maze, excercise machines, private rooms, TV lounge, Safe Sex Party live performers, Blackout nights, 24-hour secure parking, free HIV/STD testing and counseling.
Midtowne Spa (615 S Kohler) popular sauna destination, heart of downtown LA; parking provided, video lounge, exhibitionist room, performer's showroom, deluxe sling room, full-size pool, weekend strip shows, JO shows with guest porn stars, Wi-Fi.
Melrose Baths (7269 Melrose Ave), between Hollywood and WeHo, Bear & Bellies nights, Blackout parties, big Latino crowd. Facilities include pool, patio deck, steam, redwood sauna, sundeck, maze, exhibitionist rooms, video lounges, strip shows, guest porn stars, Wi-Fi.
Flex Complex (4424 Melrose Ave) open around-the-clock, garden oasis, outdoor jacuzzi, sundeck and pool. Full steam and sauna facilities, booths facilitate passions of one kind, with videos to inflame them, gym with free weights and machines for other work-outs.
Roman Holiday (12814 Venice Blvd), basic men's sauna, open 24 hours, older crowd.
Roman Holiday Valley (14435 Victory Blvd, Van Nuys), men's sauna/steam, Jacuzzi, private rooms, pool, sunning patio, massage, Wi-Fi.
Slammer (3688 Beverly, near Vermont) premier sex club. Popular Tuesday gym nights, watersports every first and third Wednesday, earlybird weekend specials.
The Zone (1037 N Sycamore Ave) sex club and backroom busy with hot studs every night of the week until dawn; steamy, ever-changing, hot and safe environment.
Body beautiful
Gold's Gym (1020 N Cole Ave) vast array of machines and free-weights for work outs, toning and chiseling, plus tantalizing views of LA's most dedicated body-builders at work.
Loft Hair Lounge and Green Spa (110 N Doheny Dr, Beverly Hills) cuts, colors, and facials, all-organic products. Therapists give Swedish, hot stone, deep tissue or lomi lomi massages.
Going to the beach? The Legends Beach Bike Tours of Perry's Cafe do guided bike tours of Santa Monica beaches, Venice and Huntington Beach, 90 minute to two hours for individuals or groups. Guides communicate by headset. Will Rogers Beach, in Malibu, a few miles north of Santa Monica pier, is gay-active, especially at weekends.
Other Metro Los Angeles areas
For Long Beach and Orange County Beach towns, Santa Ana and Anaheim, see our section for Long Beach.