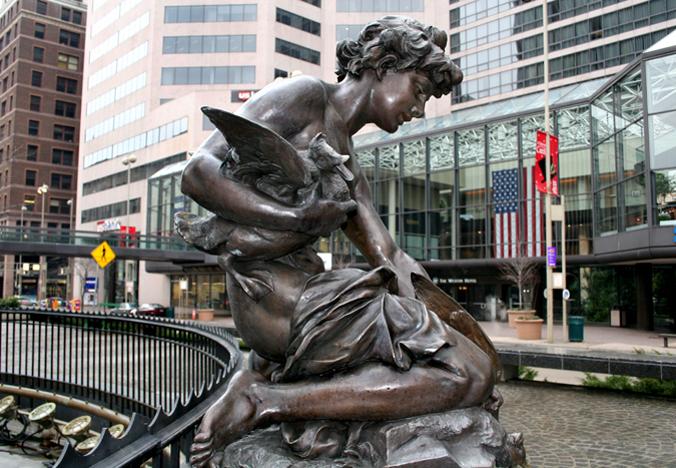 Cincinnati
They call Cincinnati the "Queen City," and it's true that it gives a royal welcome to gays. For a relatively conservative city, Cincinnati has an unusually vibrant gay community, with a large pride celebration held every June or July. Downtown is the traditional gay neighborhood, but over the last decade gays have been gradually moving toward the Northside.
If you're a sports lover, you'll fit in here. Many of the local gays cheer for the home teams, the Cincinnati Reds and the Cincinnati Bengals.
Getting here
Cincinnati-Northern Kentucky International Airport is about 13 miles south of downtown Cincinnati in northern Kentucky. Taxis to the center of the city cost about $30. Some hotels in Downtown Cincinnati or in Covington, just across the river, offer free airport shuttle services.

Getting around
A rental car or a taxi are the best ways to get around Cincinnati if you're venturing beyond the very walkable Central Business District. For city bus information see the website of SORTA
Neighborhoods
Northside is one of Cincinnati's most active gay neighborhoods, home to a handful of gay bars as well as the GLBT Community Center of Greater Cincinnati.
Downtown is home to several gay bars, clubs and restaurants. Fountain Square is at the center, dominated by the bronze fountain named The Genius of Water. Intended as the cultural and recreational hub of the city it's used for lunch-breaks, rallies, and other gatherings.
Over-the-Rhine, just north of downtown, boasts a large, 19th-century urban neighborhood of historic architecture. A center of the local arts community, it's again re-emerging as a trendy shopping and dining district, after some false starts during the past decade, and a lack of the money needed to restore the buildings.
The Ludlow Strip in Clifton has a cluster of interesting shops, restaurants, and cafes. If a good movie is what you crave, the Esquire Theatre (320 Ludlow) has all the best current art-house films, before or after dinner.
Local Media

Rainbow Cincinnati publishes GLBT News, the area gay paper with online listings and news.
Other helpful gay Ohio sites include: the Gay People's Chronicle, and the Word, an Indianapolis gay paper with regional coverage.
CityBeat is the local alternative weekly paper for area news, plus dining, arts and entertainment listings. The O-T-R blog covers the latest events and attractions in the downtown Over the Rhine neighborhood.
Cincinnati USA is the local Regional Tourism Network site, with visitor information and package deals. Eat Local Cincinnati is an online guide from the area's independent restaurants association.
For map locations and website links to the businesses below, and more, see our gay Cincinnati listings pages.
Lodgings
Popular with gay visitors to Cincinnati, especially this year during Pride events, the Millenium Hotel (150 W. 5th; 866-866-8086) has downtown convenience and reasonable rates.
Just across the river the Weller Haus (319 Poplar St, Belleview; 800-431-4287) is a five room gay-friendly guesthouse in a pair of 1880's era Victorian Gothic homes. All rooms have private baths and modern amenities.
Bars and restaurants
Adonis (4601 Kellogg), CLOSED "temporarily" - ?? big weekend 18+ dance club complex beside the Ohio River; video bar, jazz bar, cabaret room, outdoor deck and summer afternoon swimming pool parties, fireplace lounges, plenty of parking. Resident and guest drag performers.
Below Zero (1122 Walnut St), up-market downtown lounge, gay-friendly ambience, piano, drag divas, karaoke and show tunes sing-alongs.
The Dock (603 Pete Rose Way W), Wednesday through Sunday 18+ gay dance club, high-energy music, throbbing lights, relaxed video bar with pool table at front, patio bar and summer volleyball sand court. Themes nights, drag shows, open weekends until 4am.
Home Base Tavern (2401 Vine St), Clifton neighborhood bar, former Little Bit, relaxed and mixed crowd, pool games, karaoke, TV sports, jukebox, WiFi and bar munchies.
On Broadway (817 Broadway), small, friendly downtown bar, neighborly mixed crowd, big screen videos, outdoor patio; live entertainment includes drag shows; also bear and leather special events.
Parkside Cafe (1024 E. McMillan St) is popular for breakfast, lunch or just coffee; also with Sunday brunch and free Wi-Fi internet access.
Serpent (4042 Hamilton Ave), Northside men's leather bar with very low lighting - you can imagine the rest. Also outdoor patio, pool room and leather shop.
Shooters (927 Race St), country-western music dance bar of many years, much wood, mostly male crowd.
Sidewinders (4181 Hamilton Ave), Northside cocktails, fresh-roasted coffees, espresso drinks, tea varieties, vegan lunch, bagels, sandwiches, soups, cakes and cookies. Cozy inside, courtyard patio, free WiFi.
Simon Says (428 Walnut St) downtown business district favorite for men -- especially bears, with strong drinks, and a long, colorful history.
Sitwell's Coffeehouse (324 Ludlow Ave), laid-back cafe/bar, all-ages and types college-town hipster crowd; rec-room ambience, burritos, sandwiches, baked goodies, coffee and milkshakes, free WiFi. Two doors from Esquire art-house cinema.
Monroe OH

Old Street Saloon (13 Old St, Monroe), "Cheers for Queers" between Cincinnati and Dayton; Saturday floor shows, Thursday karaoke and taco bar. Annual bike run and Miss Old Street annual drag pageant --each September.
Newport KY
Across the river in Kentucky, there were several places of interest, but now only one remains.
Crazy Fox (901 Washington Ave, Newport) for a mixed gay/straight crowd, live music and games.