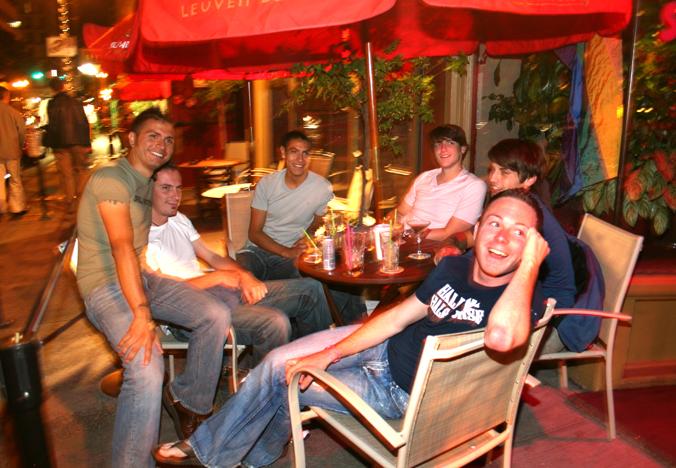 Portland
Perhaps because of its frontier and port city history, Portland retains a certain nonconformist outlook. The outgoing, good-natured folks who live in the "City of Roses" are a little more casual and rambunctious than their Seattle cousins up the road. The architecture gives the downtown a look found nowhere else -- a combination of modern towers and renovated warehouses. Outdoor pursuits abound, especially on the gorgeous stretch of the Willamette River that runs through town. Beaches with nude stretches of gay interest can be found on the Columbia River nearby at Sauvie Island to the west, and at Rooster Rock State Park to the East. Pacifc Ocean beaches, temperate rain forests, and Mt Hood, Oregon's highest peak and one of the most prominent of the Cascades volcanoes, are all just a short drive from the city.
Portland is known for having a large number of microbreweries and microdistilleries, as well as a variety of downtown street food carts selling good food of many cultures at bargain prices. Coffeehouses abound and the many bookstores here include Powell's, one of the world's finest new and used book emporiums. Cinema is another local passion (Gus Van Sant hails from here), as is music - with plenty of venues to enjoy them both. Combinations include old-style movie houses like the Bagdad Theatre & Pub on SE Hawthorne, with beer and pizza to eat while you watch. Rose City Vaudeville at Vagabonds Theatre, burlesque shows at Star Theater, glitzy-glamourous drag shows at Darcelle XV and the sometimes naked male dancers at Silverado - all suggest that PDX remains a tad different than your average American town.
Getting there
Portland International Airport has buses, shuttle buses and car rentals at, or near the terminal building. TriMet MAX Red Line light-rail trains run to downtown every 15 minutes or better most of the day, every day. Service is less frequent in the early morning, mid-day and evening. The 40-minute trip costs $2.50.
Getting around

Pedestrian-friendly Portland has excellent public transit, with four MAX light rail lines and two Portland Streetcar lines. Services cover both sides of the river, including the gay districts. A no-zone flat fare is $2.50 for two hours of travel, or $5 for an all-day pass. Weekly and 14-day passes can also be bought, as with single fare tickets, at machines, and on buses, streetcars or trains. See TriMet for information.


Neighborhoods
The main gay districts are downtown around Southwest Stark Street and in Old Town around Northwest Davis and Northwest 3rd. There are other places of interest across the river, including Northeast Broadway, Southeast Stark and Northeast Sand.
Neighborhoods along Southeast Belmont and Southeast Hawthorn have lots of little shops and restaurants. Many of these retain remnants of a counterculture that's all but disappeared elsewhere in America.
Media & resources

Just Out is a free gay paper full of local news, events and listings. PQ Monthly is another source for what's on in queer Portland. Fabulous PDX has an extensive calendar of gay and happenings around town.
The Willamette Week is the area alternative paper with news, general events, arts, entertainment and restaurant listings and reviews.
The Adventure Group is an outdoors club /LGBTQ community outdoors group for the Portland region with activities from hiking and skiing to camping and kayaking.

Pivot (209 SW 4th Ave) is a social and educational community space for 18+ men into men, with free coffee and WiFi, HIV testing, films and other events and services.
The Q Center (4115 N Mississippi Ave), is the local LGBT community center, with art and culture events, film screenings, social services and a coffeehouse.
In Other Words (14 NE Killingsworth St), is a feminist bookstore that has expanded into a women's community center, with workshops, readings, and events such as film screenings.
The Portland Sisters of Perpetual Indulgence have ongoing events around town, and the Oregon Bears are a lively group of friendly big guys, with lots of events on their calendar.
QueerDoc queer documentaries screen in June, and the Portland Gay & Lesbian Film Festival is a September/October annual event.
Portland Pride is in June each year, PDX Latino Gay Pride is in July, and Leather Pride takes place in September. The Rose Festival, with annual city-wide festivities, has been a part of Portland's popular culture for 105 years.
The Imperial Sovereign Rose Court has their annual coronation in October, with various events happening all year-long.
The Variant LABoratory is a group of creative people with an art factory space, up to all kinds of things; and Blow Pony is behind the monthly alternative party for everyone queer.
For locations and website links to businesses listed below, see our gay Portland map & listings pages.
Accommodations
Ace Hotel (1022 SW Stark; 503-228-2277) modern, informal rooms, economy or deluxe, cable TV, free wi-fi.
Hotel Lucia (400 SW Broadway; 503-225-1717) stylish photography, original art, cutting-edge yet comfortable.
Jupiter Hotel (800 E Burnside; 503-230- 9200), among top-rated new hotels, suites perfect for entertaining.
Lion and the Rose B&B Inn (1810 NE 15th; 503-287- 9245) brewery magnate's Victorian, full of style, sophistication, tradition.
Mark Spencer Hotel (409 SW 11th; 503-224- 3293) historic landmark, perfect location, kitchens, rooftop deck.
A Painted Lady (1927 NE 16th; 503-335- 0070) grand Victorian home, gay-friendly oasis in hip Northeast Portland.


Bars & Clubs
Portlanders enjoy totally nude performances and sex videos at several clubs. These displays of masculine prowess are balanced by a local penchant and reverence for drag, sometimes at the same establishment.

Burnside & Southwest
Boxxes (1035 SW Stark) two-story dance complex, innovative DJs, go-go dancers and guest porn stars, drag shows, contests, theme parties; energetic, young, mostly male crowd.
Fez Ballroom (316 SW 11th) alternative, artsy mixed crowd, live music, top new DJs and performers showcased.
Scandals (1125 SW Stark) big beer selection, local microbrews, food, games, sidewalk tables, hot DJs, weekend dancing, first Thursdays live music, art exhibits.
Silverado (318 SW 3rd), non-stop nightly male erotic dancer rotations, friendly mostly male party crowd, heart pumping dance music, Monday karaoke, food, games, poker machines; special holiday and Rose Festival events.

Old Town
CC Slaughters (219 NW Davis) large dance floors, lively and diverse crowd, DJs, dancing, Hip Hop nights, Diva Megashows; underwear and towel nights, Girltopia Tuesdays; quiet chill-out martini lounge.
Darcelle XV (208 NW Third) legendary glitz and glamour, comedy, pageants, dinner cabaret, Friday/Saturday midnight male strippers.
Embers (110 SW Broadway) infamous drag, karaoke, large dance floor, superb DJs, diverse crowd, cheap drinks.
Escape (333 SW Park) alcohol-free weekend all-ages gay dance and show club, open after-hours.
Fox And Hounds (217 NW Second) neighborhood bar, supper club, Sunday brunch, affable older crowd, bears' events.
Hamburger Mary's (19 NW 5th Ave), CLOSED - national gay chain, burgers, Sunday brunch, karaoke, bingo, gay parties, drag divas.
Hobo's (120 NW Third) quiet lounge, courtyard fine dining, stylish piano bar, premium cocktails, game room.

North & East
Crush (1412 SE Morrison) bar and restaurant, outdoor seating, drag brunch, burlesque & boylesque, classic bingo, cash prizes, wild queens.
Eagle (835 N Lombard) friendly watering hole, bears, leather men, hearty bar food.
Joqs (2512 NE Broadway), popular men's sports bar, gay softball team, friendly regular guys, pool table, wild holiday stripper parties, American food cafe.
Starky's (2913 SE Stark) gay favorite, food and spirits, late-night weekend menu, open till 2am.
Sauna
Steam Portland (2885 NE Sandy) lively, modern spa, open 24 hours, visitor rates, hot tub, blackout parties, nude tanning deck.


Restaurants
Portland has restaurants and cafes of every kind, plus street vendors and food carts for a quick nibble. There are now almost 500 food carts in the city, with a large cluster in blocks between SW Washington and Alder Streets, at SW 9th and 10th Streets, downtown.

Restaurants -- West of the Willamette
Fish Grotto (1035 SW Stark) intimate dining, landmark building, seafood, farm-fresh ingredients, great wine list.
Portland City Grille (111 SW 5th; 30th floor) restaurant and bar, captivating city and mountain views, mixed crowd.
Ringside (2165 West Burnside) downtown steakhouse, a meat-eaters' standby since 1944.
Roxy (1121 SW Stark) kitschy greasy spoon, open 24 hours, after-bars breakfast rush.
Scandals (1038 SW Stark) interesting, affordable menu, sidewalk tables on gay block.
Stumptown Coffee Roasters (1026 SW Stark) ground floor of stylish Ace Hotel.
Voodoo Doughnut (22 SW Third) open 24 hours, handmade doughnuts like the "cock and balls," fun afterhours crowd.

Restaurants -- East of the Willamette
Belly Restaurant (3500 NE MLK Jr) three-course meals for $25, popular Sunday brunch.
Bread & Ink Cafe (3610 SE Hawthorne) blintzes, wholesome breakfasts, freshly brewed coffee for 25 years.
Bridges Cafe & Catering (2716 NE MLK Jr) breakfast and lunch daily from 7am.
Cadillac Cafe (1801 NE Broadway) inspired breakfast and lunch, creative cocktails.
Cruzroom (2338 NE Alberta), taco bar, creative Mexican/American/Asian combinations; equally inventive liquor mixes.
Fire on the Mountain (1708 E Burnside) best hot-wing joint in town, sauces galore, many local brews.
Grendels Coffee House (729 E Burnside) coffee shop, sandwiches, bagels, veggie and vegan friendly, free wi- fi.
J&M Cafe (537 SE Ash) hearty daily breakfast, served all day on weekends, lunch, self- service coffee.
Milo's City Cafe (1325 NE Broadway) breakfast, lunch, dinner, brunch with many options, four variations on eggs Benedict.
Night Light Lounge (2100 SE Clinton) bar and cafe, live music, patio seating, art gallery, no cover, mixed crowd.
Old Wives' Tales (1300 E Burnside) vegetarian meals, chicken dishes, seafood menu, salad bar, awesome mushroom soup, WiFi.
Tin Shed & Garden Cafe (1438 NE Alberta), lesbian-owned good-vibe eatery, farm collective grows produce for the table.
Wild Abandon Restaurant (SE Belmont) locally grown organic food, "recession buster" meals from $10, nice atmosphere.
Shopping & services
Portland is a great place to go shopping. You can expect to find a great collection of all the big name stores, small boutiques and great eclectic shops. But in Prtland, as with the rest of Oregon, one thing you won't find is any sales tax.
Bagdad Theatre & Pub (3702 SE Hawthorne) old- fashioned movie palace, cheap flicks, beer and pizza at your seat.
Powell's City of Books (1005 W Burnside) huge store, new and used books, paperbacks, classics, photo books, maps, posters, rare editions.
Q Center (4115 N Mississippi) gay community center, art, culture, events, coffee house.
Taboo Adult Video (237 ML King) erotica for all, sale and rental DVDs, magazines, toys, novelties.
Underu4men (507 Broadway) live model shows, brand- name undies, cosmetics and skin care products, clothes, accessories.