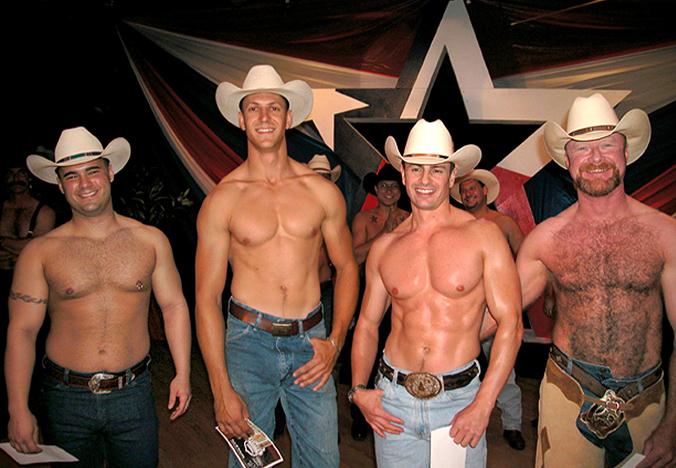 Dallas
Among the ten largest American cities, Dallas is a cosmopolitan place with world-class architecture, a booming arts district, and a diverse dining scene. But, unlike many big American cities, there remains an old- fashioned sense of community here, holding together many diverse elements beneath a very large GLBTQ tent, and offering genuinely warm welcomes to visitors who are just passing through. Just about everyone you encounter will say hello, and damn, they seem to mean it. Fort Worth, the city just down the road, shares many local events with Dallas.
In focus: Finding the Unexpected, Deep in the Heart of Texas
by Matt Mills
In 2003 the US Supreme Court issued a landmark ruling that de-criminalized homosexuality across the United States. But Texas, along with two other states, has yet to officially strike unenforceable anti-gay sexual morality laws from its penal code. There are no state protections against discrimination based on sexual orientation for either housing or employment. And not only is there no state recognition of same-sex partnerships, let alone gay marriage, anything like it is specifically prohibited under state law. It's the US Bible Belt, the Republican South. It bears an overarching socially conservative zeitgeist. Why on earth then, with all that beng true, would gay travellers want to visit the state's largest urban center, Dallas/Fort Worth? Very simply, for the gay communities — the people, culture and spaces — to be found there.
The area is home to enough gay people to earn it a score among the top 20 US cities on the Gay Index, as developed by demographer Gary Gates and made famous by urban theorist Richard Florida. There are, for example, over 30 gay bars, restaurants and other gay and gay-friendly businesses in Dallas/Forth Worth. They range from huge to tiny and milder to wilder, and they offer something for every taste. There's an impressive arts scene as well: theatre, fine art, film, and especially country music.
The Dallas/ Fort Worth Stonewall
In the early morning hours of Sunday, June 29, 2009, a band of police entered the newly opened Forth Worth dance and hangout bar, The Rainbow Lounge. It happened within hours of the 40th anniversary of the Stonewall riots. The cops behaved badly, shoving patrons around before arresting a number of them on trumped-up charges. One of those arrested, Chad Gibson, suffered a brain injury while in police custody and barely survived. The gay communities in Dallas and Fort Worth mobilized in protest against the raid. An investigation subsequently revealed that The Rainbow Lounge ought not to have been raided at all. Two officers were fired, all outstanding charges were dropped, and Gibson went on to receive damages for his injuries. The Rainbow Lounge remains a popular spot in Fort Worth, with a documentary film, Raid of the Rainbow Lounge, making the rounds on the festival circuit this year. As was the case with the Toronto bathhouse riots of 1981, this raid effectively galvanized gay people across Texas to press their governments for change and demand fair treatment from law enforcement. "Those events have left a very positive legacy," says Todd Camp, artistic director of Forth Worth's gay film festival, Q Cinema. Camp was in the bar the night of the raid and helped organize the community response. "We have seen some truly stunning changes in city politics and how LGBT citizens are treated in Fort Worth in the aftermath," he says.

Getting here
Dallas/Fort Worth International Airport has TRE rail service to Union Station and seven more Dallas locations operated by the Dallas Area Rapid Transit.
Getting around
The city sprawls in every direction, so a car is the easiest way to get around. The Oak Lawn area is walkable, but during the hot and humid season you may crave the air-conditioning of a car as much as you need the wheels.
Public transit DART single fare local rides cost $2.50, ($5 regional), good for two hours of unlimited rides, with transfers between bus and rail systems. Monday through Friday 9:30am-2:30pm Midday Passes are just $1.75 local ($3.50 regional). Day passes are $5. Purchase tickets on buses and from vending machines at all DART Rail stations.
Neighborhoods

Oak Lawn. Often called The Strip, the commercial center of gay social and retail spaces in Dallas lies in the Oak Lawn neighbourhood, just north of the sparkling new performance spaces of the Arts District. Stretching along both sides of Cedar Springs Road, between
Oak Lawn Ave and Throckmorton Street, The Strip is a tidy but busy collection of gay clubs, restaurants and clothing retailers. Employee-owned Caven Enterprises has five clubs alone here, all in a one block complex of Cedar Springs (between Throckmorton & Reagan), known collectively as the Party at the Block. Cedar Springs Road is also the focal spot of Dallas Pride celebrations with a Sunday parade each September, and the Halloween Block Party, at the end of October. (Cedar Springs Merchant Association).
Deep Ellum. Located three blocks east of downtown, this bohemian enclave has a funky and eclectic mix of shops, bars, restaurants and nightclubs in what was once an impoverished warehouse district. One of Dallas's top attractions, Deep Ellum is alive with graffiti art coloring the walls and a big slice of humanity carousing the streets, shopping, drinking and eating (deepellumfoundation.org).
Bishop Arts District. Centred on Davis and Bishop streets just south of the city centre, a cluster of restaurants, boutiques and services, this gay-friendly enclave is just five minutes from downtown Dallas. You'll find friendly merchants and a small-town-square atmosphere — definitely a unique area to discover (bishopartsdistrict.com).
North Fitzhugh, and beyond. Long a center of gay Dallas, the street is still lively. Not as slick as newer, more fashionable districts, the men's saloon and male stripper bars here attract guys who don't care so much for the trendier parts of town. Other lively, but less visible scenes flourish in the large black and hispanic gay communities -- often small, with low profiles, no websites and little advertising. Word of mouth is the best way to find these clubs, so ask around.


Media & resources
Dallas Voice is the gay community newspaper. The Dallas Tavern Guild website also has listings for events, reviews and maps of local gay bars, many restaurants, and stores, plus photo galleries of gay events.
D Magazine and Pegasus News are good online guides to the city's bars, restaurants and entertainment. The Advocate Magazine covers the Oak Cliff area.
DFW, the Dallas Fort Worth Pride Movement, website lists Black Pride and related events. U-BE provides ways for young Black gay and bisexual men to come together, meet, socialize, and support one another in Dallas.
The website for Dallas Pride has information on year-round events, particularly for the big mid-September festivities and the Voice of Pride summer events.
For leather/fetish info see the website of The Leather Knights, and those of the Dallas Bears and Texas Bear Round-Up for a bit of Woof!
See the local Dallas chapter of TGRA, the Texas Gay Rodeo Association for info on upcoming rodeos and other events.
The DFW Sisters, the local order of the Sisters of Perpetual Indulgence, has lots of events and goings on, all year long.
The Dallas International Film Festival takes place each April, as does Outtakes, the LGBT film fest.
The Dallas Observer is a general public daily newspaper and website. Visit Dallas has general tourist information.
See map locations and website links to businesses listed below and more, at our map & listings pages for Dallas.


Accommodations
Adolphus Hotel (1321 Commerce St; 214-742-8200), with stylish rooms and suites in a central hotel, treats guests like royalty: afternoon tea, elegant French Room restaurant, Texas style bar & grill, in-room dining; sedan service, and private athletic club access.
Daisy Polk Inn (2917 Reagan St; 214- 522-4692) a restored arts-and-crafts mansion, gay-owned B&B, small with attentive service. They're near the bars, French is spoken, and there's free wi-fi.
Ramada Inn Love Field (1575 Regal Row; 214-3638-6100) is a modern business hotel with spacious rooms and all amenities, convenient to airport with scheduled shuttle service, a large pool, guest laundry, and mini-mart store.
Hotel Palomar (5300 East Mockingbird Lane; 214-520-7969) offers Texas-style elegance, a spa and gym, gourmet treats, in-room spa services, concierge, and they're pet-friendly.
MD Resort B&B and Country Inn (601 Old Base Rd, Aurora; 817-489-5150) is a working ranch amid open fields and mature trees, outdoor pool, horseback riding to the northwest of the Dallas/Fort Worth metropolitan area.
Warwick Melrose Hotel (3015 Oak Lawn Av at Cedar Springs Rd; 214-521- 5151) has a ritzy vibe with oversized rooms and marble floors, all the perks and amenities, nice restaurant and bar, near everything in Uptown Oak Lawn.

Bars and clubs
Alexandre's (4026 Cedar Springs Rd), an intimate lounge and piano bar with eclectic mixed crowd and entertainment every night ranging from jazz and rock to R&B.
Bar 305 (325 Centre St), small Oak Cliff gay-friendly lounge bar with sofas, large patio deck, pool tables and games, jukebox.
Barbara's Pavillion (325 Centre St), aka the Pav, easygoing mixed older crowd neighborhood bar with karoke, all-year patio, and general good vibe.
BJ's NXS (3215 N Fitzhugh Av) neighborhood bar has cheap drinks, friendly young strippers, and hunky bartenders.
Brick/ Joe's (2525 Wycliff Ave, 120) new location for well-loved club, with weekend dancing, and seven nights of events such as Show Tunes, karaoke, cabaret, and male dancers; amateur strip-off contests each Thursday.
Club Exklusive (4207 Maple Ave), aka Klub Hot, 18+ crowd, African-American and Latino dancers, large dance floor, Hip Hop to Latin and Salsa nights; also with big outdoor patio.
Club Los Rieles (600 S Riverfront Dr), Musica Norteña, Tribal, Cumbia Latin music Saturdary dancing until 4am, Friday and Sunday drag shows, all-night drinks specials; week nights Hip Hop & Pop.
Club Stallions (11311 Harry Hines Blvd), new in December 2012, 18+ all-nude male dancer entertainment club, private VIP rooms, amateur contests, BYOB; one day to 6-month memberships.
Dallas Eagle (5740 Maple Ave) Levi/leather men, bears, underwear and shirtless nights, gets busiest in the later hours. Home bar to many local bear and leather groups who have their events here.
Elm & Pearl (2204 Elm St) young 18+ mixed hip-hop crowd, erotic male dancers, dancing on Fridays and Saturdays with drag and variety shows and pageants on Sundays.
Grapevine Bar (3902 Mapel Ave), friendly neighborhood dive bar, rooftop deck views of Dallas, patio; pool, ping pong and basketball games, TV sports, jukebox.
Havana (4006 Cedar Springs Rd) Latin, Hip Hop and Afro-Caribbean bar and dance club, with Cuban food, drag shows, and a late-night well-dressed crowd.
Hidden Door (5025 Bowser) 'old school' bar with deep community ties, mostly men, busy but with laid-back attitude, large and popular patio - big Sunday afternoon beer bust popular with bears.
JR's (3923 Cedar Springs Rd), big, prosperous multi-level club with mostly young guys, videos, quality sound system, dancing day and night, a popular deck, and Sunday shows. Food includes sides, salads, burgers and dogs, and they have internet access.
Kaliente (4350 Maple Av) Latin dance club with drag, comedy shows, hot chico/chica contests.
Pekers (2615 Oak Lawn Av) easygoing neighborhood bar for everyone, with live entertainment, karaoke, pool tables and video poker games.
Pub Pegasus (3326 N Fitzhugh Av) popular neighborhood bar with juke-box, laid-back feel, wi-fi for working lunches.
Rose Room (3912 Cedar Springs Rd) upstairs at Station 4, with gender illusion shows every Thurdsays through Sundays from 11pm and a second 12:30am show Fridays through Sundays. Special pageant events begin at 9pm.
Round-up Saloon (3912 Cedar Springs Rd) a big and busy cowboy bar of six themed bar-rooms, draws a mostly male crowd with their beer busts, seven nights of country music and line dancing, poker tournaments, karaoke, a games room, and patio bar.
Station 4 (3911 Cedar Springs Rd) aka S4, a big high-tech 18+ dance complex Wednesdays through Sundays, with patio, sexy bartenders, popular with a young crowd; drag shows upstairs at the Rose Room, and after-hours dancing from 2-4am.
Sue Ellen's (3014 Throckmorton) women's bar with live bands, high-definition video, karaoke or comedy shows, patio, dance floor and Lipstick Lounge for chilling out. Fridays are 18+
Tin Room (2514 Hudnall St) small cozy 18+ neighborhood gay club with loyal regulars, karaoke and young male erotic dancers who are attentive for your tips.
TMC (3903 Cedar Springs Rd), aka 'The Mining Company,' two-level men's cruise club with low lighting, patio, pool tables, and regulars who welcome vistiors. Open Thursday - Saturday from 5pm, Sunday from 2pm; Friday - Sunday after-hours dancing to 4am.
Woody's (4011 Cedar Springs Rd) sports and video bar with patio. Nightly entertainment of karaoke, show tunes, comedy . Wednesday Miss Wanda Shows from 11pm, live music on Thursdays and Fridays from 8pm; summertime cook-outs.
Zippers (3333 N Fitzhugh Av) a men's bar with strong drinks, male strippers and go-go dancers - more muscular than at other clubs nearby.

Restaurants
Black-eyed Pea (3857 Cedar Springs Rd) home-style cooking restaurant chain with outpost in the gay district.
Buli (3908 Cedar Springs Rd) great panini sandwich and coffee shop where desserts are born and diets forgotten. Breakfast big or small, big salad variety and blended drinks.
Dish (4123 Cedar Springs Rd) good, fresh and simple food, lunch and dinner every day, trendy, nicely designed space.
Hunky's (4000 Cedar Springs Rd and 321 Bishop, Oak Cliff) old-fashioned burgers with many toppings, hot dogs, chicken sandwiches, all the sides, yummy shakes, cute guys.
Lucky's Cafe (3531 Oaklawn Av) popular Oak Lawn breakfast and brunch spot known for pancakes and omelets; also extensive lunch menu from burgers, fries & shakes, to meatloaf or fried catfish. Dinner hours until 10pm. Take-out, beer/wine, open daily.

Tillman's Roadhouse (324 W 7th St) classic comfort food with a Texas accent, in casual environment; rustic but lush decor.

Saunas and gyms
Midtowne Spa (2509 Pacific) secret nooks, work-out station, steam and dry saunas, hot tub, leather and fantasy/theme rooms, social lounge, rooftop skyline views, weekend cookouts.
Club Dallas (2616 Swiss) fitness center with trainer, sundeck, heated pool, full gym, whirlpool, dry & steam saunas, media room and free WiFi.

Shopping
Cedar Springs Road is a intersting street to shop as well as party. The Strip on Cedar Springs group hosts a monthly First Wednesday event with great deals at member stores, street artists and socializing.
Adult New Releases (9109 John W Carpenter Fwy), 24-hour adult video sales and rentals, 11 preview rooms, 18-room XXX DVD movie arcade theater; gay, she-male, MILF, lesbian, fetish, amateur, Latin, bondage, classics, and parodies (over 70 gay studios). Also snack/drinks machines, cigarette sales and smoking area, ATM, and free popcorn, plus friendly customer service.
Condom Sense (4038 Cedar Springs Rd ) the gayborhood branch of a chain of boutique adult novelty stores with 8,000 unique erotic products from vibrators, novelties, condoms and lubes, to massage oils, body and bath products.
Leather Masters (3000 Main St) sells quality leather merchandise, with custom clothing and accessories for men and women. Also has an online store.
Lost Antiques (1201 N Industrial Blvd ) hip antique shop, design studio and gallery, with Art Deco and mid-century-modern pieces, a big collection of fine art; also vintage motorcycles.
Obscurities (4008 Cedar Springs Rd) offers safe piercing, award-winning tattoos and body jewelry. See an online photo gallery of their work.
Outlines (3906 Cedar Springs Rd) has T- shirts, underwear, swimwear, jeans, shoes, jewelry and accessories for men.
Skivvies (4001-C Cedar Springs Rd) is billed as the largest men's fashion underwear store in the world, this gay emporium has jeans, g-strings, jockstraps, briefs, swimwear, tees and tank tops, and erotic/fetish wear too.
Tape Lenders (3926 Cedar Springs Rd) has a wide selection of gay/lesbian DVD movies, art and photo books, lubes, gifts such as Vitruvian figurines, plus rainbow/pride items.
Union Jack (3920 Cedar Springs Rd) targets young to middle-aged men with their unique clothing lines, jewelry, watches, belts, footwear, underwear, socks, swimwear and more.