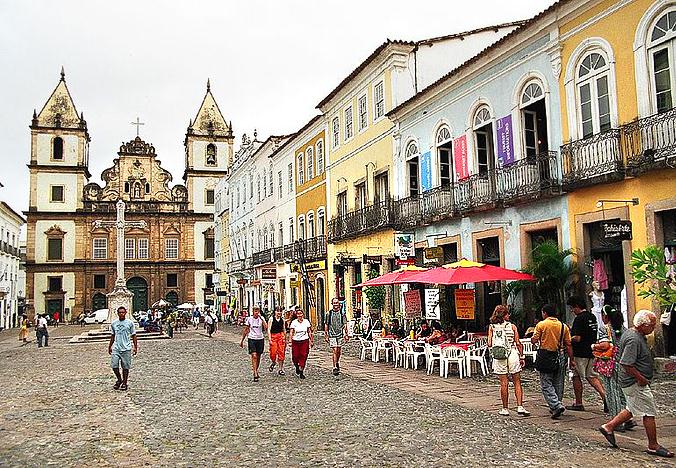 Salvador
Although it's still unknown to many travelers, Salvador is considered Brazil's most gay-friendly city. It doesn't have the glitter of Rio de Janeiro or the size of São Paulo, but for years this northern city has burnished a reputation for having an easygoing attitude about gays. Salvador is home to the country's oldest gay rights and human rights organization in Brazil, the Grupo Gay da Bahia. Salvador's Gay Pride Parade is now one of the largest in Brazil, drawing approximately 500,000 people the second Sunday of each September. Another event, Interacional do Orgulho Gay, takes place at the end of June. For the Hell & Heaven party, an annual long weekend of electronic dance music each November, people come from all over the world for one of Brazil's biggest annual gay events.
"Carnaval" is another huge event with many streets, squares and avenues closed for the events, including 11 km strictly for parades. For six days and nights just before Lent, the whole city comes into the streets to sing and dance to exhaustion. The Guinness Book of Records ranks this as the biggest street party on the planet, with around 2 million people participating.
The St John's, or Sao Joao de Pelo, festival, following the summer solstice at the end of June, and New Year's Eve are occasions for more big gatherings, parties, fireworks and music events in Salvador, and other towns and cities all over Bahia.
Established in 1549, Salvador was larger and wealthier than any North American city at the time of US independence. Now one of Brazil's most intoxicating cities, it is more different from Rio de Janeiro and São Paulo than most first-timers could imagine. The population is overwhelmingly descended from Africans or racially mixed, with a completely different cultural vibe, and visitors can be suprised by the warm welcomes they're likely to receive. The capital of Brazil until 1763, the city remained outside the mainstream of Brazilian industrialization, becoming instead a cultural center, and now a tourist destination second only to Rio.
The city is gorgeous, a United Nations World Heritage Site divided into Cidade Alta ("Upper Town") and Cidade Baixa ("Lower Town"). Pelourinho, the 'old town,' sits on the bluff above the port with the largest concentration of colonial–era buildings in the New World --among them several magnificent cathedrals. Traveling between the two levels you'll most likely take the century-old lift, called the Elevador Lacerda, Brazil's first elevator.
Hotel prices, even for beachfront locations, are quite inexpensive, and the constantly changing choices of bars, restaurants, cafes, and discos provide food, entertainment and a chance to meet the locals. For faster and more intimate contact there are eight or so gay saunas catering to various tastes. Extras, besides the usual steam rooms, saunas, Jacuzzis, bars, cafes, videos, cabins and dark rooms, include massage, strip shows, special parties, and the services of free-lance escorts. The larger complexes have websites for checking ahead.
Getting here
Salvador Deputado Luís Eduardo Magalhães International Airport is about 12 miles north of Salvador, with many domestic flights and some international connections. Buses and taxis bring you downtown.
Getting around
You can get around the city by way of the Metro de Salvador system now being built, or on buses that run constantly on main streets - until around midnight. Taxis often are off the meter, especially late at night when you most need them, so agree on price before starting out. For checking out the many interesting towns nearby you might want to rent a car, but city driving and parking can be a hassle.
Beaches
With a tropical rainforest climate, Salvador's temperatures are quite constant throughout the year, usually in the upper or lower 80's F (25-30 C), and humid. February is the driest month, May to July are wettest. Not surprisingly the beaches are the most popular places to relax here, and people of all sizes, ages and shapes wear bikinis or speedos. Guys are as body-conscious as girls in looking sexy. O Globo, Rio's daily paper, reports that Brazilians spend 45 minutes, on average, in making love -- they compare that to just 6 minutes for Americans.
There are 31 miles (50 km) of beaches between Cidade Alta and Cidade Baixa. Grupo Gay recommends Porto da Barra beach, the most urban stretch of sand. Britain's Guardian newspaper, in 2007, rated this 3rd in their world's best list. Weekdays are quieter, with young artist/students types, but from Saturday afternoon through Sundays it's crowded and gay, epecially around the grand staircase connecting the beach to the avenue above. Buses between Pelourinho and Porto da Barra stop at 11pm.
Praia dos Artistas, near the Sport Club Bahia at Boca do Rio, is also festooned with rainbow flags during the crowded weekends. There are food and drinks tents, music, light shows and lots of flirting taking place in the generally young local crowd. Street-smart caution is advised if leaving after 9pm.
Currency and Money
The Brazillian real (meaning "royal") is the local currency. The coins are divided into the same denominations as most currencies, so getting to know the local money is easy.
Personal Safety
Foreign visitors are considered rich by local standards, and drunks and loners in particular soon get noticed. But with care the situation need not spoil your vacation. Areas such as Pelourinho and Mercado Modelo, as well as the main popular festivals like the Carnival, are generally safe for tourists on the streets, but others like the Barra harbor area, especially at night, can be more iffy. Take cabs and stick with the crowd. Likewise, the beach at night should be avoided. Even in daylight carry only what you'll need, keep your bag, wallet and passport close, and camera or iPhones out of sight. Good pickpockets are like gifted magicians, and long gone before you realize anything's wrong. Cruise with care; if all goes well a "gift" will likely be expected by your partner as he leaves --even if met in a bar or sauna, so sort things out ahead of time. Getting into a car alone with strangers is risky and potentially expensive. For more advice on cruising see the local gay media.
Media & resources

Mix Brazil has information on the gay scene all across Brazil. Locals turn to Grupo Gay da Bahia for GLBT news and activities in Salvador.
Salvador-Brazil has pages about gay life, as well as general tourist information. Salvador.info and Bahia.com.br are two more general tourist websites, gay-friendly, with English language pages.
For gay and gay-friendly businesses, locations and website links, see our maps & listings section.