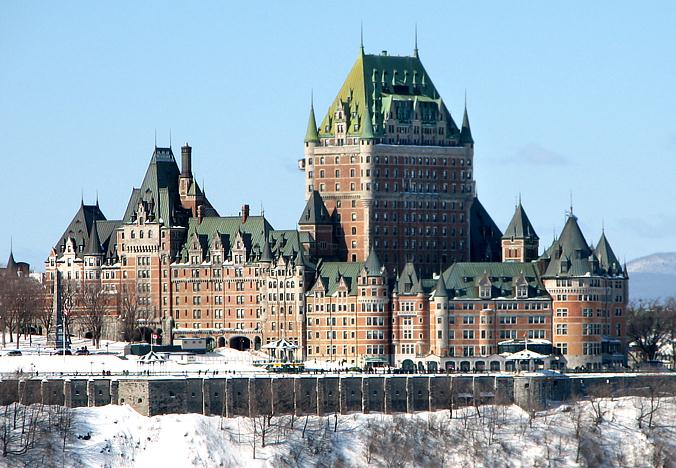 Quebec City
With its narrow cobblestone streets, old city walls, and friendly gay scene, Quebec City seems to have everything for a magical trip. As soon as you arrive in the charming quarter known as "Old Quebec," you'll realize this city, founded in 1608 by Samuel de Champlain, is like no place else in North America. The friendly locals speak predominantly French, but in tourist areas and gay bars and restaurants you'll manage with English.
No matter what the season, there are always special events taking place in Quebec City. The summertime Festival d'Eté de Québec takes place in July, and winter's Carnaval de Quebec, takes place in January and February. For the gay community, the Fête Arc-en-ciel, known in English as the Rainbow Festival, takes place in September.
See the recent Quebec City article by Ray Chaaya at DailyXtra.
Getting here
Jean Lesage International Airport is about 12 miles northwest of downtown. There are also trains and buses between Montreal and Quebec City. If you are driving between the two cities, the journey takes about three hours.
Getting around
You'll just need your own two feet to explore Quebec City. Most sights of interest to travelers are within easy walking distance of each other. For public transportation information see "New Customer" at the website of RTC.
Neighborhoods
You'll find the city's gay scene along portions of quaint rue St-Jean, a street full of various bars, cafes and boutiques just outside the walls of the Old City.
Media and Resources
Check out Sortie, published by GLBT Quebec, for details about the local community. Fugues Magazine and their Rainbow Guide also cover Quebec City, along with other cities in the province.
Make sure to check out Xtra for news and features about Canada.
GLBT Quebec is a francophone organization with information on local events. For general tourist info see the website of Bonjour Quebec, the official tourism website for the city, in French, English and other languages. QuebecRegion is another useful general site for tourists.
For map locations and website links to businesses listed below, and more, see our gay Quebec City listings pages.
Going Out
You'll find the city's gay scene along portions of quaint rue St-Jean, a street full of various bars, cafes and boutiques just outside the walls of the Old City.
Bistro l'Accent (810, avenue Honore-Mercie), gay-friendly restaurant serves breakfast crepes, panini lunches and evening meals such as escargots in garlic butter and smoked salmon; with full bar and summer sidewalk tables.
The Blu Bar & Grill (570, Grande Allée Est), diverse crowd, sushi, temporaa, tartares, snacks, menu of the day, wine bar.
Le Drague (815 rue St-Augustin at St-Joachim), the big cabaret and dance club, especially popular during terrace-sitting warm season. Weekly line-up includes Country dancing, women's Tuesdays, karaoke, Latino nights, drag pros and amateur shows, quiz games, and weekend disco dancing. Check their website for the Sunday shows.
Fou-Bar (575 rue St-Jean), gay-friendly and rollicking venue with live jazz, rock, folk, ska, reggae and vocal acts, plus occasional tango dance nights too.
Le Maurice & Voodoo Supper Club (575 Grande Alée Est), nightclub cocktail lounge and supper club with live music through late hours.
Mixed but gay-friendly, Le Sacrilege (447 rue St-Jean), great terrace seating, cafe fare of sandwiches and beverages, magazines and internet access, a mixed and varied crowd, and various theater and music events, open seven days a week until 3am.
Neighborhood pubs Taverne 321 and Le 889 pubs combined to create Bar St-Matthew (889, Côte-Ste-Geneviève), and provide the opportunity to mingle with a wide cross-section of gay-friendly, locals of all kinds.
ForHom (221 rue St-Jean), gay men's social club and bar for members only, with terrace and free WiFi internet, next to Sauna Bloc 225.
Saunas
The elegant Sauna Backboy (264 de la Couronne, downtown) offers the works, including sauna, steam, whirlpool, lockers and rooms, plus an upstairs labyrinth. There is parking on the premises, and also a snack bar, video lounge, and a cozy fireplace.
The busy Sauna Bloc 225 (225 rue St-Jean) is another sure bet for steam lovers, with plenty of coming and going in their renovated Victorian-era building. Facilities cover three floors, with a sky-lit four-level atrium.
Sauna-Hotel Hippocampe (31 rue McMahon), located in historic stone house within walls of vieux-Quebec. Among finest saunas anywhere, muted-light labyrinth, free sun booth, steam/sauna facilities. Gay-men's lodgings options include simple chambrette or larger hotel-style, double bed rooms, some with private bath. Hotel guests have in-and-out sauna privileges and free internet access.
Accommodations
Coureur Des Bois (15 rue Ste-Ursule), modern rooms, shared or private bathroom, Wi-Fi, old stone house within the Old City walls. Comfortable and friendly atmosphere, and hosts Jean-Marc and Andre provide fantastic breakfasts. Rue Ste-Jean shops, bars, restaurants and tourists sites minutes away. Terrace and back deck are good weather places to catch the sun or sip cocktails.
Also within the Old City is the Coach House, or La Maison du Cocher (31 Dauphine, #1; 418-261-6610). This stone-walled edifice has huge and pleasant apartments with modern kitchens and outdoor decks with hanging gardens.
727 Chambres et Pension (27 rue D'Aiguillon; 418-648-6766), an old favorite with laid-back owners Louis and Gerald who make a great house even more appealing. Their modern guest breakfast area overlooks the main floor patio deck, and there's a second floor sun deck too.
Hippocampe Hotel (31 McMahon; 888-388-1521), quality accommodations for gay men, spacious, attractive rooms at the center; ac, sauna, suitable for tourists and business travellers alike, near near pubs, restaurants and bistros.
Rounding out the list is the modest 253 Bed and Breakfast (253 rue de la Reine; 418-647-0590), downtown within easy walking distance of Sauna Backboys. The main floor breakfast room here looks out onto an expansive guest garden.
Off our map, a little south of Quebec on Route 20, Domaine de l'Arc-en-Ciel (1878, Rang 5 Ouest, Joly; 418-728-5522) has in-season wild camp sites, wooded paths, swimming and naturalist freedom for men only, 18-plus. Hosts Jean-Noël & Gilles provide disco social events and outdoor dining too.
For a breath of really fresh air, venture to the countryside in the Laurentians, north of Montreal. Deep, dark woods contrast here with a manicured lawn at Septentrion B&B (901, Chemin St-Adolphe, Morin Heights; 450-226-2665). Quebec province's only gay five-star rated inn has super deluxe facilities including swimming pool and hot tub, and one guestroom with in-room whirlpool. Waterfalls les Chutes de Ste-Marguerite du Lac Masson are in nearby Ste-Adele.
From Quebec City take highway 73 south towards Beauceville, to find Men's Guesthouse or Gîte au Masculin (134 Petit Shenley; 418 485-6160), a men-only gay clothing-optional B&B, with three countryside guest rooms in St Honoré de Shenley, between St-Martin and la Guadeloupe.
For a comprehensive list of B&Bs in Quebec, see the website of BBCanada