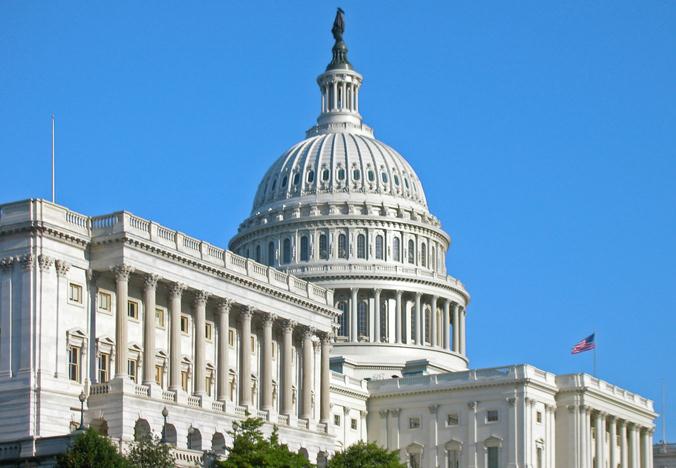 Washington DC
Washingtonians take pride in their mobility and adaptability. It seems as if most people here are from somewhere else, brought to the nation's capital by jobs in the government, one of the related industries or in the military. Maybe that's why it's so easy to get to know people in this company town.
There's brass at the Pentagon, but it's the buff young marines who run laps near the Navy Yard barracks (in tight, very brief shorts) you'll want to polish. Perhaps you'll find one of them in the dark corners at the Eagle, or amid the crush of shirtless hunks at the Green Lantern. But don't ask, and don't tell!
Neighborhoods

Washington is an easy city to navigate, divided into Northeast, Northwest, Southeast and Southwest quadrants. The Capitol building is at the center, and streets spread out in a grid pattern. Avenues named for the states cut through at angles.
The main gay center of gravity is the Dupont Circle neighborhood. One of the country's most pleasant gay districts, Dupont Circle is full of sidewalk cafes, bars, clubs, shops, and lots of interesting people.
Within easy walking distance. P Street Beach is a green oasis alongside Rock Creek, perfect for daytime tanning and nighttime liaisons (police do patrol here, so be careful). Rock Creek Park runs through much of the city, on either side of the winding eponymous stream and parkway running through the woodlands.
Getting here
Washington has two airports, plus another that's conveniently close, near Baltimore, Maryland. The Ronald Reagan National Airport (simply National to locals) is small but ideally situated across the Potomac in Arlington, Virginia. From here the Metro connects you directly to downtown.
Washington Dulles International, 26 miles west of downtown, has Washington Flyer Coaches leaving every 30 minutes for Metro's West Falls Church station. Baltimore/Washington International has easy rail and bus connections to both cities.
Getting around
Union Station (50 Massachusetts Ave NE) the arrival point for Amtrak trains, is also a destination in itself. It's filled with shops and restaurants. From here, Metrorail takes you most anywhere else in the city.
DC's subway system, the Metro, will comfortably get you where you're going. Dupont Circle has a station on the Red Line. Rather than dealing with heavy traffic and difficult parking, leave your car in your hotel's garage. Taxis are convenient, especially late at night after the Metro closes.
Media and resources
Two Washington gay papers can be found free at most gay businesses. Metro Weekly covers the nightlife scene, with good photos and useful website. The Washington Blade, is one of the best and most influential GLBT weekly newspapers in America, with news, features, columns, reviews, plus arts and entertainment listings. Outrage is another online site with gay nightlife and events listings.
The Washington Post is the daily newspaper of record for the local DC Capital Region and the world, with news, reviews, arts and entertainment and events, in print and on line. City Paper is a weekly alternative paper with general listings, a&e, and restaurant reviews.
Where the Girls Go has the District's queer female scene online, for nightlife, fashion, and culture, with stories, photos, and events updates.
Centaur MC sponsors the January Mid-Atlantic Leather Weekend with the Mr. Mid-Atlantic Leather Contest, and a bi-annual recreational Labor Day Weekend event in the woods, among their other activities.
AQUA DC represents queer men of Asian and Pacific Islander descent in the DC area. Check the website link for news and events.
Prime Timers DC does cocktail socials, dinners and annual summer getaways to Rehoboth Beach for older gay men.
Brightest Young Things is a good arts and entertainment website with lots of photos, and a gay tab on the header bar.
Destination DC has online tourism information about Washington, and Capital Region website covers things to do and see in the District, and surrounding Maryland and Virginia.
The DC Center is Washington's LGBT community center for programs, services, activist organizations, and online information.
For locations and website links to businesses listed below, and more, see our gay Washington DC map & listings pages.
Accommodations
Dupont Circle area
Artists Inn Residence (1824 R St NW; 202-667-6707) elegant B&B, fitness center, art gallery.
Carlyle Suites (1735 New Hampshire NW; 202-234-3200) Large suites with kitchens, near bars, restaurants, shops.
Doubletree (1515 Rhode Island Ave NW; 202-232-7000) large boutique hotel, off Scott Circle.
Residence Inn (2120 P St NW; 202-466- 6800) chain hotel, close to gay venues.
Swann House (1808 New Hampshire Ave NW; 202-265-4414) lovely B&B, rooms with fireplaces and whirlpool tubs, swimming pool.
Willian Lewis House B&B (1309 R St NW; 202- 462-7574) Edwardian-style B&B, near tourist sights and gay bars, special Sunday breakfast.
Northwest
Savoy Suites (2505 Wisconsin Ave NW, Glover Park; 202-337-9700) near Georgetown, great views, all amenities.
Bars & clubs
Capitol Hill & SE
Bachelor's Mill/Back Door Pub (1104 8th St SE) neighborhood institution, Miss Star Black America pageants.
Banana Cafe and Piano Bar (500 8th St SE) piano bar above restaurant, vibrant colors, cool drinks, Caribbean art.
Phase 1 (525 8th St SE) nation's oldest lesbian bar, dancing, drag-king shows, live music, karaoke.
Remingtons (639 Pennsylvania Ave SE) country-western dance hall, mostly men, Sunday drag shows.
Downtown
D.C. Eagle (639 New York Ave NW) Levi/leather and bear bar, no-attitude late-night crowd, three floors, cruisy deck.
Green Lantern and Tool Shed (1335 Green Ct, behind 1335 L St NW) always cruisy, tightly packed, especially on shirtless and underwear nights.
Dupont Circle / Adams Morgan
Annie's (16 09 17th St NW) steakhouse of 60 years with popular gay Upstairs Lounge.
Cobalt (1639 R St NW) three-floor dance club above Level One restaurant, with 30 Degrees lounge, karaoke, mostly men in their 20s and 30s, 18+ Thursdays, Bearracuda nights.
DIK Bar at DuPont Italian Kitchen (1637 17th St NW) above Dupont Italian Kitchen, mixed crowd, laid-back and comfortable vibe.
Duplex Diner (2004 18th St NW) 50's style diner with busy Thursday nights drinks, conversation, and the company of many of DC's most interesting people, nightly from 6pm.
Fab Lounge (1805 Connecticut Ave NW) neighborhood lounge on second floor, diverse mix.
Fireplace (2161 P St NW) two-level video bar, cruisy, comfortable, packed afternoon and evening, mostly men.
Jack's (1527 17th St NW) restaurant and bar for everyone.
J.R.'s Bar and Grill (1519 17th St NW) video bar, chinos and button-down crowd, mostly guys, showtune sing-alongs.
Larry's Lounge (1836 18th St NW) mixed neighborhood lounge bar with patio connected to Straits of Malaya restaurant.
MOVA Lounge (2204 14th St, NW), slick cocktail lounge reopened at new two-level location, DJs, no cover.
Logan Circle
1409 Playbill (1409 14th St, NW) restaurant with popular Sunday brunch and gay-friendly bar.
Number Nine (1435 P St NW), stylish cocktail lounge on two floors, fruity drinks, mostly male crowd, former Mova location.
Northeast
Delta Elite (3734 10th St NE) women Friday, men Saturday, house and hip-hop dance club, after hours to 5am.
Southwest
For many years Southeast was known for the cluster of gay stripper bars, bathhouse and adult books. The area was bulldozed a few years ago, to make way for the new stadium. One of those classic clubs reopened recently, just across South Capitol Street from its old location - now in in the Southwest quad.
Ziegfeld's/Secrets (1824 Half St SW) has flamboyant drag shows, and totally nude male strippers Wednesdays through Sundays, plus monthly amateur strip contests.
U Street corridor
Cafe Saint-Ex/Gate 54 (1847 14th St NW) basement dance club below restaurant, mixed gay/straight crowd, eclectic music.
Nellie's Sports Bar (900 U St NW) big- screen TV, patio bar, basic, hearty food, near Howard University.
Town (2009 8th St NW) high-energy weekend dance club by Howard University, Fridays 18+, and Saturdays, with cabaret drag shows and after hours until 4am.
Outlying & occasional events
Freddie's Beach Bar (555 23rd St S, Arlington) locals' restaurant and bar favorite with a diverse crowd, live entertainment and drag shows, beyond the Potomac in N Virginia.
PW's Place (9855 N Washington Blvd, Laurel) gay sports bar with food and internet on Route One, in Maryland, midway between Washington and Baltimore.
Periodic events include: Bruxxsel, a party mix of Europop, retro, indie rock, Nordic pop, French new wave, and World music; The Crucible, members-only alternative/fetish club nights; Mixtape DC, a queer dance party at various venues around town; and Rich Morel's Hot Sauce parties in DC and Baltimore. Check their websites for dates and locations.
Restaurants
Areas around Dupont Circle, especially along 17th Street from P to R Streets and throughout the Adams Morgan area of 18th Street and Columbia Road NW offer many restaurant and cafe options of international cuisines and price range. A cluster of Asian restaurants can be found in Chinatown (Metro: Gallery Place). These are a few of particular interest, gay and otherwise:
Busboys and Poets (2021 14th St NW, U Street corridor) restaurant, bookstore, internet cafe; political, arts, and literary gatherings, weekend brunch to 3pm.
Cafe Saint-Ex (1847 14th St NW), lunch/brunch and daily dinner with three-course prix fixe options from frequently changing menu. Attached to Gate 54 art deco hangar-like DJ-music lounge.
Duplex Diner (2004 18th St NW, Adams Morgan) gay-fave happy-hour bar and kitchy diner restaurant with American food of burgers, mac & cheese, open daily.
Dupont Italian Kitchen (1637 17th St NW) indoor or sidewalk seating on busy Dupont area restaurant strip, see and been seen.
Kramerbooks & Afterwords (1517 Connecticut Ave NW) Dupont Circle landmark bookstore and cafe, breakfast and morning papers from 7:30am, lunch, dinner, busy 'til after midnight day and night, seven days; indoor and sidewalk seating, live entertainment, full-service bar.
Lafayette Room (One Lafayette Square) elegant Hay-Adams Hotel dining room across from the White House with elaborate Sunday buffet brunch.
La Frontera Cantina (1633 17th St NW) no frills Tex-Mex food and drinks, sidewalk patio tables.
Level One (1639 R St NW), casual chic, classic American dining below gay nightclub Cobalt; music, outdoor seating, popular brunch.
Old Ebbitt Grill (675 15th St NW) breakfast and lunch with the power elite from 7:30am weekdays, or weekend brunch; richly furnished, great food selection, excellent service.
Perry's (18 11 Columbia Rd) American Contemporary cuisine with Asian touch in Adams Morgan, also with Sunday brunch and drag shows.
Soho Tea and Coffee (2150 P St NW) Dupont area Internet cafe, sandwiches, deserts; all-ages gay hangout, especially on weekends.
Saunas
Crew Club (1321 14th Street NW) 24-hour cruising, steam and sauna, TV lounges, gym, tanning, 18+.
Glorious Health Club (2120 W Virginia Ave NE) with a new home, this men's club formerly in SE displaced by the stadium, has steam, showers, open 24 hours just off New York Avenue.
Shopping
Capitol Video Sales (1729 Connecticut Ave NW, Dupont Circle) adult video DVDs, magazines and toys.
Lambda Rising (1625 Connecticut Ave NW, Dupont Circle) after 35 years, one of the world's finest gay bookstores closed in January 2010.
Leather Rack (1723 Connecticut Ave NW, Dupont Circle) fine tailored leather clothing, accessories, toys, adult magazines and videos.
Pleasure Place (1710 Connecticut Ave NW, Dupont Circle) erotic boutique for many tastes.
Universal Gear (1529-B 14th St NW) packed with the latest fashions.