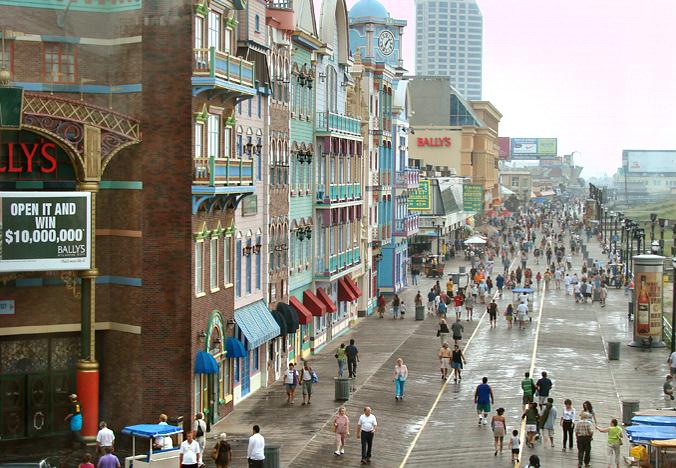 Atlantic City
In 1854 the Camden and Atlantic Railroad began train service between Philadelphia and the coast, and the first commercial hotel was built the same year. The first boardwalk was constructed in 1870 and soon after half a million people were visiting each year. To handle the traffic more lines followed, including the Reading Railroad. Sound familiar? Landmarks and street names of this town are properties on the board game Monopoly. The city's golden age came in the 1920's when speakeasy liquor flowed freely despite prohibition, and gambling flourished in back rooms between blocks of the big new hotels that had transformed the city. After the war the city's economic decline was a factor when voters approved gambling for Atlantic City in 1976.
The new Atlantic City of casinos and Trump mega-resorts is again a gay-popular destination. The New Jersey Civil Union law of 2007 helped, and having your ceremony here is a good reason to visit. Several resort hotels, along with the Convention & Visitors Authority have courted the pink dollar market, and gaming tables, entertainment and casino nightclubs are now big attractions, along with the beach and the world's longest boardwalk. There is also a gay nightclub in town, another nearby, and a clothing-optional gay guesthouse for men. Within easy reach of large gay communities of Philadelphia and New York, Washington or Baltimore, Atlantic City makes a great getaway destination.
Getting here
Atlantic City Airport, has Spirit Airlines arrivals from over 40 international destinations, just 12 miles from the beach. NJ Transit has a few connections to Atlantic City (see airport link for details), but the hotel shuttles, taxis, or car rentals are a lot less complicated.
The Philadelphia Airport is another arrival option, with rail connections to the coast through the Philadelphia 30th Street Station. NJ Transit operates trains to Atlantic City, a dozen trips per day taking 90-100 minutes, costing $10 each way.
NJ Transit also runs twice daily bus service (route 319) from New York Port Authority Bus Terminal to Atlantic City, taking around 2.5 hours, for $36 each way.
The New York City Penn Station to Atlantic City ACES train service ended in 2012. Take AMTRAK to Philadelpia (30th Street) and switch there for the beach - or take the bus.
Getting around

Public transportation in the city is provided by NJ Transit on thirteen bus routes, and mini bus service from ACJA, the Atlantic City Jitney Association.
Media and resources
Out in Jersey covers gay news of the Garden State from offices in Trenton.
The Greater Atlantic City GLBT Alliance has gay-friendly business listings and events. The local convention and visitors authority also has an informative website at AtlanticCityNJ

See the Atlantic City Weekly for casino entertainment, dining, movies, nightlife, gambling, news, and photos of the region.
For map locations and website links to the businesses below, and more, see our gay Atlantic City listings pages.
Gay Atlantic City
Dusk Nightclub (2100 Pacific Ave), general public/mixed club at Caesars Atlantic City, with live bands and vocalists.
Ocean House (127 S Ocean Ave), men-only, 15 rooms in Queen Anne Victorian, town center on beach and boardwalk block, open year-round, cozy clothing-optional atmosphere, enclosed porch, common room, Wi-Fi, free parking.
Pro Bar (1133 Boardwalk), gay nightclub at the Resorts Casino Hotel, dancing, live entertainment, weekend go-go boys.
Rainbow Room (55 S Bellevue Ave), gay club at Coconutz, open nightly from 6pm, drag pageants, Saturday hot male strippers until 3am.
Ram's Head Inn (9 W White Horse Pike, Galloway), gay-friendly hotel with wood-burning fireplaces, restaurant serving traditional American fare, and casual dining at their Tavern and in the Courtyard.
See locations and websites of Atlantic City busnesses above, along with listings of casino resorts in the area at our maps & listings tab.
For other nearby Atlantic coast gay resorts, see our coverage of Asbury Park NJ, and Rehoboth Beach DE.