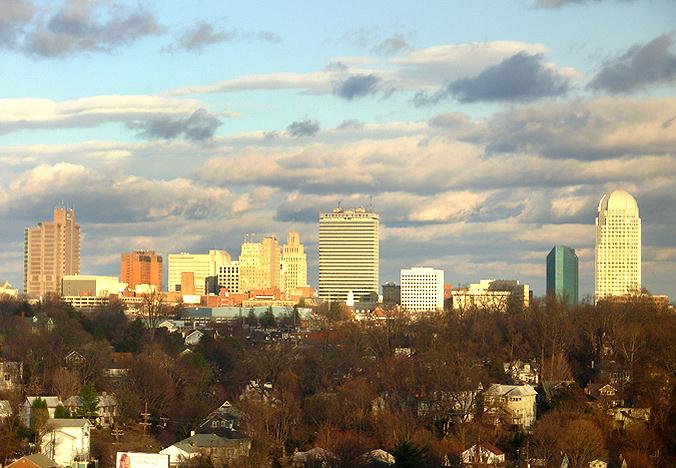 Winston-Salem & Greensboro
Winston-Salem, Greensboro and High Point make up the Piedmont Triad cities of North Carolina. This whole region of North Carolina from Asheville to Raleigh has many fine visual arts galleries, sculpure and crafts outlets.
Winston-Salem, a gracious southern city where tabacco was once king, has impressive art museums, a symphony orchestra, a film festival, the internationally respected North Carolina School of the Arts, and the world-famous National Black Theatre Festival each August. Don't miss Old Salem Museum & Gardens, a living history museum. Founded in 1766 as a backcountry trading center, it's a fascinating look into colonial life.
Greensboro, which became a textiles as well as tobacco center after the Civil War, has experienced a dramatic increase in downtown nightlife with numerous nightclubs, bars and restaurants. Other attractions include: the Carolina Theater, Triad Stage (Pyrle Gibson Theater), Blandwood Mansion, Center City Park, NewBridge Bank Park, Greensboro Historical Museum, and the Greensboro Cultural Center.
These cities have tight-knit gay communities, and although there aren't many gay venues, the bars here are full and lively with a broad mix of locals and plenty of events. You hardly need to venture out, but more social options can be found in the nearby cities of Charlotte and the Raleigh-Durham-Chapel Hill Triangle, with their larger gay scenes.
As in all of North Carolina, the bars are membership clubs to comply with NC State ABC law. Members can sponsor you as a guest at the door. New memberships take 3 days. Locals are used to this, and will help visitors. Call ahead or check the bar website for the fine print.
Getting here
You'll probably fly into Charlotte-Douglas International Airport, or Raleigh-Durham International Airport. Both are just over an hour away.
Greensboro has Amtrak train service with connections to all major East Coast cities.
Getting around
You'll most likely want a car of your own to explore the Triad and the beautiful Piedmont areas nearby. For the public transit system see WSTA, or for all city services the City of Winston-Salem website. For Greensboro public transportation see GTA
Media & Resources

Q Notes is the gay publication for all of North Carolina. It's full of news and cultural commentary. For general news, reviews and events listings see Yes Weekly.
For map locations and website links to the businesses below, and more, see our gay Winston-Salem-Greensboro listings pages.
Nightlife Winston-Salem

CO-2 (4019 Country Club Rd), former Club Odyssey, 18+ fun-loving crowd, Tuesday through Sunday, pool tournaments, pageants, talent contests. Friday cabaret, drag, karaoke; two Saturday dance floors, urban tunes and high energy dance music, performers.
Nightlife Greensboro
Chemistry Nightclub (2901 Spring Garden St), new gay, straight-friendly, 18+ dance club, open nightly, Saturdays from 5pm.
Q Lounge (708 West Market St) alternative, unpretentious gay and gay-friendly locals' bar mix, outdoor space, pool table, special events, barbeques, bingo, WiFi, 18+ and open daily.
Warehouse 29 (1011 Arnold), Latin nights, Sunday Tea Dances, talent shows, patio bar, summer volleyball sand court, drag pageants; Saturday dance parties, go-go boys, fan dancers. Guests porn stars in showers; singers and comedians on stage.

For locations and links to more gay-friendly nightspots and local restaurants see our map & listings section.