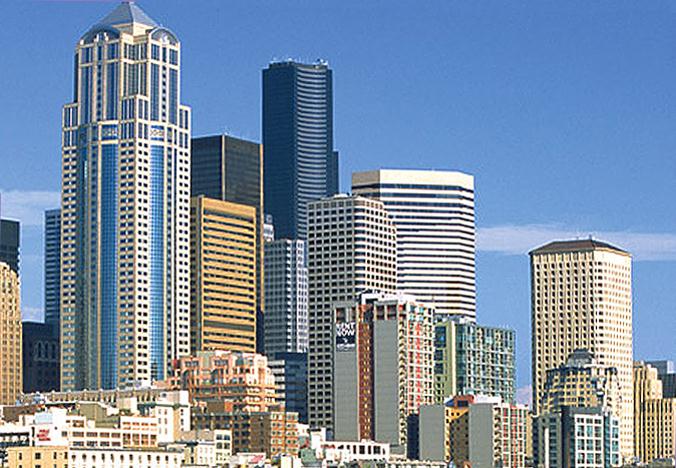 Seattle
With a towering skyline set against a backdrop of spectacular mountain peaks, Seattle is one of those cities recognizable at a glance. Its urban pleasures rival those of most cities. There's the symphony, many theaters, opera and ballet companies, and a lively club and jazz scene.
Outdoors activities such as biking, hiking, skiing, camping and boating are popular, and many locals head out of town on weekends and holidays.
Neighborhoods
Capitol Hill around Broadway, Pine and Pike streets is where most gay bars and businesses are located. Here you'll find plenty of coffee shops and restaurants, many with sidewalk tables. To the north, Volunteer Park is full of strollers, Frisbee players and those seeking a quiet place to read. Everything on the hill is within walking distance, so park the car and explore on foot.
Getting here
Sea-Tac Airport has Metro bus service from door 2, at the south end of the baggage claim area, running downtown for $2.50. Sound Transit commuter rail service operates from King Street Station Seattle, north to Everett, and south to Tacoma Dome Station, with airport connections from Tukwila Station. Seattle Streetcar light rail has connections from Westlake, through Pioneer Square; the trip to Tukwila and SeaTac Airport takes just 37 minutes.
The Amtrak Cascades train links Eugene OR (Eugene Station), Portland OR (Union Station) and Seattle WA (King Street Station) to Vancouver BC (Pacific Central Station), a trip of about 12 hours, five times a day. Coast Starlight trains connect Los Angeles and Seattle, as well as cities along the way, including San Francisco.
For intercity coach/bus travel in and out of Seattle, see BoltBus (Portland and Vancouver), GoToBus (Vancouver), Greyhound (USA national), and QuickCoach (Vancouver & SeaTac).
Getting around
King County Metro Transit has buses, trolleys, streetcars and a water taxi to get you around. Fares are $2.25 - $3 depending on time and zone. The downtown Ride Free Area will be elliminated after the summer, in September 2012.
The number 99 bus running from Broad Street through Belltown to Pioneer Square with stops at the waterfront, Pike Place Market, and the Seattle Aquarium before returning northbound by way of 1st Avenue. The Monorail, at $2.25 per trip, runs every 10 minutes from Seattle Center (location of the Space Needle) to Westlake Center Mall.
City-wide bike lanes and green initiatives have made this city quite bicycle friendly. Seattle Bicycle Rentals does rentals and tours from Pier 58 by Waterfront Park. Since most visitors spend most of their time downtown and on Capitol Hill, a brisk walk or short taxi ride will usually do the trick.
Media
Seattle Gay News, (SGN), has been among the best gay newspapers anywhere for 37 years. Their website also has a 7-years archive of back issues.
Seattle Gay Scene has an online events calendar, along with photos from around town.
NarkMagazine covers the interests, and features the party photography of DJ Nark (aka Kevin Kauer), the promoter of crazy-glamorous new club nights around Seattle.
The Stranger is gay-friendly, informative, sometimes-feather-ruffling weekly alternative newspaper, with listings for most everything you need to know.
For locations and website links to businesses listed below, plus some of the many museums, galleries and theater/performance venues, see our gay Seattle map & listings pages.
Accommodations
Ace Hotel (2423 1st Ave, Belltown; 206-448-4721) stylish, modern, informal, economy or deluxe, pets welcome.
Bacon Mansion (959 Broadway E; 800-240-1864) large stately Edwardian B&B, rooms and suites, private entrance.
B&B on Broadway (722 Broadway E; 206-329-8933) beautiful grand Pacific Northwest house, walk to shops and restaurants.
Gaslight Inn (1727 15th; 206-325-3654) century-old house near gay area, kitchen facilities, apartments.
Homewood Suites Hilton (1011 Pike; 206-682-8282) between downtown and Capitol Hill, hot breakfast, every comfort.
Hotel Max (620 Stewart; 866-833-6299) ultra-comfortable, iPod docks, erotic toys, art works, Asian restaurant.
Hotel Monaco (1101 Fourth Ave; 206-621-1770) boutique hotel near Pike Place Market, rich decor, all amenities.
Renaissance (515 Madison; 206-583-0300) central high-rise, bar, restaurant, gym, hot tub, near gay village.
Vintage Park Hotel (1100 Fifth Ave; 206-624-8000) Euro-style boutique, Italian restaurant, wine tasting, pet-friendly.
Bars & Clubs
CC Attles (1701 E Olive), new location, big windows, open space, cocktails, beer on tap, food, mostly guys, bears.
Changes (2103 N 45th St, Wallingford), prime rib to bar fare, karaoke nights and games.
Crescent (1413 E Olive), karaoke joint with over 20,000 songs, popular with locals, everyone welcome.
Cuff Complex (1533 13th, at Pine), big popuar complex, three bars, Levi/leather/mixed men crowd, games, leather store, food, big open patio, weekend dances.
Diesel (1413 14th), neighborhood bar below Madison, mostly men, bears and friends, but all welcome; pool games, sliders, burgers, steak tips.
The Lobby Bar (916 E Pike), the latest gay lounge at this location just off Broadway, with food, cocktails and game nights.
Madison Pub (1315 E Madison), local watering hole, jukebox, dart games, wi-fi, sports on the TV, packed with a good mix of guys.
Neighbours (1509 Broadway, alley entrance), largelong-time dance club, go-go boys, famed DJs, drag shows, guest performers, Latin Sundays, 18-plus Wednesdays and after-hours from 2-4am Fridays and Saturdays.
Pony (1221 E Madison), trashy nouveau dive bar, mixed hip young crowd, mini dance floor, edgy music, good sound and lights, quirky videos, large year-round west-facing patio with fire pit.
Purr (1518 11th Ave), cocktail lounge, Mexican dining, popular Monday / Tuesday karaoke, good warm-up for late clubs.
R Place (619 E Pine), multi-level club, hot DJs, Sunday-Tuesday karaoke, Wednesday wet underwear contests and dancing, Thursday amateur strip shows and dancing; lively young and diverse crowd, mostly guys, women welcome.
Re-Bar (1114 Howell), theater, Monday poetry, dance performances, live music, mixed easy-going queer young dance crowd of all kinds. Bacon Strip, Big Gay Variety Show, first Saturdays; Truckerdisco! summer third Fridays - "disco, but probably not as you know it" - for everyone.
Seattle Eagle (314 E Pike), leather guys, tight space, prime nightly cruising, DJs, raunchy patio action, pool table, busy underwear nights, Sunday T-dance with free grub.
Unicorn (1118 E Pike), energetic, beers on tap, fruity drinks, snacks, bright colors, weird wall hangings, hipsters of all orientations and genders.
Wildrose Tavern (1021 E Pike), popular women's bar and restaurant with pool table, dancing, live bands and spoken word performances.
Restaurants
There are restaurants all over Seattle, but for a front-row seat on the most interesting passing parade grab a table at one of the sidewalk cafes on or near Broadway, on "the Hill."
Ba Bar (550 12th Ave), Vietnamese street food, pho, roast duck/chicken, pastries, lunch/dinner, late service, full bar, karaoke, movie nights.
Cafe Parco (1807 42nd Ave E), upscale classic Italian restaurant, courtyard seating, wine bar, Saturday and Sunday brunch.
La Cocina & Cantina (432 Broadway E) inexpensive Mexican-American buffets and entrees, good Margaritas, open to street seating.
Dilettante (538 Broadway) cafe, gourmet chocolates, cake, sandwiches, brunch, martini bar.
Green Leaf Vietnamese Restaurant (418 8th Avenue S), traditional, authentic, home-made Vietnamese cuisine.
Honey Hole (703 E Pike) fresh meat or veggie sandwiches, soup, salads, draft beer, casual vibe.
Julia's on Broadway (300 Broadway E) breakfast, brunch, lunch, dinner, drinks, fabulous street seating, weekend drag burlesque cabaret shows.
Mediterranean Express (1417 Broadway) Middle-East favorites, lunch, dinner, big portions, great prices, free parking, take-out.
Pike Place Market (Western Ave, off Pike) baked goods, wine, fresh & prepared food, flowers, books, antiques, arts, crafts. Strollers come for waterfront vistas and street performers.
Piroshki on Third (710 3rd Ave; also 1219 Madison) scrumptious Russian vegetable, cheese or meat turnovers, fruit and poppy seed pastries, borscht.
Plum Cafe (324 15th Ave E), wholesome, nourishing, rustic, organic NW vegan meals, sandwiches, shakes, and smoothies.
St John's Bar & Eatery (719 E Pike) new American cuisine, full menu, sliders, casual atmosphere, weekend brunch, wine and cocktails, same garden patio Rosebud Cafe had here.
Teatro Zinzanni (222 Mercer) 5-course set dinners, 3-hour cirque, comedy, cabaret shows. Latin dance nights, Sunday Brunch.
Travelers Thali House (2524 Beacon Ave S), platters with array of individual dishes making a complete Indian meal, monthly specials, delicious vegetarian meals, chai, exotic teas, tisanes, wine and beer.
Uncle Elizabeth's Cafe (1123 Pike) internet cafe with strong coffee, good soup and sandwiches, changing art exhibits, moderate prices, open late.
CLOSED recently: Grill on Broadway

Saunas & sex clubs
Seattle has two private 18-plus men's clubs each with lockers, rooms, showers, multi-channel porn videos and internet access, plus some individual variations.
Club Z (1117 Pike St) large facility, mixed crowd, sauna, maze, slings, glory holes, movies, video games, $5 monthly memberships, special leather nights 2nd Thursdays.
Steamworks Seattle (1520 Summit Ave) immaculate sauna, hot local men, Thursday dark parties, hard core men and music Edge Fridays, bear parties 4th Saturdays. Rates from one-shots to VIP.
Tribe (1505 10th), the former Basic Plumbing, is closed.
Shopping & services
Babeland (707 E Pike) sex and bondage toys, books, DVDs, massage and body oils, store and online retail.
Central Co-op / Madison Market Natural Foods (1600 E Madison) organic foods, natural remedies and body care products.
The Crypt (1516 11th Ave) leather garb, accessories, bondage and fetish gear, bedroom toys, DVDs, magazines.
Gay City Health Project (517 E Pike) multicultural gay men's health organization, HIV and STD testing.
Lifelong Thrift Store (1017 E Union) high-quality household items and clothing. Profits support AIDS groups.
Panache Clothing (225 Broadway E) big variety of good, very inexpensive party clothes, shoes, accessories.
UnderU4Men (709 Broadway E) high-quality brand-name underwear, swimwear, fashions, toiletries.
Yoga Den (514 12th Ave), a healing place for men, physical and meditative workshops, blend of yoga styles including cothing-free.