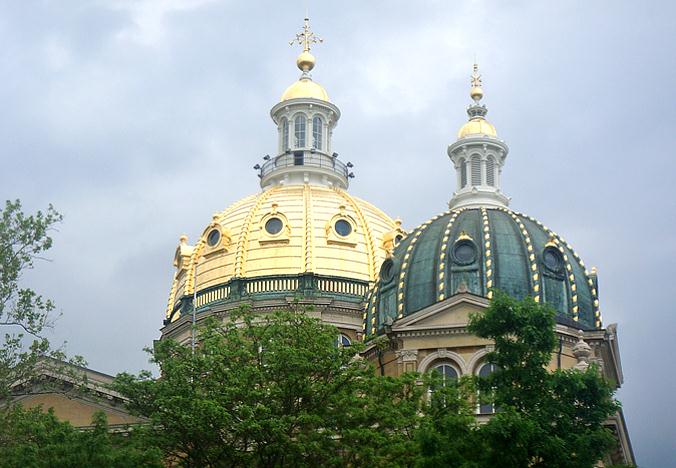 Des Moines
The Jewel of the Midwest, Des Moines is located in the middle of the heartland. Iowa's largest city is an exciting place to visit, as it's also the political and cultural capital of Iowa. In the heart of the city you can find the Iowa State Capital, the Iowa Historical Building, and the beautifully restored Court Avenue and Fourth Street areas.
Des Moines has a vibrant gay community, with several gay bars in the East Village. From here, through Sherman Hill to Drake University there are gay-friendly neighborhoods. Check it out for yourself in June, when Capital City Pride brings thousands out from all around the state.


Getting here
Des Moines International Airport is only four miles from downtown. Taxis are quick and cheap.
Getting around
Waking is a great way to see Des Moines. Downtown has a unique Skywalk system connecting you to a variety of shops and restaurants.
For public transit see Des Moines Regional RTA
What to do
The downtown Civic Center of Greater Des Moines brings in traveling Broadway shows and a dance series that includes Pilobolus, and the James Sewell and Martha Graham dance companies. The Des Moines Symphony offers up your favorite artists in concert.
The Repertory Theater of Iowa is home to central Iowa's most passionate and skilled artist ensemble, presenting both classic and new stage productions to challenge and inspire.
In quiet downtown streets "scooping the loop" is a favorite pastime and popular hangout for under-21 and after-the-bars crowds - both gay and straight.
Media & Resources

Accessline is Iowa's gay newspaper. It's filled with current events, opinion pieces, and arts coverage.
CityView is the local alternative weekly paper with listings, news and reviews.
The blog DesMoinesIsNotBoring has tips on what to do around town.
For map locations and website links to the businesses below, and more, see our gay Des Moines listings pages.
Accommodations

Kingman House (2920 Kingman Blvd, 515-279-7312) B&B comfort and convenience, minutes from the bars.
Bars
Blazing Saddle (416 East 5th Ave), bears, leathermen, dancing, bingo, guest porn stars, Mr Iowa Leather contest, drag, Imperial Court pageants, latin nights. beer busts.
Buddy's Corral (418 East 5th St) mixed, relaxed neighborhood bar with jukebox, karaoke, next to Blazing Saddle.
The Garden (112 SE 4th St), dance club, four bars, shows, patio, strippers, porn stars, body contests, Drake University students, Sunday all-ages (13+) "Teen Show" 5-9pm.
Le Boi (508 Indianola) dancing, male strippers, drag shows, summertime roof deck.
Shopping
Liberty Gifts (333 E Grand Ave, suite 105) gay pride gift store, body jewelry: tongue, eye brow, belly button, nipple, gauges, plugs, labrets or noise pieces;
bone & hemp stainless steel rings, tobbaco glass blown pipes

Food
Cafe di Scala (664 18th St) minutes from the clubs, fine contemporary Italian cuisine, Calabrese style in elegant setting. Reservations not required, but suggested.
Java Joe's (214 4th St), young, alternative crowd hangout before the Loop or clubs. Live weekend entertainment, coffee and sandwiches.