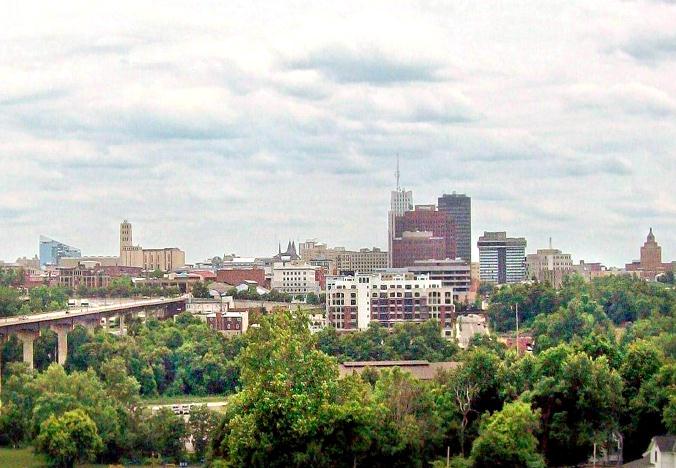 Akron
In the northeastern corner of Ohio, Akron is a well-planned city spreading out over several hills. Although it's just 40 miles south of Cleveland, Akron has its own vibrant gay scene centered around Highland Square. Many who live in the suburban neighborhoods between the two cities opt to party here rather than driving to the larger city to the north. Students from the University of Akron and Kent State, and workers from the Goodyear plant rub elbows in the friendly bars and clubs, mingling easily in this well-planned city. A visitor will find few places anywhere in America with a friendlier welcome.
Getting here
You can fly into Akron-Canton Airport, but nearby Cleveland Hopkins International Airport often has more convenient connections.
Getting around
The best way to get around Akron and the surrounding area is by car. For public transportation see Akron Metro
Neighborhoods
Highland Square. Akron's gay community seems to center around Highland Square, but gay bars are scattered in all directions. Almost all the businesses in the area are very gay-friendly.
Media & Resources
Outlines Magazine covers Akron, Cleveland and other cities in Ohio, with local listings and maps. The Gay People's Chronicle is a longtime GLBT newspaper with news and listings for all of Ohio and a website. The Akron Pride Center also has plenty of information about what's happening around town.
For map locations and website links to the businesses below, and more, see our gay Akron listings pages.

Accommodations
The Parkside Male Residential Hotel (1431 S Main St; 330-724-1800) has 15 fully-furnished rooms and six shared bathrooms in the Firestone Park area, just minutes from downtown. Three home-cooked meals are served each day in the dining room and they have a fitness area, tanning facilities, plus gay movie nights in the surround-sound theatre area, and other special events.
Three general-public hotels close to everything include: Best Western Executive Inn (2677 Gilchrist Road; 330 794-1050); Comfort Inn Akron (2873 S Arlington Rd; 330 645-1100 ); and Red Roof Inn Akron South (2939 S Arlington Rd; 800 843-9999), right off the I-77 exit 120 ramp.
Bars & clubs
Adams Street / Pecs (77 N Adams) open nightly, something for everyone, 18+ college boys to leathermen. Piano bar sing-alongs, dance club, strippers, drag shows, country nights. There are Wii game nights, internet Jukebox, free WiFi, outdoor patio, lots of special parties.
Cocktails (1009 S Main), strippers nightly. Upstairs, Daddy's, is Akron's Levi, leather and fetish bar with Saturday night dress code.
Inferno (Arlington Plaza, 1348 S Arlington St), open nightly, mixed crowd, all welcome, many kinds of music, karaoke, open mic, jazz nights.
Interbelt (70 N Howard), sprawling dance club, mixed, 18+ young, energetic crowd, plenty of events from drag to strip to bring 'em from far and wide.
Roseta Club (627 S Arlington) women's bar welcomes all, and they're home to the Rubber City Royals entourage of drag kings who perform here.
Square (820 W Market), neighborhood gay bar in Highland Square, karaoke, games including Charades and Wii bowling.
Open daily, Tear-EZ (360 S Main) is Akron's downtown gay neighborhood institution that always manages to make out-of-towners feel truly welcome. Here too there's always a show, never a cover charge, and 75 cent draft beers all day Thursdays.
Two more recent arrivals on the mixed gay/straight scene include: Angel Falls (792 W Market St), a gay-owned coffee shop specializing in the finest Venezuelan beans with a variety of flavors; and the Office (778 N Main St) with bistro food, Sunday brunch, a cocktail lounge, karaoke, and live music sets.
Canton, and parts south

A little to the south in Canton are the gay clubs Crew (304 Cherry Ave NE) dance club and show bar, and Studio 704 (704 4th St SW) LGBT cocktail lounge with jukebox music.
Still further down Interstate 77, Circle JJ Ranch (1104 Amsterdam Rd, Scio; 330-627-3101) is a gay tents and RV campground with lodge rooms and cabins, heated pool, spa and nightclub. They're open April 1 through November 3, 2013.